Who doesn't like butterflies? They may still be insects, but they are the most beautiful looking among all the other species of insects, and they are also harmless. With their beautiful looking wings that look like they were painted on them, we can't imagine anyone who wouldn't be amazed with the beauty of butterflies.
Illustrations, on the other hand, are pictures created by an artist, whether through paper or on the computer to depict an explanation or a concept. These can be found on almost everything that we encounter in our day-to-day lives. These can be in the form of books, magazines, animated shows on the television, and many more.
Check out our website for sample Vector Illustrations created exclusively in the vector format.
Vintage Butterfly Illustration
Download
Hand Drawn Butterfly Illustration
Download
Monarch Butterfly Illustration
Butterfly Illustration Vector
Download
Cute Butterfly Illustration
Download
Some Strange but Nice-to-Know Facts about Butterflies
Butterflies can be as small as an eight of an inch and can get as big as twelve inches or one foot.
There are more than around 17,500 recorded butterfly species all around the world, and 750 of these can be found in the United States.
The common buckeye butterfly is one of the most strikingly beautiful among its species. It has multicolored spots on the anterior part of the wings that look like eyes, designed to scare away birds and other predators.
Some types of butterflies have a lifespan of only three to four weeks. However, migratory butterflies, such as the monarchs, painted lady, red admiral, and the skipper, to name a few, can live as long as seven to eight months.
One of the biggest butterflies, the giant swallowtail, has wings that can spread for up to seven inches. They are called swallowtail because of their long tails that resemble birds known as swallows.
For sample illustrations done via modern technology and not with the use of pen and paper, check out our collection of Digital Illustrations.
Flying Butterfly Illustration
Download
Colorful Butterfly Illustration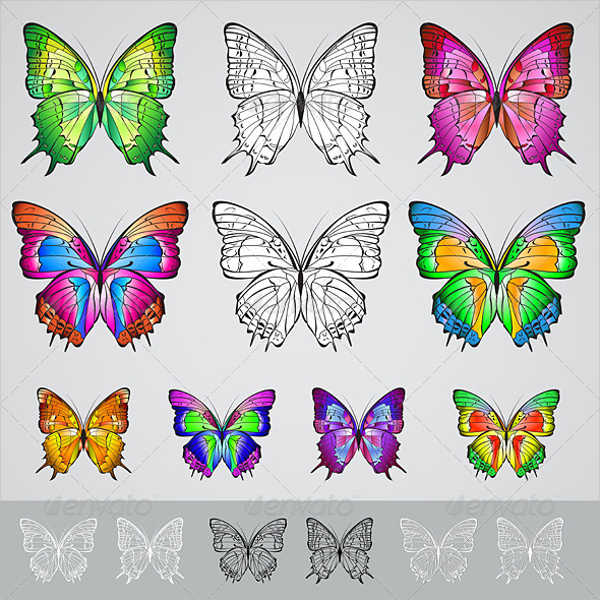 Download
Black and White Butterfly Illustration
Download
Watercolor Butterfly Illustration
Download
Free Butterfly Illustration
Download
Did you like our illustration samples? If you did, then don't hesitate to download your own copy of our beautifully drawn butterfly illustrations. These were hand drawn by creative and talented graphic artists and can be easily downloaded for free by anybody with stable Internet connection. You may also choose to download any of these illustrations in high-quality PNG, PSD, or JPG format.
How to Use Our Templates
Once you have downloaded a copy of our template and have made the necessary customizations to it, you may either choose to save it to your computer for purposes like setting it as your desktop's wallpaper, or if you are a web designer, you may also make it as the background image on your website. You may also have it as the background image for your flyers or posters and have it printed. Or you may also choose to have it printed on high-quality glossy paper and have it framed so you can hang it on the wall of your house. The possible uses of these sample illustrations are countless, and we leave you to your own creativity on how you will make use of these illustrations.
For more sample illustrations, check out our gallery of Pixel Art Illustrations. But if you couldn't find what you were looking for on this page, scroll down to the bottom and check out the links to some related content found all around our website.