Water bottle labels usually include the name of the brand and their logo. It enables consumers to pick the water in which they think best suits them. Consumers look at water bottle labels as well to know the kind of water that is in the container—whether it is distilled, purified, or mineral.
Today, water bottles are not only used as a basic need; they can be added to event souvenirs as well or be used by companies to add to their marketing loots whenever they plan an activity for the company. One way to customize a water bottle is to put personalized bottle labels. We have bottle label templates should you be needing them for your next company event or occasional gathering.
Water Bottle Label Template

Free Download
Water Bottle Template
Free Download
Wedding Water Bottle Label Template
Free Download
Free Simple Bottle Label Template
Free Download
Photorealistic Water Bottle Mock-up
Download
Baby Shower Water Bottle Label
Download
Blue Colored Water Bottle Lable
Blank Printable Water Bottle Label
Minnie Mouse Water Bottle Label
Download
Wedding Water Bottle Label
Since water bottles are clear, there is a greater chance for the design of the water bottle label to be noticed by those who will look at it. Maybe it is also one of the reasons why it is an effective souvenir and addition to marketing. There would also be times when a water bottle label may be changed just because a company wanted to give a more personal service to their clients.
Depending on countries and their policies, water bottle labels may or may not be changed, especially if it is going to be sold again to new consumers. Specifically, there are lesser laws and regulations regarding this matter if the water bottle will only be used as souvenirs or will be available for consumption just for a certain event or duration of time.
There is no need to worry too much about legalities especially if you only use it for private functions. After all, most water bottles really gets either just thrown or recycled. Make the most out of the water bottles and use them for your events advantage.
Our water bottle label templates are available for you to download for free or for a minimal amount, and they come in various highly modifiable formats like PSD, Vector AI, and EPS formats. Make sure to use them so your water bottles can have a better appeal whatever ways you use them.
Free Football Water Bottle Label
Superhero Water Bottle Label
DIY Water Bottle Label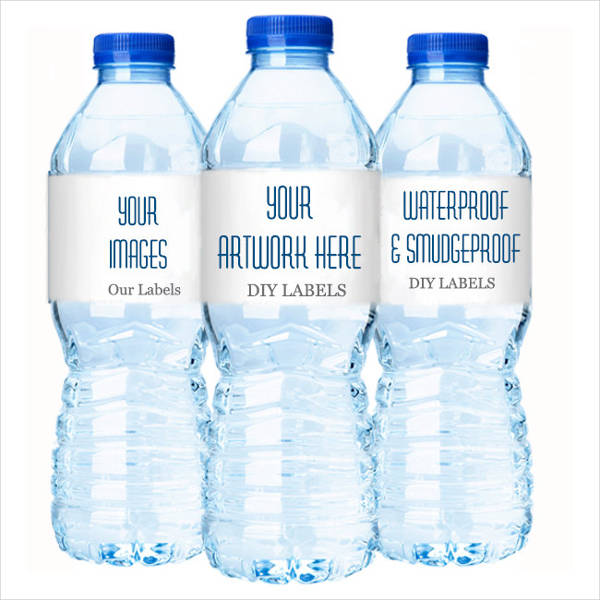 Download
Chevron Water Bottle Label
Chalkboard Water Bottle Label
Designing a Label
There are a lot of ways to dress a bottled water. Our label templates will help you select what you think works the best for you and your needs.
Here are a few samples that you may consider regarding the water bottle labels that you may use:
Make sure that the color is striking and can command attention so that the people who have it will read what's in it. 

You can also use your company logo regarding this matter.

Consider the material that you are going to use for the medium of the label. It may be printed on paper, acrylic, plastic or a photo paper. It all depends on its usage.

Add different items in the label once it is already printed. You can add lace, ribbons, small flower petals, leaves, and a whole lot more to make the water bottle label more personal

Choose the design that fits for what event you are doing or the occasion that you are celebrating. Water bottles must also be coherent with the theme. 
With all of these reminders, your new water bottle would be a great addition to anything that you are planning to use it to. Just be creative and make the most out of our label templates that is just on the links provided in this article.