Word of mouth is often the best form of advertising. Restaurants can use this marketing strategy to their advantage by making sure that it is easy for their customers to spread the news about their dining establishment. One of the most effective ways to do this is by creating restaurant gift certificates.
In this article, we provide useful information on how to create, use, and distribute gift certificates to help boost your restaurant's reputation. Examples of downloadable restaurant gift certificate templates are also included in this article.
663+ Restaurant Templates in PDF, Word, Excel, PSD, Google Docs, PowerPoint, InDesign, Apple Pages, Google Sheets, Publisher, Apple Numbers, Illustrator, Apple Keynote, Google Slides, HTML5 - START DOWNLOADING
Gold Restaurant Gift Certificate Template
Starting this template collection is the Gold Restaurant Gift Certificate Template. This template uses an orangey gold color scheme palette—a design choice that appeals to family restaurants and casual dining establishments.
This gift certificate template measures 4 inches by 9 inches. It is also printed on both front and back sides. This means that you will get two download files when you purchase this template. You may choose from Adobe Photoshop, Microsoft Word, Microsoft Publisher, Adobe Illustrator, and Adobe InDesign template download files.
The gold background color used in this template may be changed to match your restaurant's official color scheme. Other graphic design elements can also be changed. Additionally, this template includes an image placeholder where you can modify and insert your photo.
Floral Gift Certificate Template
Need a cheerful-looking restaurant gift certificate design? If yes, check out the Floral Gift Certificate Template shown below.
The template is another printable restaurant template that any restaurateur can use. Its floral design has a nearly universal appeal that makes it suitable for casual family restaurants to fine dining restaurants. When downloading this template file, you will get two files (one for the front side and one for the back portion). You may also choose what kind of download file type you prefer depending on the type of software program you have already installed. Choose between Adobe Photoshop, Microsoft Publisher, Microsoft Word, Adobe InDesign, and Adobe Illustrator.
All graphic design elements in the template are fully customizable. It measures 9 inches by 4 inches when printed out. Also, make sure to edit the headers and logo design and use your own restaurant's name and logo designs respectively. Check this article for more useful tips on logo design.
What are gift certificates?
Gift certificates are documents (either in print or digital form) with an inherent monetary value that can be exchanged for money, services, or goods. What sets gift certificates apart from real money, a money order, or a check is that they can only be used at a specific establishment (usually the one that created the gift certificate).
In most cases, gift certificates will come with a predetermined stored value. It is this amount that will serve as the limit for the services and products that a person receives when she uses the gift certificate. Gift certificates are also sometimes called gift vouchers, gift cards, or gift tokens, depending on the country.
In the restaurant industry, gift certificates are used just like any regular gift cards. Restaurant patrons may purchase a restaurant gift certificate and give this away to another person. The recipient of the gift certificate may then visit the restaurant and use the gift certificate to pay for her meal. Restaurants may also directly give away gift certificates to potential customers as a way to let them try out new offerings on the restaurant menu. This method is often done when a restaurant has opened for business so it can attract more customers.
Blank Gift Certificate Template
The Blank Gift Certificate Template shown below is perfect for those who want a clean and clutter-free gift certificate template design.
This restaurant template prints out on one side of a piece of paper measuring 11.69 inches by 8.26 inches. Use this template if you prefer a simplified printing process due to its single-sided printing. And, just like any gift certificate template, it is best to feature an authentic picture of your restaurant, or your main dish/meal on the template. This lets customers know that you are not just using a stock photo.
Free Restaurant Gift Certificate Template
Restaurant Gift Certificate Template
Free Gift Certificate for Restaurant Template
Why should you use gift certificates?
If you want a subtle way to advertise your restaurant business so that your loyal customers will not feel alienated, consider using restaurant gift certificates instead. Listed below are various reasons why you should use gift certificates and how your business can benefit from them. Read on.
It is a gift that keeps on giving. 
As the name implies, gift certificates are intended to be used as gifts for other people. Whether you are giving them away to customers or your diners are purchasing them to give away to friends and colleagues, the spirit of giving is still running through these actions. Also, creating and making it convenient for your customers to use gift certificates lets your diners know that they have the option to let other people taste your food menu and experience your restaurant service.
When customers are satisfied with the service they have received, they will keep on coming back and will also keep on recommending your dining establishment to others, and that ultimately is a win-win situation.
You can easily customize them to emphasize your branding identity.
Gone are the days when you had to go to a printing shop and commission them to design and create gift certificates for your own business. Now, you may easily use restaurant gift certificate templates as a basis for your design and then print out your gift certificates in a matter of minutes. In addition, gift certificate templates are easily customizable. This means that you can add, remove, or modify different aspects of the design template to suit your restaurant brand's image. For instance, you may add restaurant logos, mascots, and even social media links.
By having the ability to easily edit a printable certificate template, you are given creative freedom without having to undergo a lengthy consultation process that would have occurred if you had hired a third-party advertising team. For those who operate a small restaurant business, creating a DIY gift certificate is often the best route to take, especially if you do not have the budget to hire additional people.
It is affordable to create.
In line with the previous benefit, gift certificates are also a more affordable alternative to fully launching a restaurant marketing campaign plan. This approach may not be applicable to all kinds of restaurant businesses, but it will certainly make sense for restaurateurs who wish to keep a business lowkey at first, or if they do not have a big advertising budget at the moment.
Using gift certificates for your restaurant as a form of advertising does not mean you are limited to using that sole strategy. Restaurateurs are free to come up with other advertising techniques and implement them alongside other strategies. Remember, that in any form of advertising, a certain degree of trial and error will occur before you can come up with a strategy that works from the get-go. Or, sometimes, you can just get lucky and come up with a remarkable and profitable campaign run from the very beginning. For more information on how to market a restaurant, check out the linked article.
It saves you time in advertising.
In one way or another, restaurant gift certificate templates can also be considered a form of restaurant advertising template since they allow you to tell a lot of people about an existing restaurant business. And, if you wish to do away with the traditional print advertising method, using gift certificates may appeal to you. Aside from saving money and the ease of editing them, using gift certificate templates also lets you save time compared to other forms of advertising.
This advantage can be highlighted, especially if you use gift certificate templates. Pre-made templates are already formatted and you do not need to create your own gift certificate design. Not needing to allocate time to design a template allows you to be more focused on the daily operations of your restaurant or other aspects of running a business.
It allows you to connect with your existing customers.
Making restaurant gift certificates available for your own restaurant is good customer service. As a restaurateur, you would want to keep your diners engaged and for them to continue their patronage of your restaurant. You may give them the gift certificates to show your gratitude, or you may provide discounts if they purchase the gift cards.
In addition, you want more customers. That is why, when gift certificates are used well, current customers are able to bring in or refer more people to your restaurant by using those restaurant gift certificates. You earn more when these new customers are then enticed to come back to your restaurant.
It lets you stay competitive.
The restaurant industry is a cutthroat industry as evidenced by the frequent sprouting up and closing down of many dining establishments within a few months. As a way to adapt to the times and stay competitive, restaurateurs need to do everything that will allow them to retain customers and attract new ones without much effort. One way to do this is by setting up a gift certificate system.
By allowing the use of restaurant gift certificates for your restaurant, customers will have more choices to pay for their own meals and to pay for other people's meals as well. In a world made smaller by technology, people will find more ways to make their philanthropy easier, too. Check this article for more information on setting up a sustainable marketing strategy for your restaurant.
What restaurant gift certificate template should you choose?
Compiled below are 15 restaurant gift certificate templates that you can download and customize to your heart's content. Use any of these gift certificate templates to create the best gift vouchers for your own dining establishment. And, remember, make sure to add your restaurant branding graphic designs on the template before printing them.
Simple Restaurant Gift Certificate Template
The Simple Restaurant Gift Certificate Template featured below is a good example of a minimalist gift card design. This template works well for upscale fine dining restaurants.
This restaurant gift certificate template prints out on thick paper measuring 8.5 inches by 4 inches (including a 0.25-inch printing bleed). With this template, you can choose from four color variations (red, blue, green, and orange).
To personalize the gift certificate design, make sure to add your own company logo design and the necessary signatory portion to make the gift voucher valid. Another way to personalize this gift certificate template is to add an image of your restaurant or of a famous dish that your restaurant serves.
Colorful Restaurant Gift Certificate Template
Next on this list is the Colorful Restaurant Gift Certificate Template (shown below). This template makes use of a colorful gradient texture effect, a design choice that suits modern and trendy restaurants.
This template is a vector file, so make sure that you have Adobe Illustrator installed on your computer before downloading the template. This also means that you can easily resize the template and print it out on any paper size. For best results, a gift certificate template is best printed out on paper or cardstock measuring 4 inches by 9 inches. Other paper sizes like 2.5 inches by 7 inches or smaller may also work.
Also, note that this template sports the word 'voucher' as the template's header. This graphic design element can easily be changed to reflect the specific wording you would like to have on your restaurant's gift certificate.
Elegant Restaurant Gift Certificate Template
If you wish your restaurant's gift certificate to have a more formal look, choose the Elegant Restaurant Gift Certificate Template shown below.
This elegant template best suits fine dining restaurants and other establishments that cater to more upscale diners. But this template can also be used for any kind of dining establishment as long as you deem the template design suitable for your restaurant's image. This template is fully editable and you can choose between three color palettes (red, teal, and gray).
Prepare cardstock or paper precut to the measurements of 8.3 inches by 3.9 inches for this template. You may also use one whole letter-sized paper to print out one gift card. If you wish to conserve paper, you may reduce the template's size so that you can print out two to three copies of this gift certificate on one standard paper.
Vintage Restaurant Gift Certificate Template
If you are operating a themed restaurant, then you will like the Vintage Restaurant Gift Certificate Template embedded below.
As its name suggests, this template follows a vintage restaurant template theme. If you wish to retain the image included in the template, you may also use this template for your Italian restaurant. However, if you do not have an Italian restaurant, you can easily replace this image with other pictures of your own restaurant.
The template is best printed on paper that measures 8.25 inches by 3.4 inches. It also comes with a pre-formatted 0.25-inch bleed, so you do not need to worry about the margins showing white lines. It is available in three color variations (gray, light pink, and dark blue). You can also choose between two kinds of download files (PSD and EPS).
Modern Restaurant Gift Certificate Template
Trendy and modern restaurant owners, rejoice! You can now use the Modern Restaurant Gift Certificate Template (shown below) as a way to promote your business without veering away from your restaurant's image.
What is great about the gift certificate template featured above is that it does not only work as a restaurant gift certificate template, but it can also be used by different business establishments that wish to create a gift certificate system of their own. The template follows a straightforward layout that allows anyone who receives the gift certificate to readily know what it is for. When printing out the template, make sure to use cardstock or paper measuring 8.5 inches by 4 inches. It is available in three color schemes (yellow, pink, and gray).
If you decide to purchase and download this template, make sure to review the different data sets needed in the original template and check if they are still required for your own restaurant business. Also, do not forget to include updated social media banners and contact information for your restaurant.
Editable Restaurant Gift Certificate Template
Use the Editable Restaurant Gift Certificate Template (featured above) if you love geometric shapes and solid colors for your restaurant template design. With this downloadable template, you may choose from four background color variations (red, blue, green, and orange). Note that you may still change the background color to match the specific color motif that your restaurant follows.
This template follows the CMYK color scheme to make sure that the printed version closely resembles the template version. It measures 8.5 inches by 4 inches when printed and includes a pre-created 0.25-inch printing bleed.
Restaurant Gift Certificate Template Bundle
Restaurateurs who want to have different restaurant gift certificate templates to choose from will like the Restaurant Gift Certificate Template Bundle shown below.
This template bundle includes three different gift certificate templates that you can choose from. All templates measure 8.5 inches by 4 inches and are best printed out on sturdy cardstock. Downloading this bundle pack will give you access to 16 different PSD template files. All graphic design elements (text and images) are customizable. But note that you need to use your own images to make the template more realistic-looking.
Each template may also be purchased separately. If you want your restaurant to have different gift certificate designs, choosing a template bundle is the right way to go. Just do not forget to add your own branding elements on the template to make your restaurant more memorable to customers.
Town Restaurant Gift Certificate
See restaurants using gift certificates effectively with the Town Restaurant Gift Certificate shown above. This template is a handmade gift certificate that diners can purchase online. Be inspired by this restaurant card template design so that you can recreate this same marketing technique for your own restaurant.
Kaimuki Superette Restaurant Gift Certificate
Mud Hen Water Restaurant Gift Certificate
Fong's Restaurant Gift Certificate Template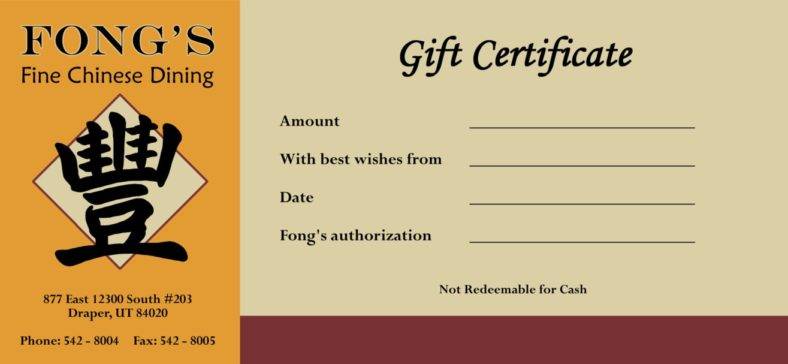 If you want a simple restaurant gift certificate template that already includes all the design elements needed for an Asian cuisine restaurant, then the Fong's Restaurant Gift Certificate Template shown above will appeal to you. With this template, you can easily just replace the restaurant name, logo, address, and contact information and then proceed to print the template. Using this template allows you to accomplish a lot of things with little effort.
Italian Restaurant Gift Certificate Template
Need a gift certificate template for your Italian restaurant? If yes, you most definitely will like the Italian Restaurant Gift Certificate Template shown below.
Use this template if you prefer to get printed restaurant gift certificates right away. You may still easily personalize the template. However, it is only possible through the seller's website. You can add your restaurant information, certificate details, pictures, logos, and QR codes. You can even choose paper types and sizes. Purchasing this template listing will entitle you to 100 gift certificates that will be sent to you by mail.
Order restaurant templates from this site if you want to receive a ready-made product after a couple of days. Also, remember that any design choices you wish to add to the template are final. You may not be able to edit them after your order is processed.
What is the best restaurant gift certificate template for you?
Just like choosing and creating personalized Christmas card designs for your loved ones this holiday season, choosing a restaurant gift certificate template also needs to be a personal experience. This is important because you would want anything related to your restaurant to show the same image and design concept. So, choose any of the gift certificate templates embedded above that you think will best complement your restaurant's current image.
For more inspiring gift certificate template ideas, check out this post on sample restaurant gift certificate templates and take some time to read our other posts.