As a restaurant owner, you should continually find ways to showcase your restaurant's branding identity through the use of unique stationery designs. One uncommon way to do this is through the creation and the use of restaurant parking ticket template designs.
This article focuses on the use of parking ticket templates that are tailor-fitted for dining establishments. More information on how to create and customize these templates are also included in the write-up below. Read on…
What are restaurant parking tickets?
Parking tickets are printed documents allowing vehicle owners and their vehicles an entrance to and the use of a parking space. When used by dining establishments, parking tickets may be designed to include graphic elements that will fit one's restaurant's branding identity.
Parking tickets are usually used by government agencies, typically the traffic department, to regular traffic flow and organize parking spaces within a specific area. When they are used by private companies or institutions, they will usually only have an enforcing capability within the said company's premises. This is also a reason why dining establishments need to be careful when using their own parking tickets.
Some states, counties, or cities may also have different rules and ordinances that specifically address the use of parking tickets by private entities. To ensure that you are not breaking any local laws, consult your local business bureau first before finalizing your ticket designs.
Different restaurant parking ticket templates
Listed below are examples of parking ticket templates that you may use for your own restaurant. Each of these templates is downloadable and fully editable. Choose a template design that will best fit your restaurant's current image.
Vector Illustration Parking Ticket Template
Rock Camp V.I.P Parking Ticket Template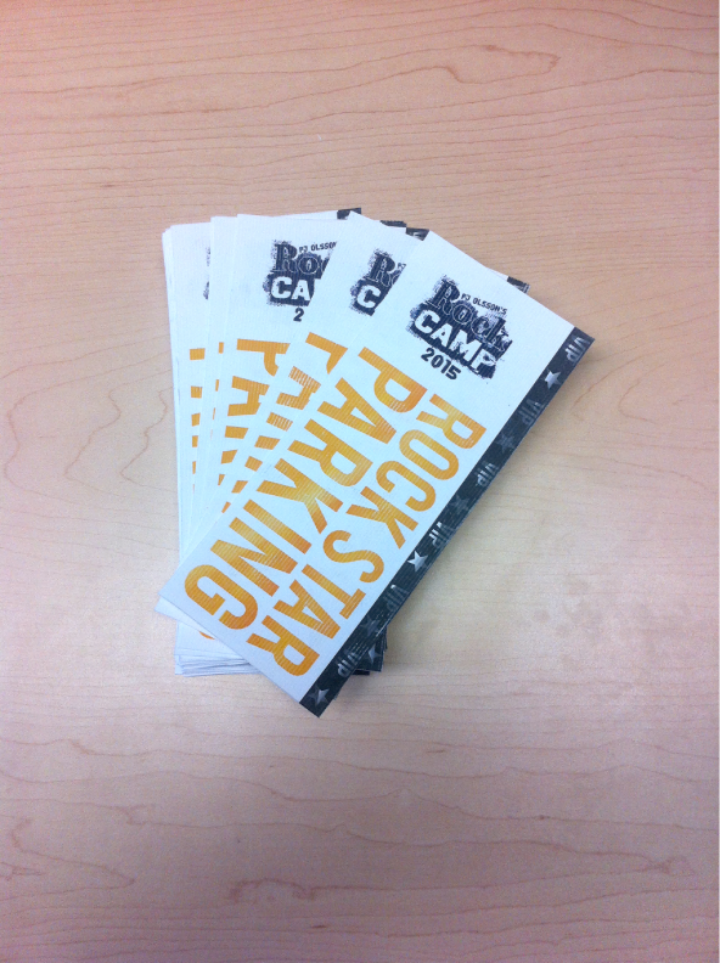 Red Valet Restaurant Parking Ticket Design Template
How to choose a parking ticket template
Selecting a parking ticket template can be made easier if you already have a set of criteria that will help narrow down your template choices. That is why we have listed these main criteria below. Read through them and apply each criterion well to each parking ticket template design that you see.
1. Design theme.
When choosing any kind of restaurant template, it is important to already have a design theme to follow. For restaurant businesses, it is often best to follow your restaurant's present design theme or motif. For example, if you are operating a BBQ and grill restaurant that has a rustic Texan theme, it would be best to choose a parking ticket template that already includes rustic design elements. This does not only make your life easier but doing this also ensures that all your restaurant stationery designs adhere to a common theme. This will then help increase your restaurant's recognizability.
2. Color scheme.
Another factor to consider when selecting a parking ticket template is your restaurant's official color motif. Choosing a parking ticket template that follows the same color motif or a complementary color theme will help further emphasize your restaurant's unique branding identity. This design technique is also more favorable to your business since you do not have to spend more for purchasing another set of printable ticket templates. You may use the same design template that you have used for your other restaurant templates.
3. Customization options.
Restaurant templates may be customized either by its original creator or by its end-user. If you are purchasing a PSD template for your restaurant's parking ticket design, for example, it is best to pick a template that will allow you to make all the necessary design changes. These edits may include the addition of your restaurant logo design, business contact information, and other information you wish to include in the parking ticket design.
In some cases, the original creators may prefer to create final parking ticket templates either in JPEG or PDF files. These kinds of ticket templates are still editable by the end-user. However, the degree of edits you may make can be limited. If this is the case, it is best to inform the original template creator of all the necessary template customizations you wish to have. Most template creators are willing to make these changes without any additional fees. You may also like free ticket templates.
4. Printing size.
Another factor that a restaurateur should consider when creating restaurant parking tickets is the size of the parking ticket. Some printable ticket templates will already be available in a pre-set printing size. So if you have already had printing size in mind, it is best to choose a pre-made ticket template that follows your desired print size or choose a restaurant parking ticket template that can be edited to the printing size of your choice. You may also like free tickect templates.
Parking tickets have no standard print size. But for maximum effect, it is best to choose a print size that will allow the parking ticket to be noticed readily and for its contents to be read easily. You may follow the standard restaurant rack card size for printing which is either 4 inches x 9 inches or 3.5 inches by 8.5 inches.
5. Cost.
The use of restaurant parking ticket templates is a more affordable alternative to hiring a professional graphic artist to design your restaurant's stationery templates. That is why, when deciding on what ticket template to choose, you may also factor in the cost of each template. You do not need to be a cheapskate and choose the lowest priced template even if it awfully designed.
If you are on a budget, make sure that you have looked at a number of different ticket template designs first before making any decisions. Sometimes, there are lousy high-priced templates and there can be beautiful low-priced ones. Whatever scenario you find yourself in, always choose the template that will best represent your restaurant brand first. The cost of most pre-made templates are already considerably lower than other template creation options so do not be lured by a low price tag.
So those are the different factors you should consider prior to choosing the best parking ticket template for your restaurant. Read through them repeatedly until you have internalized each criterion. This way, you can confidently choose and purchase the best ticket template to use for your dining establishment. For other ticket template design options, you may also check out these free ticket templates.
Flat Illustration Parking Tickets Template Set
City Nights Restaurant Parking Ticket Template
Minimalist Valet Restaurant Parking Design Ticket Template
Why use restaurant parking tickets
From a business standpoint, it can be argued that creating and using restaurant parking tickets can be a total waste of money and resources. However, if you dig deeper, there are more advantages for implementing the use of your parking tickets for your dining establishment. We have curated some of the most important ones below. Read each of them to gain a new look at what restaurant parking tickets can do for your simple business.
1. To organize traffic flow in and near your restaurant.
As more and more vehicles are manufactured and bought each year, most cities in the world will see a rise in motorists and the different traffic conditions they bring about. If you operate a restaurant business, it would make sense that your dining establishment is located in a place that is easy to navigate to (meaning, there is less or no traffic going there). Of course, there are a lot of factors that can influence traffic conditions. But, as a business owner, you can control some aspect of this by being able to control the traffic flow in and around your restaurant.
When you create and use restaurant parking tickets, your customers will know that you are committed to providing them with a holistic and positive experience. And that starts with having an organized traffic flow into and out of your restaurant.
2. To further showcase your restaurant brand.
A minor advantage of using parking tickets that is that you can add your restaurant's branding elements to them. This them helps increase your brand's recognizability since the same restaurant logo, emblem, or color scheme is used all over your restaurant.
3. As additional income source.
Another reason to consider creating and using restaurant parking ticket templates is that they can be used as a source of additional income for your business. This means that you can ask non-customers to pay for each hour that they are using your parking space. Of course, customers are still prioritized for using your restaurant's parking space and they do not have to pay for parking while they are dining at your restaurant.
4. To increase customer security.
Parking tickets may also be used as a way to keep track of and monitor the different vehicles that are parked in a parking space. This means that someone (usually a security guard) is present to guard your vehicle while it is parked. This provides customers a sense of security for his or her property. In addition, customers are also protected from thieves or other criminal activities since their parking spaces are monitored by guards. You may also like examples of ticket designs.
Black and Yellow Penalty Parking Ticket Template
Have you chosen a parking ticket template design?
As mentioned earlier, parking tickets are usually used by government agencies that regulate transportation and traffic in an area. These government agencies then issue standard parking tickets. These tickets usually follow a drab design and have a monochrome color scheme. However, for entrepreneurs who operate businesses that regularly cater to customers that arrive in motor vehicles, the need to organize their parking spaces may arise. That is why restaurant owners are one of the few people who may need to create and use their own parking ticket templates.
If you own a dining establishment, let this article guide you in choosing between different printable ticket template designs. Note that all these templates are fully customizable so can easily make these templates your own.
And.. do not forget to bookmark and share the knowledge that you have gained from this article by posting it on social media and by informing your friends and colleagues about it.