Creating a membership website is a complicated undertaking. It requires you to have the best of technology in order to give the best to your premium subscribers. Want more help on this subject? Look no further! We have got you covered on this. If you have trouble getting people to sign up, maybe you need to have a look at these templates that you can use to create sign up forms for your website. After providing you with some productive WordPress Templates, Landing page Templates, Website Plugins and much more, our curators have now compiled a variety of easy-to-edit form templates for you to use on your site. The following are some of the many registration forms available for download.
Member Registration Form
The Flat Login and Sign Up Form includes Login, Registration and Password Recovery in Photoshop Document or PSD format that can be easily edited in Adobe Photoshop. Perfect for do-it-yourself or DIY users with artistic background, this customizable template has vector-based images and organized layers.
Consent Sign Up Form
The Consent Flat Signup Form Widget Template is a simple signup tool for your website or application, created with HTML5 and CSS3. Ideal for individuals that want a colorful and hip signup form. You can also use HTML Themes and Templates to create HTMl website without any professional help.
Mobile Signup Form
Profile Sign Up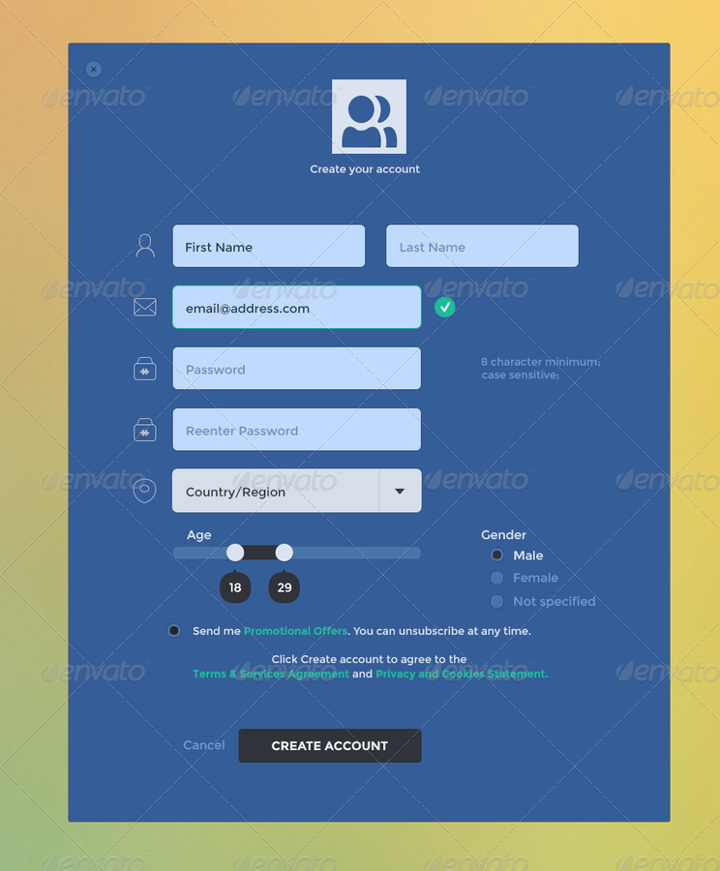 Modern Flat Signup Form has a flat and clean style with the PSD file's layers that are well-organized and labeled for easy navigation and editing. This template is perfect for companies that have color schemes that they want to incorporate with their registration form.
Google Signup
This Signup Register with blue-green color scheme looks simple and comes in a fully-editable PSD format, with organized layering that enables users to customize the color easily. It is ideal for site owners that want a minimalist theme with simple options.
Newsletter Subscription Sign Up
This newsletter subscription responsive widget is a simple and vector-based image that invites visitors to subscribe to a website or mailing. Great for online publications that offer newsletters and monthly updates for members.
Signup Form Social Media
Transition Signup
Sign Up Form with Payment Fields
Web Signup Form
Easy Signup Form
Sign Up Form PSD
Flat Signup Form
Creative Signup
Alley Signup Form
This sign up form template is available in colors pink, white and lavender. Ideal for websites that are feminine in nature such as those from the cosmetic and fashion industries.
Account Sign Up Form
This simple PSD utilizes the use of white space in order to create a clean layout that can be used with any color theme as background. This signup form is good for any website in any industry since it utilizes neutral tones such as white and black.
Simple Sign Up Form
Event Registration Form
Validation Form Template

Splendid Signup and Flat Responsive Widget Template has a neat design with a dark navy blue color that complements the colors of the social media buttons. Perfect for site owners who want a more detailed registration format with social media options.
There are a lot you can do with websites; and even though membership websites require a lot of work and effort, it is a highly rewarding endeavor that gives a lot of benefits in the long run. There are many ways to get customers to sign up to your website and Template.net can be your all-access pass to the best and most awesome site plugins, forms, designs and themes. Download your very own customizable theme and be on your way to creating the most amazing website fit for your successful business!