The art of tattoos has come a long way since their inception as tribal markings and brandings for initiation rites. Now, they have become a statement about the person, the person's beliefs, or symbols and names that mean something special to them.
Some also get tattoos solely as accessories; they want to impress the world with the images inked for life on their bodies. From skull tattoos to letter tattoos, now the hype is all about 3D tattoo designs or optical-illusion designs. These 3D tattoo designs are usually accomplished by strategic shadowing and perspective, creating an illusion of depth and movement.
Here are some of the coolest 3D tattoo designs on the web that you may want for yourself, if you're planning to get one.
3D Tree Tattoo
Download
Realistic 3D Tattoo
Download
3D Elephant Tattoo
Download
3D Music Tattoo Design
Download
3D Star Tattoos
Download
Why You Should Get a 3D Tattoo
3D art tattoos give a lifelike depth to an otherwise flat design. If you're planning to have an image tattooed, why not take a step further and make it so that it looks like it jumps off your skin?
3D tattoos have more attraction value than regular ones. It feels good when people admire our bodies, and with the uniqueness and eye-catching quality of 3D tattoos, people are sure to stare, mouth agape, at the 3D designs on your body.
3D tattoos look great on whichever body part you choose to ink them. Whether you get your arms, legs, chest, back, or thigh inked with 3D tattoos, they are sure to look amazing. There are even some people who tattoo their shaved heads with 3D art, which is formidable and amazing to look at.
Popular 3D Art Tattoo Designs
3D art tattoo designs can be anything, but the most popular ones are images and designs taken from natural inspirations, such as flowers, butterflies, insects, and other natural elements that carry symbolic meaning.
In this compilation, you can find various 3D art tattoo designs of elephants, scorpions, and owls, among others. Skull tattoo designs are also very popular (we have a list of those, if you want to check it out). Tribal tattoo designs are also a hit, as are optical illusions, which confound and amaze onlookers all the same.
Creative 3D Tattoo
Download
Amazing 3D Tattoo
Download
Scorpion 3d Tattoo
Download
3D Butterfly Tattoo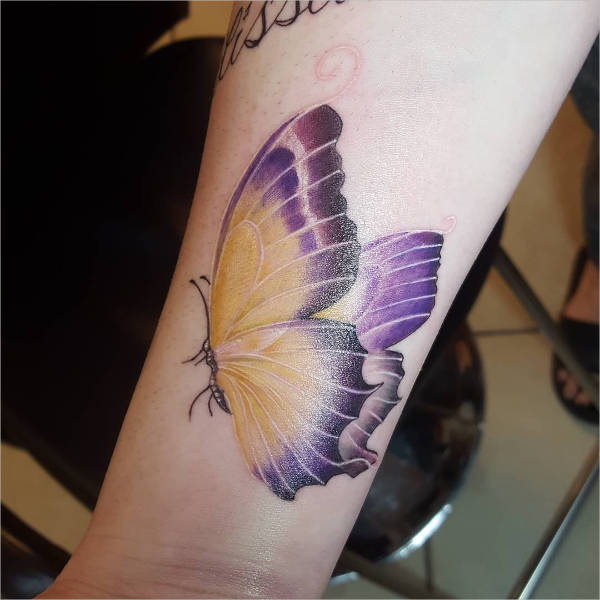 Download
3D Spider Tattoo
Download
3D Camera Tattoo Design
Download
Tattoos of the Twenty-First Century
The 3D medium has been embraced by all forms of media, whether in film, books, paintings, and now, even tattoos. Tattoos of the twenty-first century have become as intricate and sometimes outrageous as they go. People now get tattoos on the most unconventional places on their body and even go as far as covering their whole body in ink.
But whether you're getting arm tattoos, leg tattoos, back tattoos, or wherever, you have to remember that once it's there, it will stay there forever. So you have to spend enough time thinking over the designs you want, whether you want a 3D or a flat design or a regular tattoo, and where you want to place them. Also make sure that the tattoo artist is legit and use sterile materials. Something that has to be on your body for the rest of your life has to be done right.