Whether you're an animal lover or you simply like how they look and the kind of attitude they show off, you'll surely appreciate these beautiful animal tattoos for the works of art that they are. Skin art is a hot topic among artistic communities on social media, showing off the various forms that ink can take on an individual's body. You can check out some of our huge library of tattoo designs to draw inspiration for your next tattoo.
Animals have a long-standing tradition of being featured in several forms of art, and tattoos are no different. Each creature embodies a certain personality that resonates with the person getting them, their bodies becoming a part of that masterpiece.
Geometrical Monkey Tattoo
source
Elephant Tattoo Design
source
Deer Ink Tattoo
source
Tiger Tattoo Design
source
Black and White Lion Tattoo
source
Skin Art and Individuality
With the kind of attitude these tattoos possess, they usually mean something deeper and personal to the people wearing them on their skin. Being as they are, tattoos are a part of them, and it's easy to reason why they would get a tattoo of their favorite animal.
Be it a pet they had loved or an animal that displays the characteristics that they value deeply, tattoos hold a meaning. Even if that meaning is that they simply think butterflies and birds are beautiful. Why not? The symmetry and function is wonderful to look at, either in action or on somebody's skin.
Culture and Animal Mysticism
Animals and how they're viewed in our culture cultivates that meaning in our minds. They're featured in our movies, folklore, and artwork. The roles they've played in our culture matters, for it signifies what tattoo lovers hold dearly to them. It's that person's fondness for the movie Lion King, their zodiac signs, the animals in their culture and folklore, or wherever else that moved them closer to the choice of tattoo they got.
Real or not, animal tattoos can be hauntingly beautiful. Have a look at these phoenix tattoos for inspiration just in case you were thinking of getting your own tattoo.
Girl with Octopus Tattoo
source
Colored Wolf Tattoo Design
source
Cat Tattoo Design
source
Owl Tattoo Design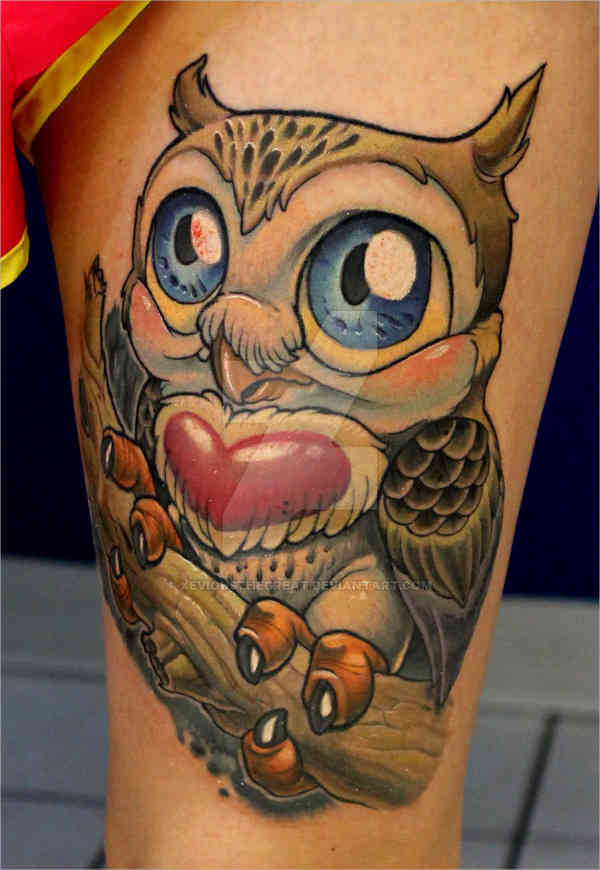 source
3D Butterfly Tattoo Design
source
Ink and Attitude
Having a wolf on your shoulder is cool. And really, that's all the reason someone needs to get one. The kind of attitude some animal tattoos—with their piercing eyes and beastly fur—is desirable to many. It's about looking like how you want to and projecting the kind of personality that you strive for.
Animal tattoos can be intimidating, but plenty of times they can be awfully cute. Heart designs and light colors and bright eyes can be the way to go. Your love for some of your childhood cartoons is endearing, and getting the ink to show the things that you love is just another way of being true to one's self.
Inspiring Tattoos
Whatever kind of tattoo you're getting not only shows who you are but can also potentially move the people who see them. A beautifully inspiring tattoo of an animal that embody the values that you wish to bring to life is pleasant to look at.
If you're looking to be inspired by some tattoos that show how straight and rigid lines can be a natural part of life, take a look at or download and print some of our collections of geometric tattoos, and maybe get some artistic juices flowing.