If you're fond of tattoos or just like looking at some great pieces of skin art, then we have something for you. The arm is one of the common places to get inked. Having the tattoos there has the benefit of being visible to everyone, including the owner, but that if they would want to hide it, the option is still there with some longer sleeves.
Are you thinking of getting one, a band or a sleeve of ink? You should consider how you would like it to look and which tattoo to get. To help with your choices, dwindle them down to what you would be happy with and look at more examples to inspire or get you the idea for your tattoo designs.
Full Arm Tattoo
Source
Tattoo on Full Arm
Source
Jesus Tattoo on Arm
Source
Man Arm Sleeve Tattoo
Source
Girl Tattoo on Arm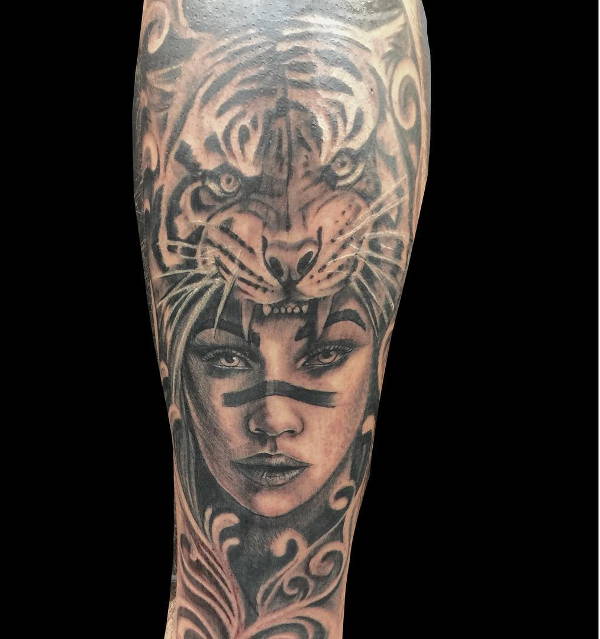 Source
Reasons for Your Skin Art
People can have any variety of reasons for getting their tattoo. Whichever style they choose to get for their ink and wherever they decide place that design, they've put some thought into it. Probably. Here are some of the common reasons we discovered for getting a tattoo:
Meaningful emblem. Sometimes people get tattoos for their symbolic meaning. They want to carry that with them as part of a representation of themselves.
Motto or mantra. Instead of symbols, tattoos can just spell out that message with some stylized lettering.
Memorial. Tattoos can be a thoughtful way of honoring the memory of a loved one. These kinds of tattoos, so much care and love can go to them.
Aesthetics. It might not be as deep a reason as any other that you might imagine, but it's just as valid. Why shouldn't people get the designs that they want? Things can just be as simple as, "Hey, I want that."
Personal Preference
Instead of getting large-scale tattoo sleeves, some people may prefer to get smaller ones. If you're interested in those tattoos, you might want to check out these small tattoos for men or, rather, tattoos that are more popular among men.
Rose Tattoo on Arm
Source
Arm Tree Tattoo
Source
Inner Arm Tattoo
Source
Forearm Tattoo Design
Source
Getting Your Own Ink
Tattoos aren't always a sacred symbol of yourself that you can carry around like a banner; some of them really are mistakes. Here's how you never have to shamefully wear overlong sleeves like your reputation depends on it:
First thing you should consider is where on your body you want to keep your ink. We've shown in this collection how arm tattoos can turn out well, but you might have other things in mind. Do you want to be able to hide your ink? Is your back tattoo even worth it if you never take your shirt off? You might also want to consider the pain involved. Getting tattoos on bony areas like along the sternum or down your spine supposedly hurt more than on fleshy areas like the shoulders, arms, and thighs.
What design or art piece you want is equally important and is also a factor on where it might work better.
Get a good tattoo artist that you can trust. View their portfolio—photos of the real thing—and not just of their designs on paper. If you can see the tattoos on the person themselves, even better.
Want to see some more tattoos? Have a look at these geometric tattoos from our website to see how good these new tattoo design trends can get.