The Day of the Dead, or Diá de Muertos, is one of the most celebrated holidays throughout Mexico. The masks, costumes, festivities, and people all come together into something joyous and spectacular to celebrate life and honor the dead.
The brightly colored and decorated candy skulls, or calaveras, are iconic to the celebration, and several artists have found its design and meaning as an inspiration to create some truly breathtaking marvels. This collection we're sharing features skull candy designs in the form of skin art. If it's other tattoo designs you're in to, go ahead and browse through these tattoo designs for your enjoyment and inspiration.
Robot Candy Skull Tattoo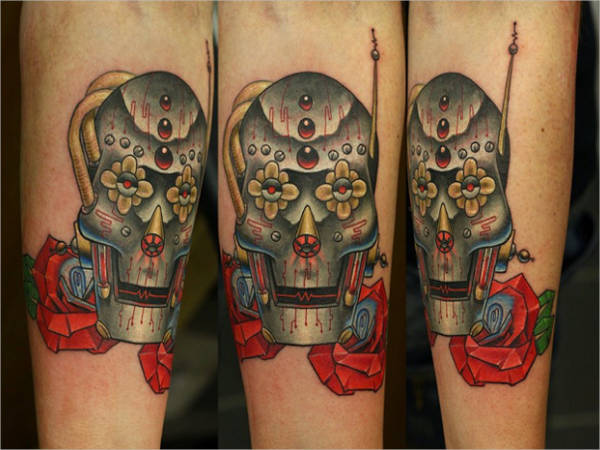 Download
Candy Skull Tattoo on Shoulder
Download
Candy Skull Sleeve Tattoo
Download
Owl Candy Skull Tattoo
Download
Girl Candy Skull Tattoo
Download
Inspiration from Skull Art
The art styles found in candy skulls have inspired a lot of artists to render their own take of it. The most common subject to accompany the candy skull is roses.
Bright, red roses alongside a decorated skull show a striking contrast between life and death. Contradiction within itself is something most people, especially artists, find fascinating, and there are a lot of people that would stop just to gaze upon such a piece of art.
Candy Skulls in Skin
For whatever reason that people choose to get inked with a rendition of candy skulls like religion, aesthetics, or as a memorial, there is no shortage of talented tattoo artists to create that same haunting beauty that candy skull art is known for.
While surely there are some who would ink themselves with candy skulls without knowing the story behind them, there are many who understand and know that the circle of life and death is beautiful and that decorated skulls evoke that beauty. As there is fascination in understanding the meaning behind some works of art, 3D tattoos do the same with its illusory visual spectacle. Check out these 3D tattoos for you to lay your wandering eyes upon.
Candy Skull Thigh Tattoo
Download
Candy Sugar Skull Tattoo
Download
Candy Skull Face Tattoo
Download
Candy Skull Tattoo on Leg
Download
Candy Skull Woman Tattoo
Download
Cultural Elements in Ink
Candy skull designs, having drawn their origin from Mexico's Diá de Muertos, keep certain design elements that hearken to the beliefs and traditions that make this design style truly unique. Here are some design elements in candy skulls artists keep in mind:
Flowers like marigolds and chrysanthemums—although bright and cheery in their vibrant colors—are significant symbols in the Day of the Dead. Roses—the rock stars of the flower world—have taken their place in most contemporary art regarding the calaveras.
Jewel eyes and floral patterns found in most modern renditions are inspired from how the calaveras are typically adorned—icing, shiny foil, flowers, beads, and feathers.
Though not as common as the rose, owls sometimes make an appearance with the candy skull. Owls in Mexican folklore are seen and feared as omens of death. An old saying still persists in Mexico that says, "Cuando el tecolote canta, el indio muere." (When the owl cries/sings, the Indian dies.) Considering its more somber tone, its not a surprise that they're less commonly associated with candy skulls, a symbol for a holiday as festive as Diá de Muertos.
More Tattoo Designs
One of the first things you should decide when getting a tattoo is where to place it on your body. If you're considering getting ink on your arms, feast your eyes on these arm tattoos to get a sense of how good they could be with the right artist and concept.