Portrait tattoos are a great way to show reverence and dedication to someone, if they're not bewildered by it in any way. These are tattoos that show portraits of people or animals' faces, usually in a photorealistic or creative art style. We've gathered such tattoos from around the web for you to see.
Want to look at other forms of skin art? Check out the ink in these tattoo designs and maybe you'll find something you'd like, if you were thinking of getting your own. And if not, then at least you got to appreciate the work these artists had put in them.
Portrait Sleeve Tattoo Design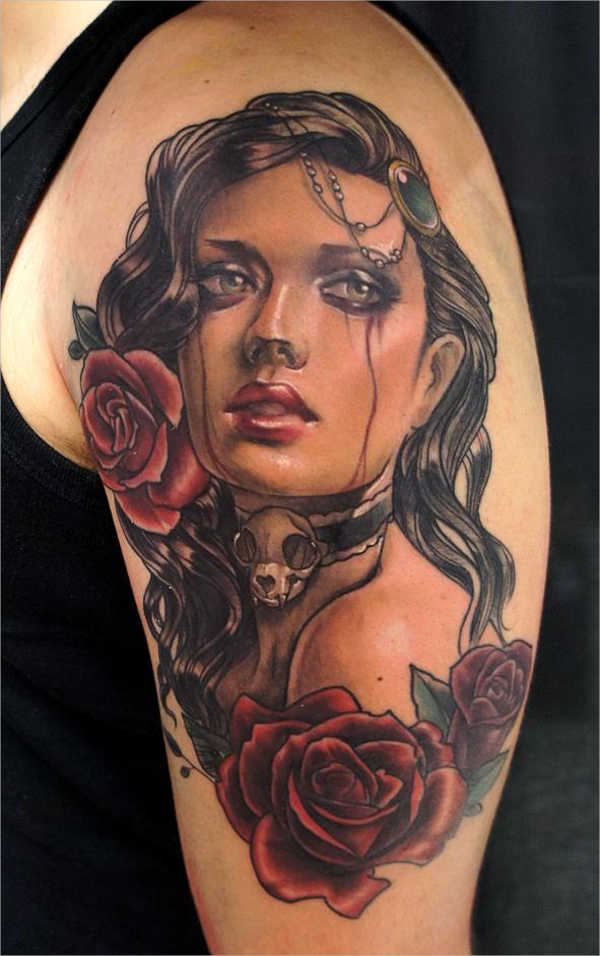 Download
Family Portrait Tattoo Design
Download
Dog Portrait Tattoo Girl
Download
Girl Portrait Tattoo Design
Download
Tiger Portrait Tattoo Design
Download
Photorealistic versus Surreal
Portrait tattoos can show off the amazing level of detail that skilled tattoo artists can embed on one's skin. That kind of detail really stands out in photorealistic portraits of people or pets. Some of the more common subjects in portrait tattoos are celebrities, only for the most loyal fans. Other subjects are family and beloved pets. Portrait tattoos are also a touching way of memorializing a loved one who has passed.
Surrealism is big on several individuals who like getting tattoos. Surreal art can include near-realistic portraits drawn for artistic effect, for there are a few things, like faces, that can effectively convey deep and powerful emotion and life. One way of putting life in a tattoo is by adding a splash of color in it. Take a look at these cool watercolor tattoos, if only so you can stop and marvel at its colors.
Tattoo Placement
Despite the level of complexity and its general size, tattoo portraits are also commonly found on arms and shoulders. It might have something to do with the reasons of getting a portrait tattoo, or it could be just for aesthetic purposes and its visibility.
If you could do with some examples of skin art on the biceps, shoulders, and forearms, try browsing through these arm tattoos to get a bigger picture of what arm tattoos could look like.
Memorial Portrait Tattoo Design
Download
Portrait Half Sleeve Tattoo Design
Download
Angel Portrait Tattoo Design
Download
Portrait Tattoo on Thigh
Download
Portrait Tattoo Design on Chest
Download
Complexity in Its Permanence
The permanence of a tattoo somehow hits harder when its someone's face we're thinking about. For obvious reasons, a tattoo artist with any semblance of a work ethic wouldn't ink your girlfriend's face on your shoulder. One could always cover it up, a far less expensive and less painful way of amending a mistake over laser removal. However, the whole experience could still be extremely difficult and painfully awkward.
Portrait tattoos are sometimes requested in memory of a loved one who has passed. People grieve in their own ways, and having something permanent to remember someone by can be sweetly thoughtful. Like any other tattoo, though with much higher stakes, do your research if you're thinking of getting a portrait tattoo design. Don't entrust the complexity of a portrait tattoo and the memorial of a loved one on a novice artist. Find someone with the background, experience, and impressive portfolio that also suits your tastes.
More Tattoo Designs
Portrait tattoos aren't for everyone. If you've had your fill of photorealistic tattoos, check out some more eclectic designs. Designed to amaze and inspire awe, these 3D tattoo designs have an awesome way of drawing you in. Even if you don't get one yourself, they are clearly a sight to behold.