A sleeve tattoo is the kind of tattoo that you commonly see in the arms up to the wrist of a person. It is usually a big image inked on the said body parts and can sometimes cover its entirety. Sometimes, depending on the person, it can be a collection of different tattoos but together at arm's length.
There are different designs of sleeves tattoos and various methods on how a tattoo artist can put it in the specific body parts to interpret what the person getting inked wants. You may take a look at our tattoo designs and decide whether you want to get yourself a sleeve tattoo as well. All the items that will be included in the tattoo will vary with regard to your own taste and aesthetic.
Floral Sleeve Tattoo
Feminine Sleeve Tattoo
Sleeve Skull Tattoo
3D Sleeve Tattoo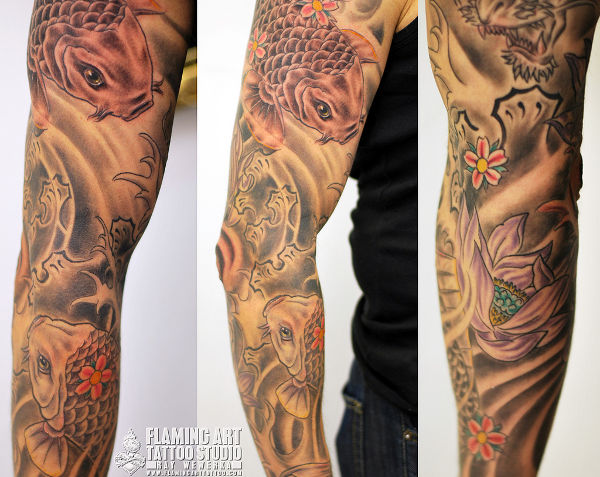 Sleeve Tattoo Photography
Sleeve tattoos are more commonly seen in the arms of men, but there are also a huge number of ladies nowadays who opt to have the kind of tattoo as well. A great thing about a sleeve tattoo is that it can always be easily seen due to its size and the function of the body part that it covers. If you want other people to see and appreciate a body tattoo that you have, then getting a sleeve tattoo is just for you. If you want to have one put in your arms already, browse our arm tattoo designs and select the design that suits your personality. All our design templates are downloadable so you can just print them easily and show it to the tattoo artist of your choice.
A sleeve tattoo is a good choice in expressing yourself. Again, it can easily be seen and because of its size; the items and characters that are  present in the design can be identified more compared to those tattoos that are relatively smaller and are inked in areas of your body that are not as visually exposed as your arms. It can actually provide a great visual aesthetic if a sleeve tattoo s professionally done and contains a design that is of the character of the person who has it. A good color combination and the use of inked items will greatly affect the entire look of a sleeve tattoo.
Phoenix Tattoo on Sleeve
Vintage Tattoo Art on Sleeve
Space Sleeve Tattoo
Traditional Sleeve Tattoo
Watercolor Sleeve Tattoo
What is also good about a sleeve tattoo is that as much as it is easily seen, wearing a long-sleeved shirt can easily conceal it. So in terms of a corporate or formal look, it will not be a hindrance if you have a sleeve tattoo as you can hide it by wearing proper clothes intended for the purpose of hiding it.
The aesthetic that a sleeve tattoo can provide is also very appealing. Using a big part of your body as a canvas for artistic purposes is truly a sight to behold. Also, it is amazing to look at a sleeve tattoo and learn what is behind the design. If there are a lot of items that are involved in the design, it gives more curiosity to the viewer that makes them look closer to the tattoo and see if they can figure out the interconnection of different items used and the meaning of the sleeve tattoo as a whole.
If you still have no idea of what design you want, browse through our phoenix tattoos and see if any of it has caught your attention.