While getting tattoos in general is already a form of "social rebellion" in itself, torso tattoos, on the other hand, are different matters. Torso tattoos require persistent dedication and commitment. Oftentimes, due to the magnanimity of its size and intricacy of its details, torso tattoos require you to have it inked on separate sessions.
Naturally, you need to give careful thought in choosing your tattoo designs; even more so, when you are planning to get a torso tattoo since this covers a huge part of your upper body. Hence, if you are looking for torso tattoo designs, we have easily downloadable designs for you to select from. Scroll down below and click on the ones you fancy.
Torso Tattoo Session
Torso Tattoo Chamber
Creative Torso Tattoo Art
Torso Tattoo on Back
Colorful Torso Tattoo
Torso Tattoos on Men
Have you seen perfect specimens of the male gender strutting around with their tattooed chests in beaches during summertime? Indeed, it is an appealing sight. Culturally, men are more inclined to adorn their chests with huge tattoos. Since the days of old, native tribes ink their men in the chest in order to show courage, leadership, and loyalty to the clan. That is why, in this era, the predominant reason for torso tattoos is to manifest these traits; and rightly so, since getting inked on the chest is quite painful. Plus, you have to sit through this agonizing pain in a long duration of time and on separate sessions too.
Most men opt for tattoos with culturally defined masculine designs such as dragons with blades, snakes, wolves, grizzly bears, tribal patterns, and soaring eagles. If you are a rebel at heart, then I suggest you transgress these gender stereotypes and explore beyond these constricting boundaries of what is and is not masculine. How about some abstract tattoos befitting your progressive intellect?
Mermaid Torso Tattoo
Vintage Style Torso Tattoo Art
Traditional Torso Tattoo Art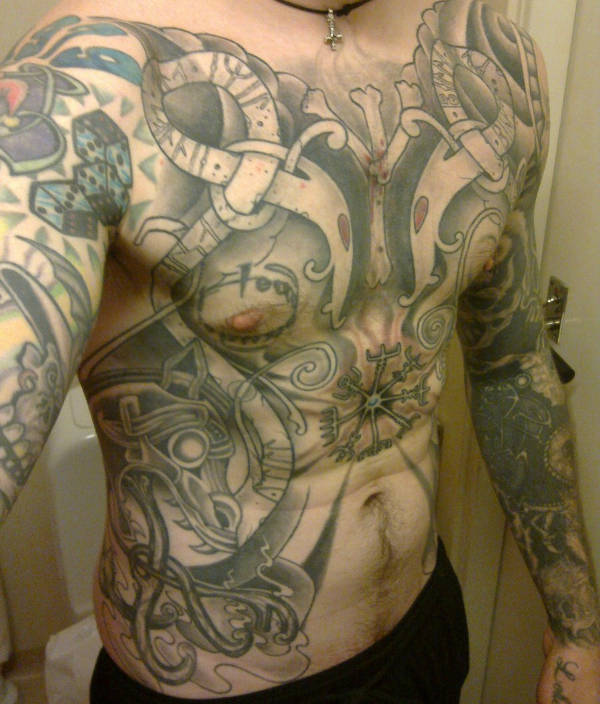 Torso Tattoo by Tony Jones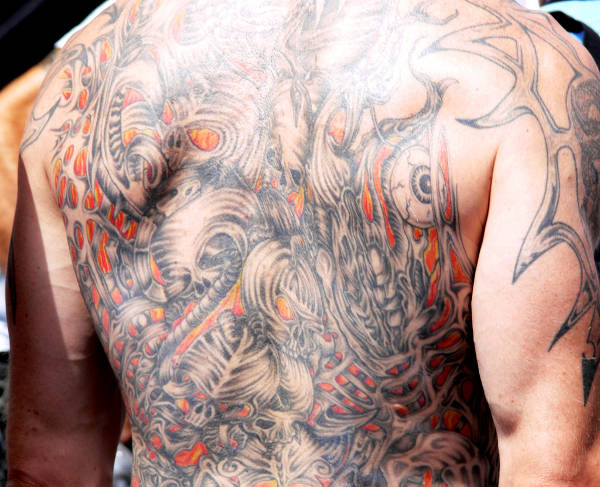 Wolf Torso Tattoo
Torso Tattoos on Women
Women can also sport torso tattoos. More often than not, women prefer tattoos on the upper part of their torsos. It is visually appealing since this is the chest area, directly underneath their collarbones.
Most women tend to opt for a montage of flowers and leaves, eagles wings, bright red phoenixes, and many more. Of course, when it comes to art, there are no limits. You could get abstract art, butterfly tattoos, 3D art, and even metal band logos inked on your skin! These are perfect symbols of strength, good taste, and distinction.
Things to Remember in Getting a Torso Tattoo
It is important that you take note of some guidelines before you go under the needle, here are some tips to guide you:
Never get a tattoo on a whim or when you're intoxicated. Tattoos should always be well thought out for these are expressions of your individuality.
Mentally prepare yourself to sit through long tattoo sessions. Torso tattoos take a lot of time to get inked. Oftentimes, you need to have it inked in different sessions because one session is not enough.
Speaking of sessions. One of the reasons why you are made to have your torso tattoo inked in separate sessions is because of the pain threshold which may vary from person to person, but more often than not, a few hours of inking on your torso would cause you to experienc

e unendurable

pain.