19+ Beautiful Watercolor Tattoo Designs
Now turn your body into an art gallery of watercolor tattoos with the below models. We all know that tattoos and piercings are a good combo. But now the watercolor tattoos mentioned in the below section have upsurged it a few notches up. If you are bored with the regular tattoos, try these watercolor tattoos. Be more creative in showing up your second skin. You can find some little silly samples and a lot more serious ones as well.
Awesome Watercolor Tattoo Design
Watercolor Tattoos are the hottest trend in the tattoo world. This Awesome Watercolor Tattoo design is for unisex. Combine all your favorite designs and come up with something personalized like this. A sort of one-stop solution.
Beautiful Girl with Tattoo
Watercolor Butterfly Tattoo
This watercolor Butterfly tattoo is the artist's first of its kind and according to her, it took her 3 sessions of time (approximately 14 hours) to get it completed. You can actually see the sweat and burn that go into each curve of it.
Watercolor Aquarela Tattoo
How will it look on you? Even if you hate tattoos, you cannot ignore this. Get a tattoo machine today and try this. If your hand is not steady enough to make a tattoo, get it done from outside.
Flowers Tattoo on Woman
From silly signs to doodle sketches, nothing is ineligible for tattoos. If you are not restricted to your own imagination and okay with adoption, go for this conventional design of flowers tattoo on a woman.
Hummingbird in Watercolor
This is another Unique tattoo idea. This might be a temporary one and may not last long. But it is funny and you will remember those moments of getting them pierced even after years.
Watercolor Owl Tattoo
This Watercolor Owl Tattoo enriches your skin tone. See how beautifully it is detailed with pretty colors. If you want to become a business-good tattoo artist, you should try things like this.
Spray Paint Tattoo by NikaSamarina
If somebody asks "What exactly is watercolor tattoo and what makes it different from a regular tattoo?", show them this. You will just love the paint splashes and the way the colors blend together.
Watercolor Hummingbird Tattoo
If there is anything that will never go out of the world, it is tattoo art. Jokes apart, let your customers walk away with pride and joy with this watercolor Humming Bird Tattoo.
Traditional Body Art Tattoo
This reflects the personal taste of the person who wears the tattoo. Yet the purple is so soft and bold. Of course, the whole magic lies in wet painting.
Watercolor Tattoo of Bird
Look at this colorful blob. A watercolor tattoo of a bird, probably an Eagle. If you don't want those delicate floral designs, you can go for this macho design.
Watercolor Lion Tattoo
Colorful Tattoo of Hummingbird
Tattoo of Warrior
Watercolor Tattoo of Fox
Blue Watercolor Rose Tattoo
Floral Watercolor Tattoo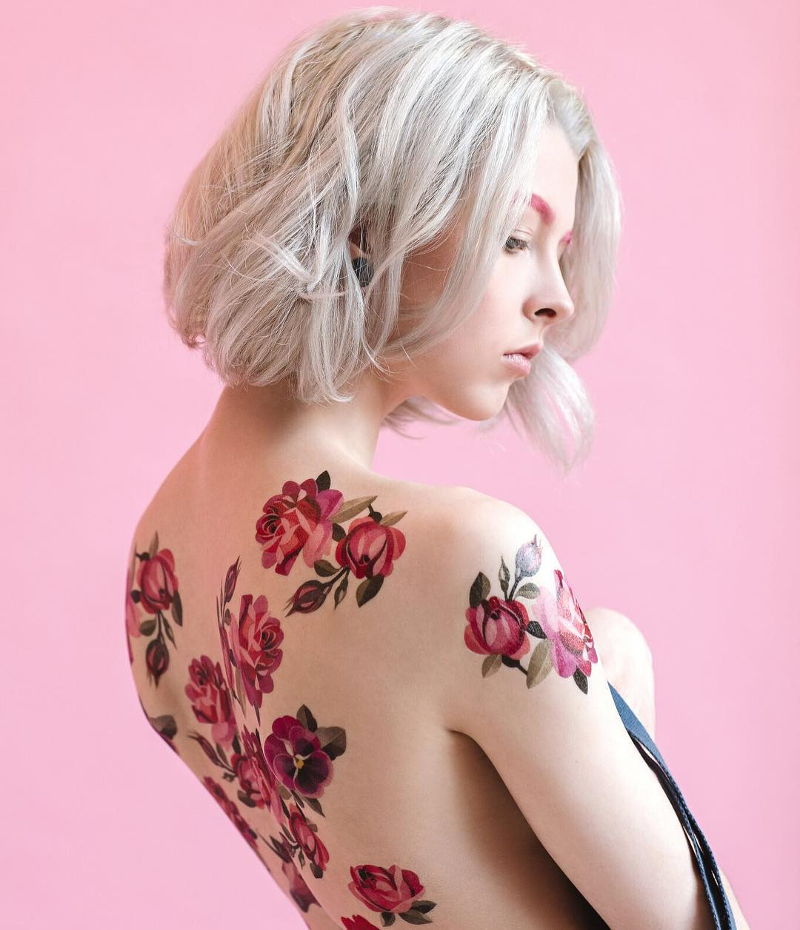 Tribal Style Watercolor Tattoo
Watercolor Tattoo of Lion
Watercolor Nature Tattoo
After all, getting a tattoo is not a life altering decision and you will not become a modified human being, until and unless you get a jungle of tattoos. Some people go for temporary tattoos, because they love the idea that they will fade away. But make sure that your skin reacts positively to tattoos.