It is truly breathtaking to see a woman walk down the aisles of the church to meet her future husband. It is also amazing to see men really becoming at their most vulnerable whenever they are waiting at the altar. But before there even is a marriage, an engagement usually happens first. A few months or years before the wedding, an engagement party is held to celebrate the promises of a couple to be wedded.
An engagement party requires planning no matter how big or small the invited crowd is. One thing that a couple must not forget to is to create engagement thank-you cards that they give to the people with whom they have shared the moment. You may take a look at our thank-you card templates and see which among them may be used for your engagement party.You may also see Card Templates.
Engagement Thank You Card Template
Engagement Party Thank You Card Template
Creative Engagement Thank-You Card
Wedding Thank-You Card
Save The Date and Thank-You Card
Engagement Thank-You Card
Lettered Wedding Thank-You Card
The Importance of Having an Engagement Thank-You Card
Not a lot of people are usually invited to an engagement party compared to the actual number of guests in a wedding. It consists of very special people and close friends that the couple want to have by their side when they are celebrating the promise that they have made to each other in marriage. These people must be given a token of appreciation for coming and allotting their time to celebrate with the couple. A simple thank-you card would mean a lot.
Things to Consider When Creating an Engagement Thank-You Card
If you are designing your engagement thank-you card or if you are to hire someone to do it for you, here are a few items that you may consider to think of first:
The aesthetic of the engagement thank-you card must be aligned to the theme of your engagement
You may actually select a wedding theme first then from there get a few idea that you may use in your engagement first so a smooth transition in terms of events and designs will take place.
It is not required to put every name of the people to whom you are to give your engagement thank-you card, but it is highly suggested as it is more personalized and makes the person realize that you really want him or her to be with you in this once-in-a-lifetime moment.
Aside from our engagement thank-you cards, you may also take a look at our wedding thank-you cards .
Funny Wedding Announcement with Thank-You Card
Engagement Thank-You Card Design
Wedding Thank-You Card Template
Wedding Invitation Thank-You Card
Photo Thank-You Card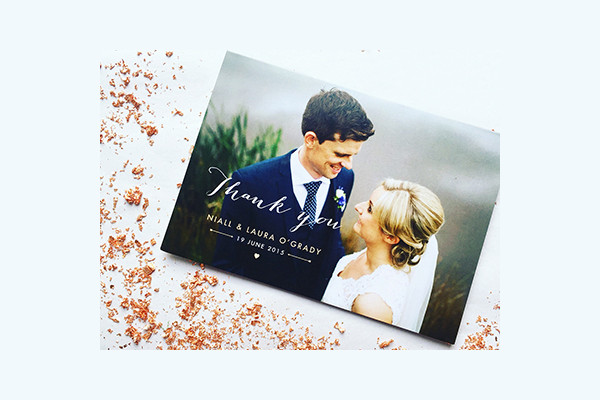 What Should be in an Engagement Thank-You Card?
These information must be present in the thank you cards that you are to send after your engagement party is done:
The name of the soon to be wedded couples
The location and time that the couple celebrated their engagement party
The theme of the party
A short message of showing your gratitude for the time that they have given to celebrate with you
As the preparations for engagement parties may not be as hectic and crucial as it is compared to those for the wedding, all details must still be considered as it allows you to celebrate a new chapter of your life with the people that you want to share it with.
You may browse through our bridal shower thank-you cards too if you already know a few more things about an engagement thank you card.