Traveling has always been an activity that most of us want to try. I mean, why not? With the many destinations that you may go to, going from one place to another is really hard to stop. Aside from the Internet, magazines specializing in travel provide information about travel destinations and the activities that one can do in a specific place. You may also see magazine templates.
41+ Travel Agency Templates in PDF, Word, Excel, PSD, HTML5, WordPress, Google Docs, PowerPoint, InDesign, Apple Pages, Google Sheets, Publisher, Apple Numbers, Illustrator, Apple Keynote, Google Slides - START DOWNLOADING
Creative Travel Magazine Template
Editable Travel Magazine Template
Minimalist Travel Magazine Template
Basic Travel Magazine Template
A travel magazine is a type of magazine that deals with anything about traveling. You can actually see a lot of items that you need to know about specific places should you buy a travel magazine and browse through its pages. You may view our magazine templates as they can be used for the creation of a travel magazine content structure.
Commercial Travel Magazine Template
Travel Agency Magazine Ads Template
Free Modern Travel Magazine Cover Template
Free Travel Magazine Cover Template
Free Travel Magazine Template
Travel InDesign Magazine Template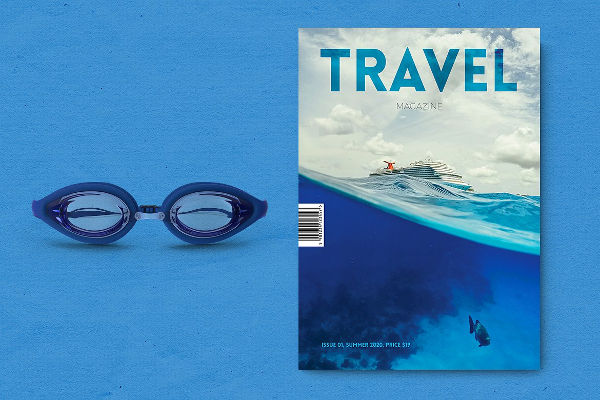 Download
Travel Magazine Cover Template
Download
Free Travel Magazine Template
Download
Travel Agency Magazine Template
Download
Tourist Travel Magazine Template
Download
Travel Adventure Magazine Template
Download
Places to Go To
A well-curated travel magazine must be able to provide information about different places. There should be concrete and specific information that can help its readers to navigate places and what to do there. A travel magazine can focus on just one place as the main destination that they are to feature. However, a few other places are still needed to be present as it gives variety to the people who will read the magazine.
A feature on a place is not only about its demography and geographic location. It should also be about the resorts where travelers can stay, the restaurants where they can eat, the activities that they can do, the perfect tourist spots that they may explore, and many more reasons why a destination must be on their travel checklist.
A Travel Magazine's Cover Page
Since it is all about travel, a travel magazine's cover must be able to convince the readers to wander. The cover page must contain all the travel information inside the magazine, and it should feature the main destination that a certain magazine issue is focusing at.
A travel magazine's cover must be vibrant to get more attention and the destination must look perfect and amazing so that people who will read the magazine will be mesmerized and will already have an idea on where to go next. You may take a look at our magazine cover templates for references about magazine covers and how they should be done.
A4 Travel Magazine Template
Download
Elegant Travel Magazine Template
Download
Travel Photography Magazine Template
Download
World Travel Magazine Template
Download
Summer Travel Magazine
Download
Travel Tips, Insights, and Suggestions
Aside from wonderful photographs of places, the content of the magazine must be full of insights about traveling. The template that will be used should allow information on travel tips and other trip suggestions to be highlighted.
There are a lot of topics that a travel magazine can talk about. It can come from the basics like taking care of your skin during beach trips up to complex and detailed processes like the amount that you should expect spending when you travel to specific islands and other destinations.
Why Buy a Travel Magazine?
Grabbing a travel magazine from magazine stands is very important, especially if the feature is about the place where you will go next. There are some areas where the Internet may not be able to be reached so having information about a specific place at hand will help you to travel efficiently.
Also, some travel magazines may have vouchers and promo pages that you may use on your next travel purchase. These may come from sponsors or companies that are being featured for a specific travel issue.
So the next time that you see a travel magazine, already get a copy and learn more about different places. Aside from our travel magazine, we also have available photography magazine templates ready for download.