Yes, Valentine's Day may be considered a special occasion and is celebrated by showing love to our family and friends, but don't we still do that regardless of the day? The thing is with Valentine's Day, we often do more of what we usually do everyday. In other words, when we simply say "I love you" to our loved ones everyday, we surpass that expression during Valentine's Day, we actually do something more to really make them feel that we sincerely do love them. You may also see ticket samples.
254+ Event Templates in PDF, Word, Excel, PSD, HTML5, WordPress, Google Docs, PowerPoint, InDesign, Apple Pages, Google Sheets, Publisher, Apple Numbers, Illustrator, Apple Keynote, Google Slides - START DOWNLOADING
Valentines Party Event Ticket Template
Event Ticket Template
Valentine Event Ticket Template
Unlike other occasions, however, Valentine's Day is not considered a holiday, even if it is also treated by the Catholic Church as a feast day. The celebration of Valentine's Day is highly simplistic, there aren't any fireworks or parades, it simply happens between families, couples, and friends. But nevertheless, it is still being celebrated which is what matters, businesses and organizations would event put together something special in dedication for all those who are giving and receiving love.
Rose Petals Valentines Event Ticket
Red Ribbon Valentines Event Ticket
Speaking of events, what would they be without tickets? The use of tickets is one way for event organizers to gather attendees to the event, as well as make a profit to compensate them in their expenses for organizing the event. If you are planning to make your own tickets for an event that you are putting together for the next Valentine's Day, then our various event ticket templates below will surely come in handy. To see the designs yourself, feel free to scroll down.
What Is an Event Ticket?
Event tickets are a type of tickets that are being used to permit an individual to attend an event such as exclusive gatherings, sports games, music events, and many more. These tickets are usually issued or sold by the event organizers themselves, the organizer's sponsors or business partners, authorized ticket sellers, and through the internet.
DJ Party Valentines Event Ticket
Valentines Day Banquet Event Ticket
Valentines Day Club Event Ticket
The Ideal Time People Buy Event Tickets
Just because you are organizing an event and have prepared yourself tickets for selling, don't expect that you can just sell them any time of the year. In any industry, timing is an essential factor to consider and you should always learn to determine the perfect time for selling tickets to your event.
1. Discounted tickets are almost always going to sell more than when they still have their original price, and that already makes a lot of sense since people are always looking for ways to cut down on their expenses if possible. Usually, the organizers would start lowering the prices of their tickets as the event is drawing near, and this usually becomes the highest selling point for the tickets. You can also read printable event ticket templates.
2. No matter how early you start promoting your event, if you tend to price them high and the schedule for your event is very close to special occasions, then you might not sell them well. It's follows the same concept as when an underdog film is being released during the same time as a movie that's been overly hyped, the former wouldn't get much attention because of the latter. To work around this, you will need to either make your tickets cheaper or to reschedule it to sometime after the occasion.
Valentines Lover Night Event Ticket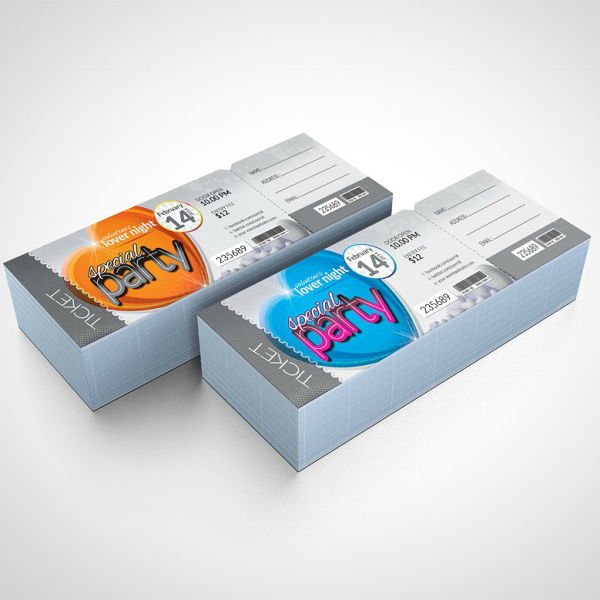 Elegant Valentines Gala Event Ticket
Reasons Why People Choose Not to Buy Event Tickets?
No matter how much effort you put into organizing your event, designing your creative tickets, and selling them, nothing just seems to work. Now you ask yourself, "Where did I go wrong?". Business will always involve hits and misses, you can't always assure yourself that just because you were able to pull it off the last time, you can assure yourself that you can again in the future. As mentioned earlier, timing is essential, and so are other reasons.
1. We've said it before and we'll say it again, people often go for the cheaper option if its possible, and when they think your tickets are just too expensive, then they will most likely not buy them. Some may think of it as overspending, while some may see it as impractical. Whatever the reason, try to make your tickets a tad affordable. If you want, you may still keep the original price, but throw in a few freebies as well. You may also like valentine invitation designs.
2. If you're planning to promote your event on the internet, make sure that the website or the social media page is not confusing. Almost always, it is very important that a website is able to capture the user's attention and keep them engaged, and one way of keeping them engaged is to actually let the website be user-friendly and relevant.
3. Speaking of websites, it would also be very helpful to take advantage of online banners and links to direct users to the website where you are promoting your event. Facebook alone has an approximate 550,000,000 users every month, and that is already more than enough to enable you to reach your goal even if it means only half of that number will buy tickets to your event.
4. You don't actually know how to do effective sales talking, and to really entice people to go to your event and buy your tickets, sales talking is very important. Let your prospects know what's in it for them and you can assure them that your event is worth their money. You may also see dinner ticket templates.
Valentines Party Event Ticket Sample
Valentines Bash Event Ticket Sample
Tips and Tricks to Promote Your Event Tickets
Now to sum it all up, what does it take really to promote your event tickets effectively? What are the steps that need to be taken to make them sell like pancakes? Here are some tips that you might find useful when selling tickets to your event:
1. Start Promoting Early
Plan a date for selling your tickets, but actually start selling them one to two weeks earlier. To avoid creating confusion, plan or announce two different dates: the first one may be an early bird discount for exclusive members, or you may offer the tickets for the regular price but with freebies; the second date is just selling the tickets in its regular price. You may also read party ticket templates.
2. Also Promote the Location of the Event
Don't just promote the event and the venue itself, include in the promotion the landmarks surrounding the venue. If there are notable places near the venue such as restaurants, malls, or theme parks, make it known to the public that the venue of the event is very accessible from various other landmarks. You can also see ticket templates.
3. Promote How Enjoyable or Informative Your Event Will Be
If you're organizing a music or sports event, give assurance that the people will indeed have fun in the event. Otherwise, if you're planning to throw a seminar or lecture event, give them an outline on what to expect from the event. Specifically, let them know what they can expect to learn after the lecture. This way, the people will know that their money will not go to waste.
4. Get Your Sponsors Involved in the Promotion
When promoting the event, you shouldn't be doing it alone especially if you are coordinating with other businesses. Get your sponsors and business partners involved in the promotion of your event, you may even ask them to link the event's website from their own or their social media page. This is highly applicable if your sponsors and partners are more established than you, and in turn, most likely have a larger connection base.
5. Make Different Options and Packages
It's always better to give your prospects several options to choose from. Your event may last for an entire day but your prospect may also have other appointments and can only attend half of it. Give them the choice of buying a ticket just for either the morning or afternoon session so they wouldn't think that they are wasting their money. Also, this is very applicable for events that will take several days such as music festivals. Of course, when doing this, the tickets intended for only part of the event should be sold for a cheaper price than its full or regular counterpart. You may also like dinner ticket templates.
Valentines Live Concert Event Ticket
Valentines Night Event Ticket Example
Origins of Valentine's Day
In terms of origins, there isn't a definite one for Valentine's Day. In fact, there are actually multiple versions of the origins surrounding this event. For the Catholic Church's perspective alone, they recognize three different Saints with the name Valentine, who they think have been martyred and are honored every Valentine's Day. But there are also other sides of looking at the story, some of which are non-Christian but still connect to their versions. Below are some of the claimed origins behind this celebration:
1. The Legend of St. Valentine
According to one version of the story derived from the Catholic Church, Valentine was a priest during Emperor Claudius II's regime in Rome. The Emperor disallowed marriage for young men because he thought that single men made better soldiers than married ones. Valentine believed in the value of love and in secret, performed weddings for young couples. When the Emperor found out about this, he ordered Valentine to be executed, and many believe that his execution date fell on February 14.
2. The Pagan Celebration of Lupercalia
For the Pagans, they believe that Valentine's Day is simply the Church's "Christianized" version of the Lupercalia, which is their festival in honor of Faunus, Romulus, and Remus. Faunus is the Roman god of agriculture, while Romulus and Remus are the Roman founders. The Lupercalia was celebrated in the middle of February, and since the month only has 28 days, this festival fell on the 14th.