In definition, a silhouette is the image of a person, animal, object, or scene represented as a solid shape of a single color with its edges matching the outline of the subject, a featureless interior and presented on a light background. It became popular in the 18th and 19th centuries as an effective alternative to portraiture. Nowadays, outline drawings vary from animals, to objects, and even live scenes.
Eagles are compelling creatures and they can be used to represent a lot of things. So, we have gathered some beautiful eagle silhouettes that you can download and use for your creative projects. Like all the Animal Silhouettes available on our website, you can download these templates for free if used personally, but you may have to check for restrictions from the author when used commercially.
Eagle Silhouette Vector
Download
Eagle Silhouette Clip-art
Download
Flying Eagle Silhouettes
Download
Bald Eagle Silhouette
Download
Set of Eagle Silhouettes
Download
Eagle Bird Silhouette
Download
The Symbolism of Eagles
Integrating eagles into your design ideas can definitely create a fun and interesting output. So, we have put up this collection because of what the eagle symbolizes that could inspire you to to create a masterful work of art.
Freedom. Eagles have the ability to fly where the wind takes them. They are not restricted by many boundaries and limitations which make them easily the symbol of freedom.
Travel. This does not just mean physical travel but also traveling with the mind and spirit. Eagles are lithe and light, therefore, they can go to different places wherever and whenever they want, with ease.
Inspiration. Because of the eagle's connection with the vast and limitless skies, feathers can also serve as an inspiration and reminder that there are we can achieve possibilities if we keep on flying.
Gratitude. Ancient tribes and even some people nowadays use fowls and birds such as eagles in their rituals and other sacred ceremonies as offerings of gratitude for a bounty harvest or blessed life.
Power. It is quite a general knowledge that Native Americans use the eagle's feathers to adorn their leader's head or body in forms of clothing. The level of one's power is determined by the number of feathers he is wearing.
While you're here, you can also check out our compilation of Silhouette Photography as well.
Free Eagle Silhouette Vector
Download
Golden Eagle Silhouette
Download
Soaring Eagle Silhouette
Download
Happy Eagle Silhouette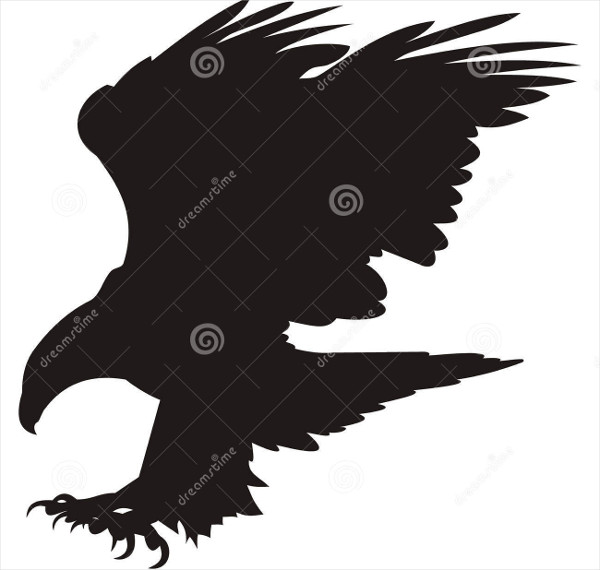 Download
30 Free Vector Flying Birds
Download
Why Use Silhouette Images
One would think that eliminating all details from a shape and reducing an image to two essential colors would make your image simpler, but in fact, silhouettes seemed to be carriers of numerous possibilities for meaning such as the one listed below.
It defines characters. Whether in film, photography, or illustration, silhouettes allow creators to pin the characters of the story to an imaginary cork board. Once pinned, the audience will be able to get familiar and identify the image wherever he is put for viewing.
It builds gravity. Using silhouettes in a rather simple environment helps us understand the great importance of the moment. It helps describe the relationship between all the elements in a fluid way compared to using detailed images which may take away the attention from each other.
It heightens the drama. When crafting a particularly tense image, you can use silhouettes to tighten the tension and heighten the drama. Silhouettes have been used for a variety of iconic, graphic, and emotional effects in movies
If you want more examples of Silhouette Patterns, feel free to browse the site for more!