In definition, a silhouette is the image of a person, animal, object, or scene represented as a solid shape of a single color with its edges matching the outline of the subject; a featureless interior and presented on a light background. It became popular in the 18th and 19th centuries as an effective alternative to portraiture. Nowadays, outline drawings vary from animals, to objects, and even live scenes.
On this page, we have gathered some beautiful elephant silhouettes that you can download and use for your creative projects. Elephants sure are compelling creatures, and they can be used to represent a lot of things. Like all the Animal Silhouettes available on our site, you can download these templates for free if used personally, but you may have to check for restrictions from the author when used commercially.
Elephant Playing Silhouette
Download
Free Printable Elephant Silhouette
Download
Elephant Silhouette Vector
Download
Elephant Silhouette Illustration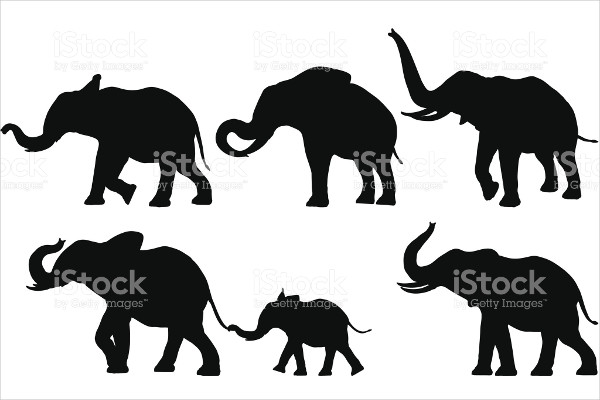 Download
Cartoon Elephant Silhouette
Download
How Silhouettes Came to Be
The origin of silhouettes are tied to outline and shadow drawings which has been in existence since the caveman days. Let us discover how silhouettes came to be.
Stone age. It is said that the use of silhouettes originated back in the cave murals of the Stone Age people, where the realistic representations where achieved by tracing the outline of an object's shadow and filled in with a flat color.
Ancient civilizations. These representations are then seen as more developed images in tomb paintings, relief sculptures, and pottery decoration of the ancient Egyptians, Mesopotamians, Minoans, and Greeks, among others.
7th century. The Greeks and Romans were able to devise other methods in drawing the outline of a person's shadow by casting light from the sun, a candle or a lamp, which were then painted on diverse materials and elaborately mounted.
Renaissance period. Various mechanical devices were invented and use to make accurate outline drawing. When paper became available, shadow portraits were cut out and used as personal mementos.
20th Century. After becoming a type of folk art in the 19th century, silhouette art principles were then used by Walt Disney for his animated cartoons, and other artists use them for poster art and book illustrations.
Don't forget to check out other silhouette templates available on our site such as our collection of Head Silhouettes for more design ideas.
Baby Elephant Silhouette
Download
African Elephant Silhouette
Download
Circus Elephant Silhouette
Download
Elephant Silhouette Clipart
Download
Asian Elephant Silhouette
Download
Why Use Elephant Silhouettes?
Elephants have been the subject of various cultural depictions and their symbolism inspires different traits. Here is why you should use these elephant silhouettes in your projects:
They symbolize good luck. The elephant is generally considered as a symbol of good luck and good fortune. Elephants are used as parts of religious ceremonies in many cultures and are highly revered.
They symbolize strength. As one of the biggest animals to roam the planet, the strength of the elephant is undoubtedly second to none in the animal world. Its power is well-known to itself as it confidently strides with its pack on the plains.
They symbolize wisdom. In Hinduism, the elephant is used to symbolize wisdom. Elephants are very intelligent creatures as they ponder all things and think things through before coming into a conclusion and doing the action.
They symbolize patience. Patience is one of the elephant's attributes. As elephants are large, they don't move fast. However, it relies on its conscious thought and patience to meet all its needs, which makes up for its lack of speed.
Feel free to browse through our Family Silhouettes templates for more ideas!