Almost everybody knows who Minnie Mouse is. As long as you know who Mickey is, then you most probably know who Minnie is. She is Mickey Mouse's girlfriend, but according to Disney during one of his interviews, she is actually Mickey's wife and that they are only keeping their marriage private. She was created by Walt Disney himself, along with another animator and artist, Ub Iwerks, in 1928.
A silhouette is defined as an image formed in the likeness of a person, animal, object, or an entire scene and is usually in black. This image is then placed over a contrasting color—usually white—to distinguish it from the rest of the image. On this page, we have an entire gallery of Minnie Mouse silhouettes for you, but we also have a separate gallery of Animal Silhouettes that you may check out.
Minnie Mouse Bow Silhouette
Download
Minnie Mouse Head Silhouette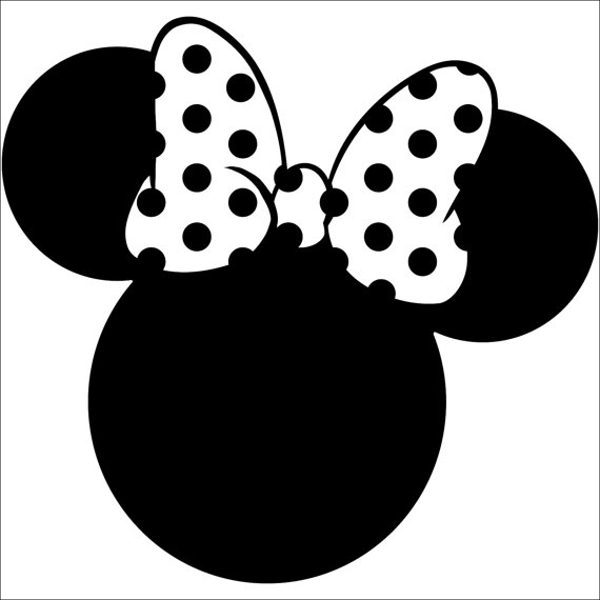 Download
Free Printable Minnie Mouse Silhouette
Download
Facts about Minnie Mouse
Minnie Mouse's full name is Minerva Mouse. Her father's name is Marcus, and her grandparents are Marshal and Matilda Mouse.
Minnie's most recognized relatives are her uncle Mortimer Mouse and her twin nieces Millie and Melody Mouse.
The first time Minnie Mouse appeared alongside Mickey was in 1929 in a short entitled Plane Crazy.
The first time Minnie was acknowledged as Mickey's girlfriend was through a song in 1929 where he sang that he's "got a sweetie, she's my little Minnie Mouse."
Minnie Mouse has been considered an unofficial Disney princess by many, most especially after Mickey told her that she's "always been a princess" to him.
One of Minnie's voice actors, Russi Taylor, married one of Mickey Mouse's voice actors, Wayne Allwine.
For those who enjoy photography, check out our gallery of Silhouette Photography.
Minnie Mouse Ears Silhouette
Download
Minnie Mouse Body Silhouette
Download
Minnie Mouse Silhouette Invitation
Download
Black and White Minnie Mouse Silhouette
Download
So what did you think of our Minnie Mouse silhouette samples? We have saved you the hassle from searching all around the Internet for the best Minnie Mouse silhouette images by providing them all for you. These images were carefully selected from among the best ones that we can find, and some of these actually pay tribute to the original artist himself, Walt Disney.
On how to download these silhouette images, the process is very simple. You first need to access our website which you can do easily as long as you have good Internet connection. Then search for the silhouette image that you desire, and once you've found it, simply click on the green Download button that accompanies the image and save it on your computer.
If you want to make changes to these images, you may do so since these files are fully editable. Simply open it on your photo-manipulating software and make the necessary changes depending on your preferences, then save back on to your computer. Also, if you wish to have this printed, just make sure you are setting the printer on its best printing quality and you are using high-quality paper.
For those who admire the form of butterflies, also check out our gallery of Butterfly Silhouettes. But if you weren't able to find what you were looking for on this page, then scroll down and check out the links to other related content found all around our website.