The modern times call for modern designs, right? Though people always have that mentality to look back at themes and styles that were once trendy, we usually only look at them to appreciate how they were, and that what we have right now wouldn't have existed if it wasn't for those. In today's generation, the vintage and retro themes may feel quite outdated, but they are still capable of mesmerizing people. You can also read massage voucher templates.
That said, we have a collection of gift voucher designs below which are all modern-themed. These templates would be perfect for those who own or are managing a business because it helps them keep their stocks moving as well as determine which products actually sell better. If this is indeed what you need, then you can check out the gift voucher templates below and download the one that works for you.
Elegant Gift Voucher Template
Simple Gift Voucher Template
Thank You Gift Voucher
Editable Gift Voucher Template
Cash Gift Voucher Template
Dinner Gift Voucher Template
Spa Gift Voucher Card Template
Spa Gift Voucher For Husband Template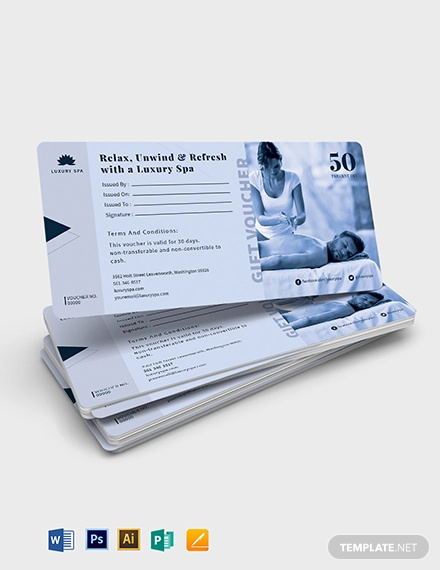 Birthday Gift Voucher Template
Hotel Gift Voucher Template
Spa Gift Voucher Template
Wedding Gift Voucher Template
Modern Gift Voucher Template
Gift Voucher Template
Modern Jewelry Voucher Example
When we speak of modern designs, they don't entirely need to be all fancy and complex, in fact, the minimalist theme has even become the trend today as evidenced by it being used in web designs and graphic designs. For this voucher template, the design is kept simple to help emphasize the photo that bears the products being promoted. If you choose to download this template to make your own business vouchers, take note that this template comes in PSD and can only be edited using Adobe Photoshop, but be sure that your software is at least version CS5.
Creative Mall Modern Voucher Template
If you're looking for a template that's relatively easy to work around, then the modern gift voucher template above would be perfect for you. The reason why this template is so easy to understand is that the entire design is very well-structured with its use of a two by two college to come up with a total of four windows.
Two of the windows are being used for the images of the products being promoted, and the other two are for the textual elements. The design on this template is just as straightforward to the readers as it is to the promoter. For this template, you will be getting two fully layered PSD files that are editable and ready to print. You may also see sample business vouchers.
Paper Bag Modern Voucher Template
Here's another minimal and flat-themed gift voucher template that may also get your interests. It's most appealing feature would probably be the vibrant colors used on the design considering the graphic elements used are kept very simple. In fact, the graphical elements included on this template are a text balloon on the top and a paper bag on the bottom, the rest is just text. then again, regardless of the simplicity, vouchers made using this template will never fail to attract attention thanks to its colors.
Fashion Modern Gift Voucher Template
Here is a modern gift voucher template that perfect for use in the fashion industry, and what makes this template even more amazing is the fact that it actually looks like a postcard than a voucher. With this template, you will be driven to keep a copy of this than to throw it away after its value has been served. Fashion is indeed something that's been evolving over the years, though some fashion sense tend to come and go occasionally such as the bell bottom pants for women, the Aztec prints, and the high-waisted swimwear.
Because of this, fashion business will need to pay close attention to this evolving trends in order not to get left behind. They will also need to ensure that their products also get their chances of fame, and one good way of doing that is to promote them in vouchers, flyer designs, and catalogs. For this voucher template, it consists of four layered and editable PSD files as well as free fonts.
Modern Spa Gift Voucher Template
After a stressful day at work, we all deserve some R & R in order to get rid of all the negativity and prepare ourselves for the following day. One of the best ways to relax is to get ourselves pampered at the spa. During busy times, we can hardly take care of ourselves and will eventually learn to live through the day all stressed out, uneasy, and cranky. This is why the spa is the perfect place to relax since others will actually help us to relax and stop thinking about all those stressors. You may also read simple restaurant gift vouchers.
But then, not everyone can afford to go to the spa regularly, take it from me, it's been months since I was able to step inside one. Because of this, spa vouchers can help both parties since it allows customers to avail of the services at affordable prices, and it can put a good reputation towards your business, which can help attract more customers.
Here's a creative and modern discount voucher template to those who wish to promote their business or the products that they are selling. Impress your customers as well as yourself with the awesome quality of this template. This template is highly editable, and you can download it in various formats that are compatible with the editing tool that you have in your system. Whether you have Microsoft Word or Adobe Photoshop, this layered voucher template is very well supported.
Modern Christmas Gift Voucher Template
Christmas is fast approaching and people are already thinking of what to buy as gifts for their loved ones. While the busiest time to shop for Christmas gifts would be sometime in December, it would probably be best to prepare in advance the tools that you need to use in order to ensure that you'll be able to make a profit during the holidays.
The thing is, people buy a lot of goods during Christmas that they will often look for discounts in order to make a bargain. If they find something that's cheaper but roughly the same quality as something that's pricier, then they will surely go for the one that's being offered for a lower price. This is why in order to compete in the market, use gift vouchers such as the one shown above. You can also check out sample vouchers.
Food Modern Gift Voucher Template
Is your mouth starting to drool over the image shown above? Even if you're a vegan or a vegetarian, your human instincts will make your mouths water when you see an image of a sumptuous dish. Then again, the patty in this burger could even be made of tofu, which is what vegans and vegetarians eat in place of the real beef burger. You can also read dinner voucher templates.
Enough about that, the use of vouchers is not only common in the fashion industry but also in a food establishment. Let's face it, people enjoy eating that the only factors keeping them from eating a lot is their physical or financial limitations. With food vouchers, they won't have to worry about the expenses since they will be able to avail of the dishes for a lower price.
Modern Textual Gift Voucher Template
Looking for a simple, modern, and functional voucher template to help you with your promotional needs? Now you can with the template shown above. This template will allow you to make gift vouchers that are minimal but still creative. There are two designs that you can choose from with this template, and each design has its own distinct theme. Whether you want it light or dark, this template will be able to grab people's attention with its contrasting elements and content. You can also check out ticket voucher templates.
Modern Gift Voucher Sample
If you prefer hand-drawn illustrations over actual still photographs or computer-generated elements, then you might probably like the voucher template shown above. This template is multipurpose, meaning you can actually use them regardless of what you are actually trying to sell. In fact, the template's page even mentions that this can actually be used generically for all types of businesses. If you want your vouchers to look unique, modern, creative, and presentable, then this would be a good template to use. Additionally, this template will allow you to incorporate a QR code and it also comes with a font that you can use for free.
Simple Gift Voucher Template
For the last but definitely not the least template that we have in this collection, we have here a template that contains an abstract pattern for its background. For the rest of the elements, they are all being kept as straightforward as possible to still keep it relevant and functional. For only $6.00, this template comes with a total of 16 vector files and 8 JPG files, though the latter are only being used for previews. The vector files are guaranteed to be fully editable in Adobe Illustrator, so be sure to have it installed on your system to be able to enjoy this template's capabilities.
Were you able to find the template that you need to make your own vouchers for your business? Out of the twelve choices provided, you should have at least selected one that works perfectly for you, and considering how great these templates are, it would be such a waste for you to leave empty handed. But to really help convince you to download a template, here are things that you should know about them.
Given that these templates are all magnificent-looking, they were actually created by professional graphic artists. Also, these gift voucher design templates are fully and easily editable, so you can modify the design as much as you need while still keeping the quality at its best. Lastly, these templates can be downloaded for a very reasonable price. That said, you should already be convinced enough to download one right now.