Have you ever gotten yourself the opportunity to spend on something that's lesser than its original price? Most of the time, this happens during special occasions and are usually offered to every single consumer. But there are also times wherein discounts are only offered to a certain number of people, those who have something to present upon making their purchase, and this something is referred to as simple vouchers.
Oftentimes, vouchers are received via mail from retailers or businesses in order for the consumer to be enticed on availing of their products. But vouchers can also be given as a present, wherein they are being ordered and bought from the issuer and then given by the purchaser to another person. While the latter seems to sound similar as how gift cards or certificates are being used, it's because they are remotely similar, except for the fact that vouchers seldom don't have monetary value but rather offer to cut a percentage of the original price off.
Simple Gift Voucher Template
Discount Voucher Template
Pizza Voucher Template
Pizza Shop Voucher
Pizza Coupon Template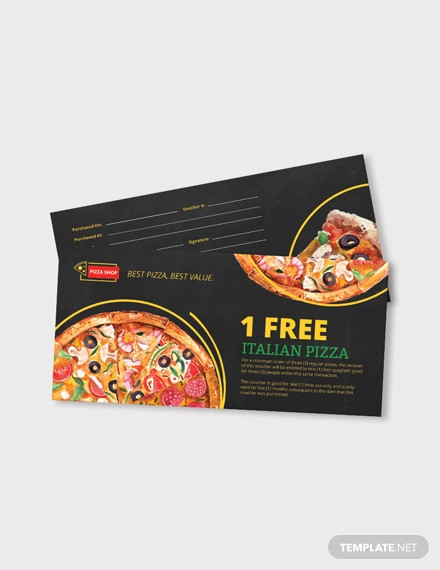 Shopping Voucher Gift Template
Gift Voucher Template
Restaurant Food Gift Voucher Template
Whether it's half the price off or just a quarter percent, people still look forward to using vouchers simply because it allows them to spend less and save more. If you are running a business and are planning to offer discounts to a selected few, then vouchers would be the best tool to use. In this article, we have gathered some of the best voucher designs and templates all around the internet, you might want to check them out below.
Sample Payment Voucher Template
Blank Voucher Template
Discount Voucher Template
Business Voucher
Free Holiday Voucher Template
Restaurant Discount Voucher Template
Do you like sushi? Of course you do, that's probably the main reason why you're running a Japanese restaurant in the first place. Sadly, not all people like raw Japanese dishes as much as you do, and it could either be because they have the wrong perception of raw food being dirty, they don't like the taste or consistency of raw seafood, or they find it quite expensive. You may also see business voucher templates.
If you've got something new to offer to this wonderful cuisine, give people a chance to try it out in a way that they won't have anything to lose. Probably one of the best ways you can do this is through vouchers, and we have got the perfect voucher template just for you.
Vintage Themed Gift Voucher Template
If you're looking for a template that's vintage-themed but still has a touch of modern in it, then you might probably like the voucher template shown above. At first glance, you'll easily associate this with most graphic designs during the previous decades, but the addition of a QR code on the design helps in adding a modern element to it.
If you aren't familiar with what a QR code it, this patterned image acts almost similarly to a barcode but is able to hold various information inside it. For most QR codes, they actually redirect users to the business' official website after it is being scanned using a third-party smartphone app. If this is indeed what you need, then don't hesitate to download the vintage voucher template above.
Modern Fashion Discount Voucher Template
Fashion has always been something that people take advantage of if they want to make a statement or they simply want to show how they feel. I don't believe that people choose what they wear for no reason at all, there has to be some underlying factor as to why they want to wear a particular piece of clothing. In connection to this, we have got a discount voucher template that you can use if you are running a clothing shop. With this, you can give a particular number of customers a chance to get their hands on certain clothing pieces that they need, all for a discounted price.
Colorful Company Super Voucher Template
Burger Cafe Discount Voucher Example
People love hamburgers, once they sink their teeth in one, they can hardly stop. There are hamburgers for everyone, even vegetarians and those on a diet, and these hamburgers use a tofu patty in place of beef. Enough about hamburgers themselves, let's talk about the voucher template shown above. This template is intended for fast food or hamburger joints, though it can also be used in restaurants if they plan on giving freebies in the form of hamburgers during certain occasions.
Minimal Vertical Discount Voucher Template
Here is a multipurpose minimal voucher template for those looking for something versatile. Though the design on this template leans more towards the simple side, the vertical orientation helps a lot in making this voucher stand out. Whether your managing a toy store, a theme park, or any establishment that's exciting for both children and grown-ups, then the voucher template above would definitely fit your purpose. You may also see thank you voucher templates.
Breakfast Clean Voucher Template
Tropical Travel Discount Voucher Template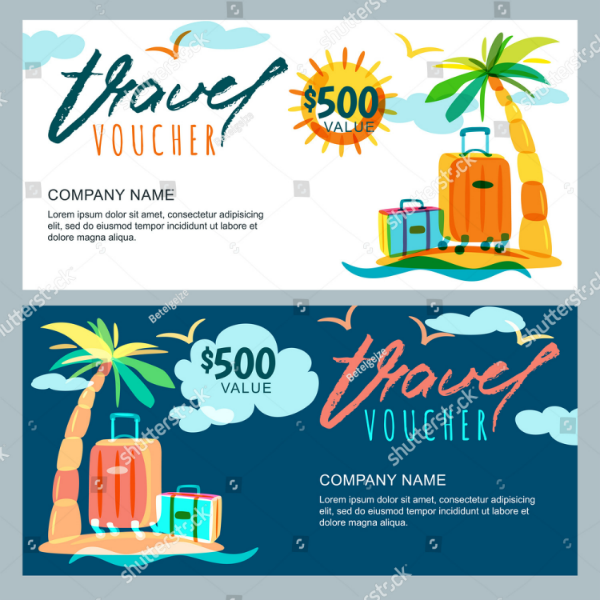 All people deserve to take a time off from all the stresses that are going on around them everyday, it helps to put themselves back together after being torn apart by stress. Though the term "torn apart" may seem like an exaggeration, but after being exposed to a lot of stressful stimuli, people will eventually become de-energized and unproductive, and one way to get them back on track is to take a break. You can also read restaurant voucher templates.
The only issue that's keeping people from traveling or going on vacation is the expense, people are too concerned with saving up that they don't want to spend for this. In order to really entice people into traveling, give out travel vouchers to allow them to enjoy this opportunity without having to spend a lot. Shown above is a travel expense voucher template specifically designed for you, go ahead and use it.
Design Canvas Discount Voucher Template
Vertical Discount Voucher Card Design
The thing about vouchers is that some forms don't actually need to be presented physically to the issuer in order to redeem or avail of its value, some contain a code that customers will simply need to input to enjoy whatever value the voucher holds. In this form of vouchers, the customer will send the code on the voucher to the issuing business either through a text message or an email, and the issuer will have to verify the code on their end. You can also read ticket voucher designs.
If you want to save your clients the hassle of having to bring the voucher and present it to you when making a purchase, why not make it like this? We have the perfect template that can help you make this type of voucher. You may also see sample ticket voucher templates.
Modern Layered Discount Voucher Template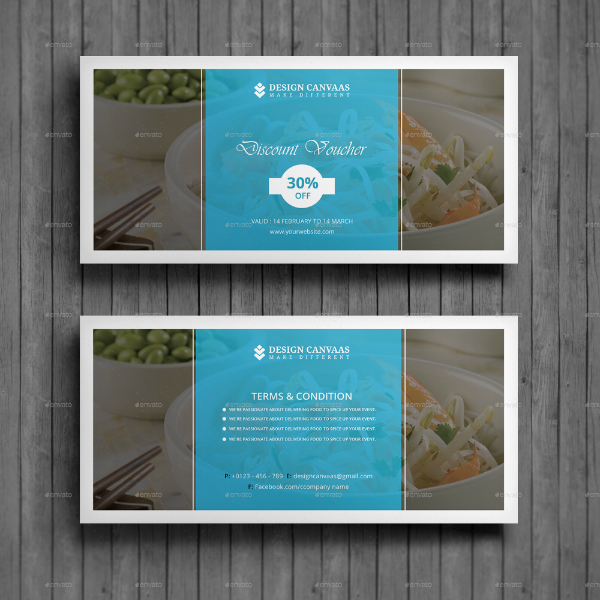 Here's a modern-looking voucher word template that's also very simplistic and easy to read because of its use of multiple layers. The bottom layer of this template consists of a background image of the issuing business' products and can either be in the form of food or any consumer product. Placed right in the middle of the design is another layer that simply consists of a semi-opaque solid color where the texts are being written.
Travel Promo Voucher Card Template
Pizza Discount Voucher Template
If there's another dish that is very well-loved by a lot of people just like hamburgers, it is pizza. This dish has come a very long way since it was first cooked, and many historians have made their own claim regarding the origin of pizza. For the modern pizza, however, many believe that it originated in Naples during the 18th to 19th century. Whether your purpose for using vouchers is to allow people to try out your dishes or to offer something to your most loyal customers, then feel free to download the pizza-themed food voucher template above.
Which of the templates above did you find useful? The ones for food? The ones for traveling? Or the ones for fashion? But regardless of which, we're positive that at least one of these templates were able to attract you at some point. The only thing is, are they really worth downloading? While we already know that they are, just allow us to explain why. You can also like discount voucher templates.
For one thing, these templates were designed by outstandingly artistic graphic artists from all over the world, and were rendered in various editable formats in order to suit a wider range of users. In addition to being editable, you can actually modify these templates as much as you need, while still keeping the quality and sharpness as undamaged as possible. But other than being visually-stunning and editable, these templates can actually be downloaded for a reasonable price. You may also see coupon voucher design templates.
Now if those qualities didn't get your excitement up, then we don't know what will. But if there's is another common concern with people trying to use our templates, it's how to actually use them in the first place. Thankfully, we've got enough time on our hands to give you a step-by-step instruction on how you may be able to benefit from these stunning voucher templates.
Click on the corresponding download button below the template's thumbnail image. (Note: It won't download the template right away, it will only redirect you to it source).  You can also see massage voucher templates.
Some sites allow you to see more samples of the template either by scrolling down or by clicking on the image itself. Give yourself time to look at the samples to determine if the template works well for you. You can also like indesign voucher templates.
If the template suits your purpose or preferences, click on the Purchase button to start downloading it. (Note: For other websites, this button is labeled as either Buy Now or Download). You can also like business voucher templates.
Simply follow the instructions provided in order to actually start the download process, some websites require you to register for an account while others simply ask for your payment details. You can also see cash voucher templates.
After downloading the voucher sample template, open it using the appropriate editing tool. (Note: Most preferred tools include Adobe Photoshop and Adobe Illustrator for PSD and AI templates, respectively)
Edit the design on the template, add the necessary elements, and remove the unneeded ones.
Once your done editing, get the design printed and you're all set for your flyer distribution campaign.