Documents
Feedback Ideas
Feedback can be conveyed in a number of ways, and you need several feedback ideas to convey them accordingly. From customer service to employee performance, the content of a feedback form would depend on the specific objective of the feedback.
Download the Free Feedback Ideas Article in PDF!

Download
Table of Content
Feedback Ideas and Examples
Feedback should always be a two-way process. The one giving the feedback should exercise responsibility and objectivity when evaluating. Likewise, the recipient of the feedback shouldn't just be passive but proactive and open to learning. If you're looking for ideas to help you get started, the templates below can help you craft a feedback form of your own!
Personal Trainer Feedback Ideas and Examples
Personal trainers need to maintain healthy work relationships with their clients in order for the arrangement to work. In order to constantly improve their service, constant communication is key. A personal trainer feedback form is a simple yet powerful communication tool that's beneficial to both the trainer and the client.
Customer Feedback Survey Ideas and Examples
Customer feedback is a crucial aspect of customer relations. In order to improve products or services, the customer's opinions and comments should matter. The template below is a comprehensive customer feedback survey complete with an overview and instructions.
Employee Feedback Ideas and Examples
When it comes to employee performance appraisals or reviews, giving the right feedback is vital. In order to promote fairness and objectivity, a standardized rubric or criteria should be in place. This also makes it easier and more efficient to fill out the employee feedback form sample.
Music Production Feedback Ideas and Examples
Concerts and music festivals are some of the most highly-anticipated and well-attended events. Event organizers need feedback from concert-goers and participants to sustain the event's success in the long run. Use the music production feedback form template below and simply input your own questions!
IT Software Feedback Ideas and Examples
In order to constantly improve IT services, customer feedback is key. The comments and opinions of users matter because, at the end of the day, it is them who purchase and make use of the software application. Use the IT software feedback form below to start gathering customer feedback and reviews.
Recruitment Firm Feedback Ideas and Examples
Recruitment and talent acquisition firms can be quite competitive in the market. Hiring the best candidates for a job is a process that needs constant refinement and improvement. A recruitment firm feedback form is a simple yet effective way to request feedback and implement this goal of improvement and development.
Interview Feedback Log Ideas and Examples
Interviews are an important step in the recruitment process. For the recruiter or HR professional, an interview feedback log can help guide and inform the decision-making process. The template below is an example of an interview feedback log with predetermined criteria.
Education Feedback Ideas and Examples
A child's education is one of the most important responsibilities of a parent. To make sure that their child is receiving a quality education, the relationship between parent and teacher needs to be an open one. An education feedback form is one initiative that can help encourage this.
Church Feedback Ideas and Examples
Need a simple yet effective way to improve churchgoers' experience? A church feedback form is a cost-effective and practical tool. Use the template below and simply customize the feedback questions according to your needs and objectives.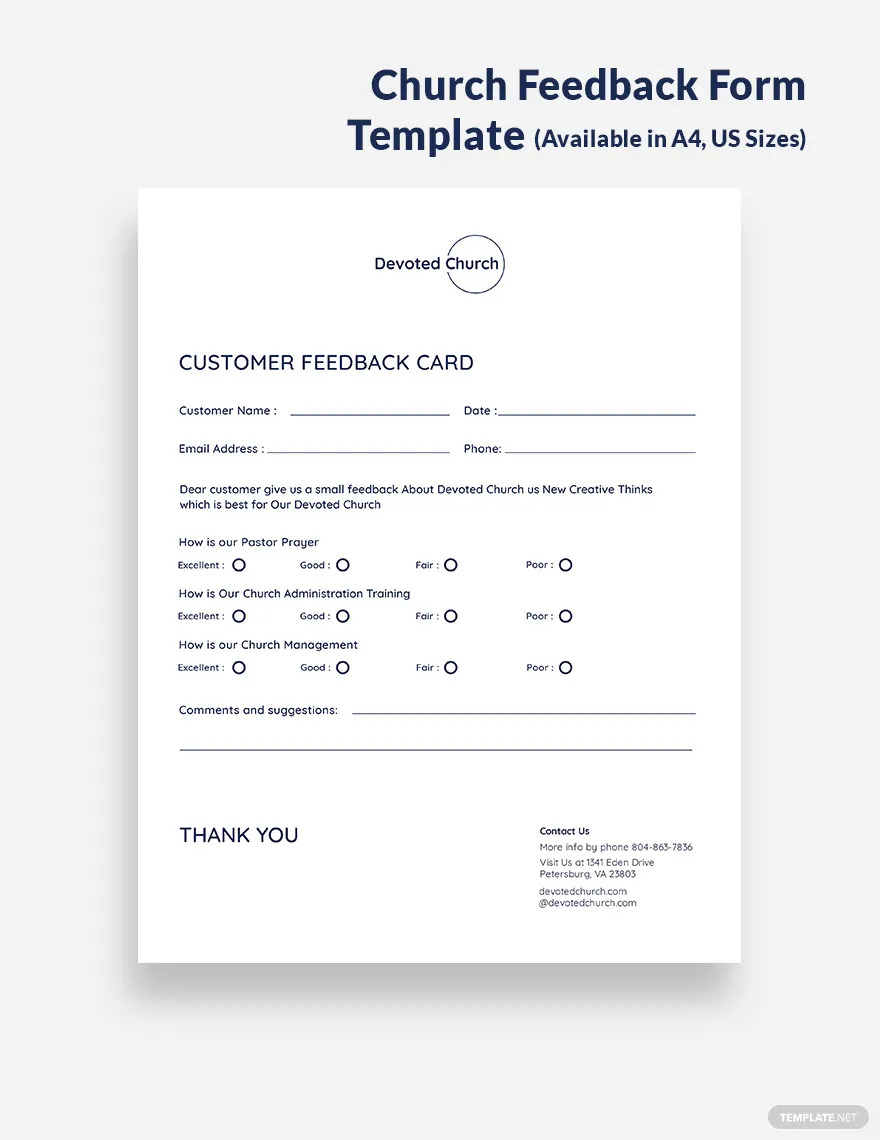 Construction Company Feedback Ideas and Examples
Construction companies and contractors need to deliver quality service to clients in order to sustain success in their business. From raw material suppliers to individual clients, construction companies can gather feedback from all types of stakeholders to improve their service. The example below is a simple construction company feedback form containing both closed and open-ended questions.
FAQs
What should a feedback form include?
A feedback form should include a list of questions and ample space for the user to share other comments or remarks.
Why customer feedback is important for brands of all sizes?
Customer feedback is important for all brands because it's a way for them to keep growing and innovating.
What does a good feedback form look like?
A good feedback form is easy to understand and its questions are arranged in a logical way.
What are the six characteristics of effective feedback?
Specific, reader-friendly, appropriate, relevant, actionable, and constructive.
What are the key features of constructive feedback?
Constructive feedback is goal-based and designed to help the recipient of the feedback grow and learn from his or her mistakes.
Why is feedback important in the workplace?
Feedback is important in the workplace because it promotes an atmosphere of constant learning and improvement.
How to respond to constructive feedback?
Respond objectively, maintain an open mind, and don't take criticism too personally.
What are the main elements of giving feedback?
Giving feedback does not only entail providing honest opinions; it is an opportunity to help the individual address areas of improvement.
What is the importance of giving and receiving feedback?
It is important because it's a crucial part of the learning process and spurs innovation and development.
Why is feedback important in communication?
Feedback is important in communication because it helps foster a relationship and better understanding between the one giving the feedback and the one receiving it.
How to give the best interview feedback with examples?
Recognize the individual's strengths and achievements but at the same time, give constructive feedback on the areas that need improvement.
What to write in feedback to project team members?
Cite specific instances and be descriptive, honest, and objective when writing feedback to project team members.