Documents
Sheet Ideas
Sheets are one of the greatest tools you can employ to effectively perform the job no matter what sector you are in, as long as you have the right template, design, or ideas. A sheet is a powerful and versatile productivity tool that gives organizations much freedom in collecting, organizing, and reviewing important data.
Download the Free Sheet Ideas Article in PDF!

Download
Table of Content
Sheet Ideas and Examples
Sheets serve various functions and purposes including being widely employed as an essential piece of marketing material or creating a habit that strengthens your visualization and creativity skills. Making a unique, killer sheet design and template allows ideas to be shared and discussed with others. Hence,  an ideal sheet can be a physical or digital copy with a clear purpose, compelling title, and interesting content.
Advertising Sheet Ideas and Examples
It's time to push the creative envelope and make any product stand out with eye-catching advertising sheet templates. You can use one ideal for low-budget campaigns, such as free and readily customized advertising sheet templates. An advertising sheet template is the pixel size of an ad theme, and each ad theme is often offered in various 'ad sheet designs' or ad sheet sizes.
Balance Sheet Ideas and Examples
A balance sheet is a financial statement that conveys an organization's "book value," which is established by subtracting all liabilities and shareholder equity from all assets. The three main components of a balance sheet are assets, liabilities, and shareholder equity. It gives a snapshot of a company's finances as of the release date, such as what it owns and owes.
Annual Sheet Ideas and Examples
An annual sheet is a sheet that is generated yearly or annually to serve a specific purpose, such as conveying vital financial or non-financial information to users. In contrast, an annual balance sheet summarizes a company's assets, liabilities, and owner's equity as of any particular year. An annual sheet is often prepared at the end of specific periods; by definition, it must be prepared annually.
Call Sheet Ideas and Examples
A call sheet is a daily filming schedule established by a show or movie's assistant director. A call sheet comprises important details such as the location, cast call times, what time to arrive for work, and the shooting schedule based on the director's shot list. Call sheets are vital because they offer your cast and crew a daily game plan.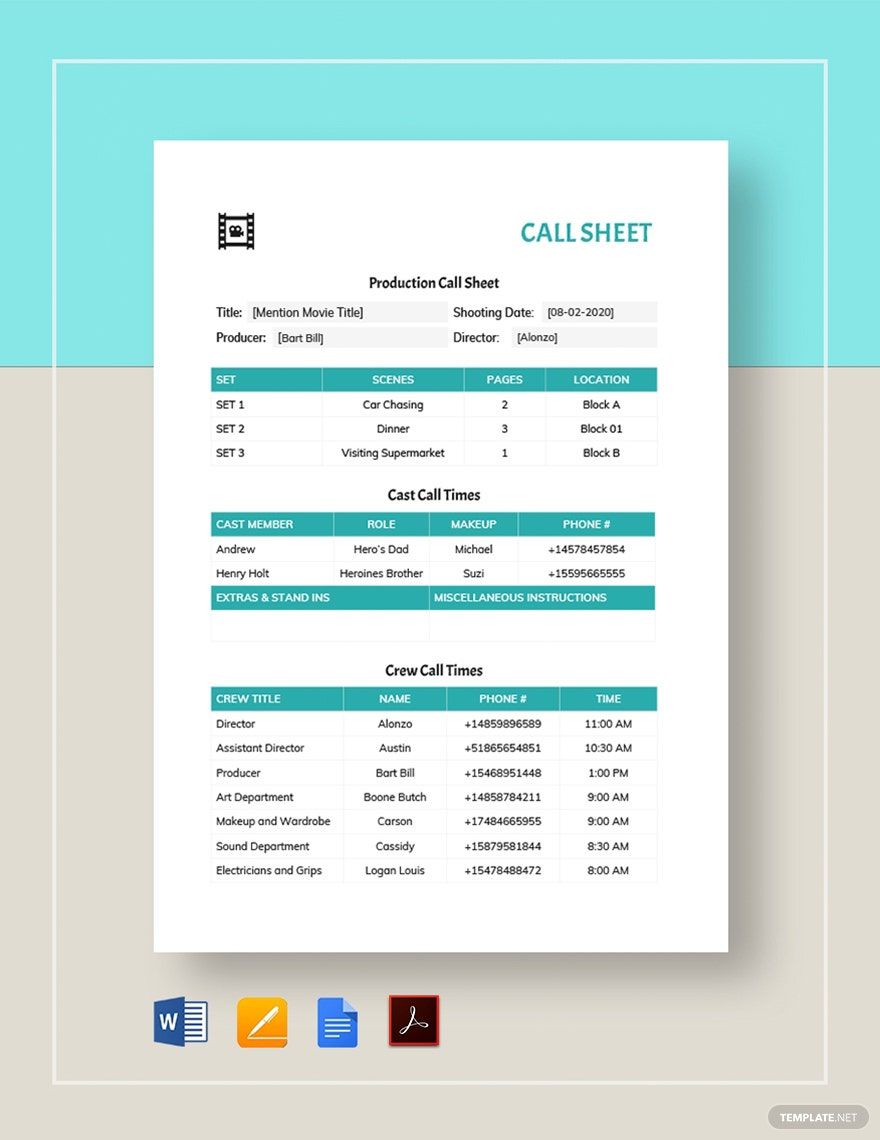 Client Sheet Ideas and Examples
A client sheet is a document frequently used to record the details of the clients or individuals you are interacting with, typically used in the business sector to provide business people with information about their customers or investors. Furthermore, a client Sheet is defined as personal information gathered from or submitted by clients for the goal of completing a sales transaction, billing, or distributing data, goods, services, or information. These sheets are also useful for a myriad of purposes.
Assessment Sheet Ideas and Examples
The assessment sheet is useful for identifying elements of your program that are effective and areas that could require attention. It is critical to note that the principles are designed to serve as a framework for planning, capacity development, assessing, and communicating about your program. Only the best-equipped libraries could score highly on every criterion on the assessment worksheet.
Cost Sheet Ideas and Examples
A cost sheet is a statement that illustrates the many components of a product's total cost and historical data for comparison. Based on the cost sheet, you can calculate the optimal selling price of a product. A cost sheet document can be created using either historical or estimated costs.
Analysis Sheet Ideas and Examples
Working with primary sources requires using analysis sheets, which can be employed for photos, written documents, artifacts, posters, maps, cartoons, films, and sound recordings to teach students the document analysis method. You can educate your learners to think through primary source texts for contextual comprehension and to extract information to make informed decisions using analysis sheets. It aids in swiftly identifying a problem's underlying cause and distinguishing between its contributing factors and its root cause.
Estimate Sheet Ideas and Examples
An estimate sheet is included in the digital contract plans and comprises all the pay items and quantities related to a project's construction cost. An estimate sheet provides a preliminary estimate of the costs associated with certain project activities. An estimate sheet, also known as a quotation, is used to forecast how much a project will cost or how long it will take to finish.
Attendance Sheet Ideas and Examples
The most common type of sheet is an attendance sheet, which is an official document recording individuals attending a meeting, class, or course. An attendance sheet is essential in every profession since it demonstrates an individual's punctuality and discipline. Moreover, knowing the necessity of attendance and turning up for work every day establishes the groundwork for a successful career.
Sheet Ideas FAQs
Why do you need a sheet?
The most typical reason for using sheets is to store and organize data, such as revenue, payroll, and accounting information, and to let the user do calculations and generate graphs and charts using this data.
What is a fact sheet in business?
A fact sheet is a concise document that gives information about a business, which often includes the organization's mission statement, basic values, and an overview of the products or services it provides.
What are spreadsheets, and how do they work?
A spreadsheet is a computer application that records, displays, and edits data organized in rows and columns and is typically used to store numerical data and short text phrases.
What is the importance of a job sheet?
Job sheets allow you to see how much work is coming up and adjust your staffing accordingly.
How do you make a fillable worksheet?
Upload your PDF file to pdfescape.com, select the "Form Field" button from the left sidebar, drag & drop your fields into place, click the "Save" button, and then hit the "Download PDF" button.
What should be on a product sheet?
Product sheets have the following sections: product name, product description, product image, and product specification.
What's included in a Nursing Report Sheet?
A nurse report sheet should include (but is not limited to) the following items: Basic patient information, diagnosis, attending physician, medication records, medication for breakfast, lunch, and dinner, allergies, and vital indicators.
How do I make an inventory sheet in Word?
Open Word, determine the purpose of your inventory sheet, create a rough draft of the sheet, use a premade template, edit the content, check your work, and save your output.
How do you prepare a balance sheet?
A balance sheet should provide a full perspective of an entity's assets, liabilities, and equity at the end of an accounting period, such as month-end, quarter-end, or year-end.
How does a budget spreadsheet and worksheet transform your finances?
By employing a budgeting spreadsheet and worksheet, people can confidently learn how to manage their money or finances and efficiently prepare for the future.
What is a timesheet in the workplace?
A timesheet is a data table that an employer can use to measure how much time an employee worked over a certain period.
How do you make a class attendance sheet?
Fill in the blanks daily or weekly, keeping track of student names, dates present, dates absent, excused absences, and any comments you need to make about students' absences.