Documents
Team Charter Ideas
Team charters are valuable business documents that organizations use for their projects to achieve organizational goals and objectives for diverse reasons, including leadership training activities, conflict resolution meetings, or project management planning. Many companies take advantage of team charter ideas and examples for their next project, sending the file to key stakeholders to ensure buy-in.
Download the Free Team Charter Ideas Article in PDF

Download
Table of Content
Team Charter Ideas and Examples
Team charters are simple yet reliable management tools that require a delicate process of putting together a group of individuals to perform specific tasks and activities. Team members hold meetings to solidify developing a mission and scope statement for a particular work project.
Executive Team Charter Ideas and Examples
In creating an executive team charter, the organization must develop a document that lists the objectives, resources, and deliverables of a team working on executive projects. Executive team charters focus on improving or enhancing the overall executive management department of an organization, with topics such as performance improvement. Develop a charter team canvas for executive management that efficient and reliable team following our example below.
Communication Team Charter Ideas and Examples
A communication team charter deals with the methods and approaches that outline how team members will communicate to reduce unnecessary messages, save time, and focus on efficient communication. Communication team charters are prevalent in virtual work settings and environments to clarify methods of remote work communication between members. The communication charter must include information about the person responsible for writing project reporting documents or building visual PowerPoint presentations.
Business Team Charter Ideas and Examples
A business team charter is a visual representation of a business team's vision, objectives, and deliverables, allowing them to stay on track of all the roles and responsibilities of each member to accomplish the tasks and activities at hand. The team charter serves as a vital tool for teams to work toward the project goals that an organization wishes to achieve by selecting individuals with specific skill sets. Incorporate all the necessary information for members to follow to guarantee the success of the business project, event, or activity.
Work Team Charter Ideas and Examples
A work team charter that an organization or agency develops for working individuals within the company to accomplish a project or event for a department or the business. Individuals that form the team charter must go through several meetings to make the necessary arrangements on the process and procedure they follow to organize the project's entirety and the buy-in for all members. It is also necessary for the organization to compose a team with members that can work together to achieve a particular goal.
Innovation Team Charter Ideas and Examples
An innovation team charter has similarities to an agile team charter canvas as it describes the opportunities or problems that require actions and solutions, expected benefits, standard operations, and the measures and foundations of success. Aside from this, the document must contain a list of stakeholders, dependencies, risks, project timeline, and the process of turning over the deliverables for the project. The charter must also provide a budgeting plan to support the salaries of the innovation team members.
Healthcare Team Charter Ideas and Examples
Many healthcare organizations like nursing homes, hospitals, and clinics have healthcare team charters for conducting activities and projects with a singular vision, purpose, values, operating rules, and accountabilities. The document acts as a blueprint for conducting and operating the business according to health standards and protocols. The team charter must focus on providing the best care for patients and their families, reinforcing collaborative care that the team members agree on.
Performance Team Charter Ideas and Examples
Performance improvement team charters are management tools organizations use when building a team for a specific purpose to perform a project or activity themselves or help other employees to achieve a specific objective. Performance teams must develop fun yet informative processes and procedures for the members to accomplish according to the goals and deliverables that a company aims to achieve. Companies can use charters as a model or sample for various organizational activities and projects.
Test Team Charter Ideas and Examples
An integrated test team charter outlines the goals, mission, and deliverables of a team working on testing program samples, dev codes, or new products and services that a company offers to the public. The test team charter must detail the specific steps and approaches members use to achieve business objectives through numerous meetings and discussions with one another to settle on the best course of action. Ensure that the team charter also goes through the approval of stakeholders.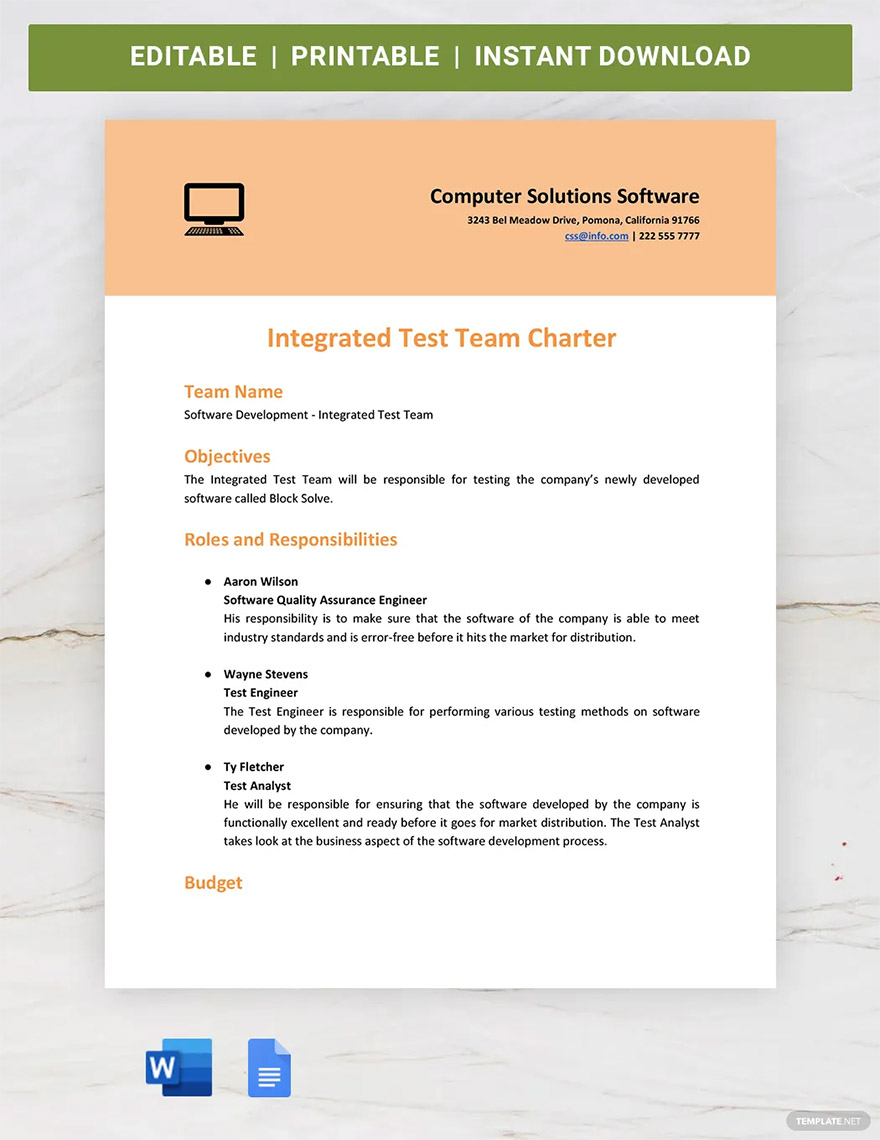 One-Page Team Charter Ideas and Examples
One-page team charters are generally common charters that companies use for one-page project charters that many organizations use to outline the purpose of creating a team to start a project, a list of goals and objectives they must accomplish, and the resources and constraints the need. Creating the team charter must be in a team setting to ensure that all of the members are in agreement. The collective and collaborative process of creating the charter enables team members to be accountable and understand their responsibilities toward a project's success.
Enterprise Team Charter Ideas and Examples
An enterprise architecture team charter is a written document that contains brief information of a project overview to guide team members accordingly. It enables them to clearly understand success, identify roles and responsibilities, define project scope and milestones, improve communication, and list required resources. Generate the document using a word processor application like Microsoft Word.
Employee Team Charter Ideas and Examples
An employee engagement team charter is a management tool and document that organizations use to define an assembled team of employees' goals, responsibilities, and resources. It is a valuable record that creates and establishes a new team or as leverage for existing employees operating under similar circumstances. Employees that are under the project team reference the charter to help ensure team members are meeting the initial objectives, revisiting the document from time to time, and revising the contents as necessary.
Team Charter Ideas FAQs
What are the most important elements of a team charter?
A team charter consists of key elements, including the team's purpose, objectives, roles and responsibilities, stakeholders, scope, activities, decision-making guidelines, and ground rules.
How to make a team charter for success?
Set up a team charter for success by identifying the involved individuals and the team leader and measuring the creation time for the charter and the charter's duration.
When is a project team charter important?
A project team charter is relevant to acquiring the buy-in of all team members, spelling out the roles and responsibilities, demonstrating the team's purpose and visions, providing clarity, and reducing confusion.
How to draw up a team charter?
To draw up a team charter, start with providing context for the document, define the vision and objectives, set deadlines, goals, and milestones, construct a budget plan, and allow all the members to sign off the charter.
Why is an agile team charter essential to success?
An agile team charter ensures that the vision that the members agree on is not easily dissuaded by the organization.
What is the goal of a team charter?
The goal of a team charter is to define clear goals, vision, resources, and constraints for all the team members.
Why do you need a team charter?
Teams require team charters to have well-prepared processes and procedures, identify roles and responsibilities, set scope and boundaries, identify authority and resources, and improve chances of success.
How can team charters keep teams on track?
Team charters help keep teams on track by using the document as a reference to observe milestones and ensure the accomplishment of goals.
What is a team charter in scrum?
A scrum team charter is a business tool to encourage high levels of collaboration and communication among team members to achieve a common goal.
What is the purpose of a team charter for an improvement project?
Team charters help in improvement projects to illustrate the focus of the team from the very beginning.
What is an organizational team charter?
An organizational team charter is a document that serves as a roadmap on what a team must do or intend to accomplish.
What are the most important parts of the team charter?
The most vital parts of a team charter are the scope, purpose, mission, budget, and roles and responsibilities.