Documents
Tracker Ideas
Are you having problems keeping track of how many assignments you have to manage or how many projects you are in charge of? Then you'll discover that establishing a task tracker system might be a very useful tool for assisting you in organizing various sorts of assignments and everyday activities at work. Trackers are vital in personal and corporate undertakings to attain a good conclusion while being aware of what is happening along the road.
Table of Content
Tracker Ideas and Examples
Trackers are tools or equipment that track the path or trail of something or someone to determine their location or position on a map. For example, website trackers will tell you where your traffic is coming from and, as a result, where you should spend your marketing time and money. Trackers may also give specific insights, which can be used to design targeted advertising.
UAT Tracker Ideas and Examples
User Acceptance Testing trackers or UAT tracker manage your UAT tests in a straightforward, easy manner and arrange all tests, no matter how difficult. From test definition, design, planning, and execution through tracking test results, addressing problems, and reporting, you may use a UAT tracker to remain on top of your planning, keep up with advancements, and obtain insight into the real quality of your program. Below is an example of a UAT tracker.
Sprint Project Tracker Ideas and Examples
Microsoft Excel may be used by project managers working on small to medium-sized projects to visualize, plan, and track their initiatives. Sprint project tracker spreadsheets typically include the start date, end date, length of each job, and the percentage of work accomplished. Project schedule spreadsheets allow professionals to manage their projects effectively by the hour and see exactly how much time is left to accomplish a task or if any work is overdue.
Software Inventory Tracking Ideas and Examples
A software inventory tracking tracks the movement of items from the supplier to the client. Inventory management at the warehouse keeps track of stock receiving, picking, packaging, and shipment. You may use Software inventory tracker to receive real-time notifications, add significant images to your inventory list, and use barcodes and QR codes to automate otherwise time-consuming and error-prone operations.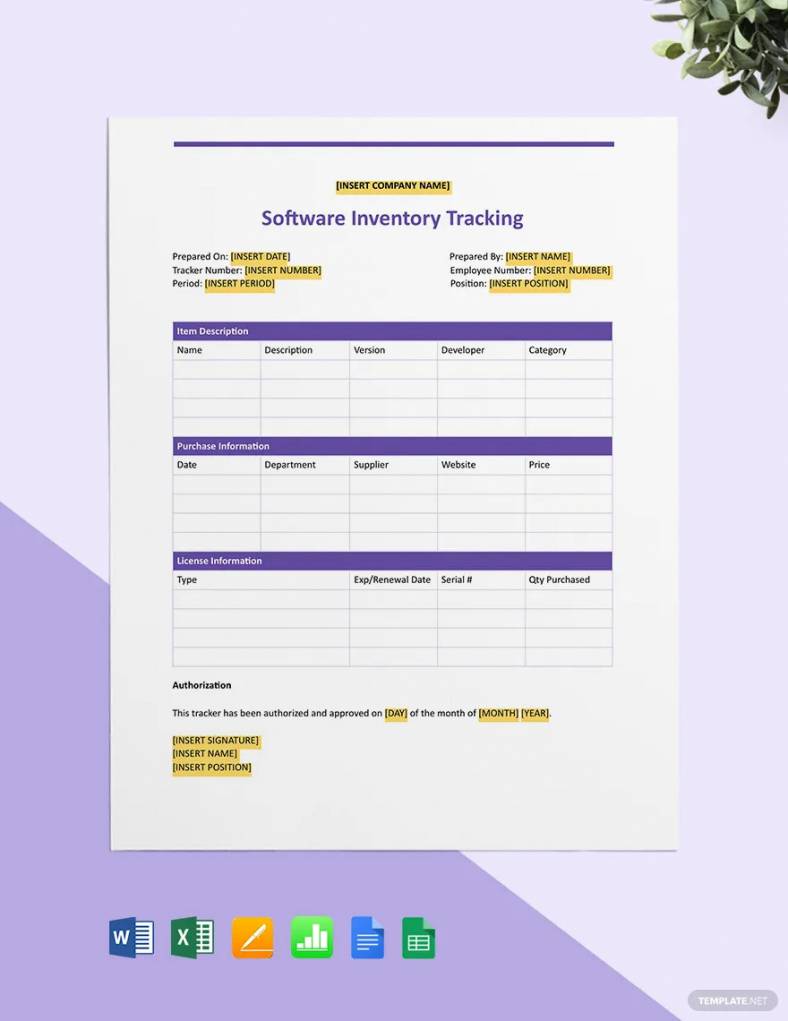 Restaurant Donation Tracker Ideas and Examples
Charities and fundraisers frequently approach restaurant owners for donations. As a result, you may use an appropriate and efficient Restaurant donation tracker template to assist you in keeping track of these gifts and redemptions and offer a ledger of each pledge you have. You can always select the restaurant donation tracker, professionally created to anticipate potential demands for restaurant owners and managers, to budget correctly with the quantity and availability of numerous concepts and templates.
RAG Rating Tracker Ideas and Examples
The RAG system is a common project management approach for rating status reports. It's based on traffic lights, with red, amber (yellow), and green indicating different scale ratings. The RAG rating tracker is useful for monitoring project performance. In truth, the usefulness of this project tracking tool is entirely dependent on the project manager's honesty and the correctness of the assigned RAG status.
Project Completing Tracker Ideas and Examples
Project completing tracker provides project managers and team members with a real-time visual picture of progress. Project tracking is a project management strategy for tracking project activities progress. By tracking it, you may compare actual to projected progress and uncover concerns that might prohibit the project from keeping on schedule and within budget.
Monthly Goal Tracker Ideas and Examples
Monthly goal tracker allows you to monitor your progress toward your yearly goals. Individuals and teams may use goal-tracking applications to create objectives and measure their progress toward those goals. They provide an organized manner to measure and visualize your goal progress using tools such as dashboards and progress bars.
IT Incident Tracker Ideas and Examples
IT incident tracker is a safe and secure online reporting tool. They are an on-premise and cloud-based incident management tool that assists security enterprises, educational institutions, healthcare organizations, and other industries. Furthermore, they allow users to aggregate digital forms and produce incident reports based on actionable statistics.
Event Planning Tracker Ideas and Examples
Using an accessible, effective Event planning tracker template, you can ensure that your event goes off without a hitch and within your budget. An event planning template may be used to maintain project information, dates, and expenses across job categories and to view a chart of planned vs. real-time prices. It also walks you through each event preparation stage, while keeping your documentation clear, simple to comprehend, and constantly available.
Hours Tracker Ideas and Examples
Hours tracker can notify you when you've completed your work for the day. You may select an estimated number of hours per day, and you'll receive a message when you reach that amount for that work, taking into account multiple time entries and the job's time rounding settings. Hours trackers secretly and securely upload backups in the background while you focus on recording your time.
Time Tracker Ideas and Examples
A time tracker is an effective device or tool for keeping track of work hours. It aids in measuring employees' working hours and provides information on how much time was spent on various jobs, projects, and clients. A time-tracking software is a type of computer software that allows employees to record the amount of time they spend on jobs or projects.
FAQs
Why is it important to track employee performance?
Employee performance tracking is critical to meeting the organization's strategic goals and elevating their skills and capacities.
What are project monitoring and tracking?
Monitoring a project entails watching its metrics, progress, and associated activities to ensure that everything is accomplished on schedule, within budget, and per project criteria and standards.
How do you keep track of business expenses on a spreadsheet?
Select an expense-tracking template or program > As needed, modify the columns and categories > Add cost itemized charges > Add the totals > Attach or save your relevant receipts > The report can be printed or emailed.
How to use a task tracker to improve your team's productivity?
Begin by estimating how long a task will take to complete, anticipate workflow difficulties and either prevent them or make required modifications, and finally identify prospective delays, allowing you to be proactive by adjusting the timetable.
What is the employee vacation tracker used for?
Vacation tracker software allows employees to see their peers' holiday calendars, allowing them to schedule their breaks properly and resulting in more openness within the organization.
What is an attendance tracker?
Attendance tracking is a method of monitoring employee attendance and absence.
How do you keep track of training?
Utilize tracking tools > Make a tracking procedure > Distribute evaluations.
Why is an employee training tracker important?
Keeping track of your workers' training allows you to see how well they are progressing and whether or not they grasp the course.
How to track time in a spreadsheet?
Prepare your spreadsheet > Add a title to the timesheet and highlight the cell range A1-L1 > Add the necessary labels > Insert time-related labels > Finishing touches.
What is a contract tracker?
Contract tracking is the method by which stakeholders in the contract lifecycle, particularly those in legal, can determine where a contract is in its lifetime without having to search different systems.
How do I keep track of outstanding invoices in Excel?
Select the range B11:J12, click Insert Table, then select the checkbox stating "My table contains headers" from the dialog box that will appear on the screen.
How do you track small business sales?
Create and maintain a sales tracker, and take the necessary measures to track the dynamics of your sales, which will eventually help you gain chances.