The open source e-commerce software, Magento, is currently used on thousands of online stores. From electronics to specialty goods, Magento serves 150,000 online retailers and this ranges from small companies to major multinationals such as Samsung and other corporate giants. Magento is an incredibly easy platform to use and we are going to list the top 30 best Magento based food store templates that you can use on your website.
161+ Website Templates in Word | PSD | Apple Pages | HTML5 | WordPress | Publisher - START DOWNLOADING
1. Organic Food and Restaurant WooCommerce WordPress Theme
2. Fresh Market – Magento Responsive Theme
Â>
3. Pizzaro – Food Responsive Magento Theme
4. Organic Food Responsive Magento Theme
Â>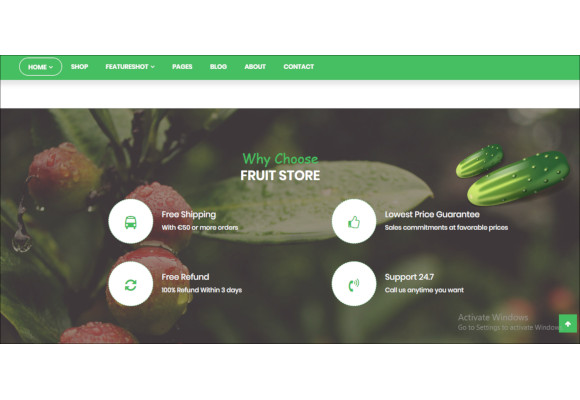 5. Food Online Store from Template Monster
A food store template from Template Monster. Bright colors make this template stand out and has everything you need to showcase food products.
6. Tea Time from Template Monster
A clean and modern template for displaying food and drink items. Tea Time has a big image slider and smaller grid product placements.
7. Popcorn from Template Monster
A lively and energetic template. Makes full use of Magento and uses bright colors and an in-your-face design to showcase items.
8. Sweet Store from Template Monster
A sweet store template that is good for online food shops. Has a big header for special offers and well laid out main product grids.
9. Food Store from Template Monster
Professional and modern food store template. Combines white, black and orange well to create a nicely balanced color scheme with a business look.
10. Spice Store from Template Monster
Colorful Magento template. Great for a spice centric store or a general food store with an easy-on-the-eye layout and elegant style.
11. Sweets from Template Monster
A bright and cheery looking site that is perfect for sweets. With different shades of pink; the appearance is fun-natured, colorful, yet professional.
12. Food Store II from Template Monster
A simple but bright template. Has Magento integration and displays food items with ease while having a 4 box footer at the bottom.
13. Food Store Magento from Magento Commerce
A specially designed Magento template for a food store. Easy layout that looks both clean and professional without being messy or cluttered.
14. Magik Vara from Magento Commerce
A template that utilizes all the power for Magento and is designed for online stores that sell food, provide recipes etc… Well laid out with a clean style.
15. SM Bakery from Magento Commerce
A fully responsive Magento theme that can be used for a bakery or any food store in general. Grid layout and comes in different color schemes.
16. MavenStore Pangs from Magento Commerce
Has a large banner that can display important products and the brown & earthy color scheme is quite unique. Has the full power and functionality of Magento behind it.
17. JM Bistro from Magento Commerce
A bakery and online food theme that uses Magento. JM Bistro uses mostly pastel colors, comes with a product slider and overall offers a very professional design.
18. Spice Box from Template Monster
Spice box is great for showcasing spices or for a general food store. Great grid image display that looks like a portfolio with an accessible navigation bar.
19. Food Store III from Template Monster
Well designed and unique navigation, this template uses different shades of pink and purple to good effect. Perfect for an online food store.
20. Spice Store II from Template Monster
A well put together food and spice template. It feels compact while still being able to display information and makes good use of images.
21. White & Black Magento Food Store from Template Monster
Elegant, clean and professionally design. This template looks classy and can accommodate any food store or restaurant site in a fashionable way.
22. Sweets #36890 from Template Monster
Fun and pink colored site which is perfect for sweets. The ribbon styled navigation bar is integrated well and it uses different shades of pink to good effect.
23. JM Celas from Magento Commerce
Compact and clean food template. Can be used with any kinds of food stores or restaurants such is its flexibility.
25. EM Socola
A dark and chocolate color themed template. Has a drop down navigation menu to save space and also has a large image slider for featured items.
26. JM Jasmine from Joom lart
Food theme template. Split into different sections on the page with room for images, links and special offers. Professional but elegant.
27. MT Porro from Magento Themes
Specially designed for food items. Can easily display sale or featured products on the image slider with a lot of room for other items underneath.