Creating a timeline and keeping track of important dates are highly significant, especially in the business industry. Having a business calendar would be a great way to manage your hectic schedule. We offer professional and 100% customizable Business Calendar Templates. These high-quality templates are made available in A4 & US Letter Sizes and in default formats indicated in the description. You would not regret choosing our product because we made sure to offer what's best for you. Using our calendar templates will save you time and effort because you don't need to start from scratch, plus it is made available for you in Apple Pages as well, anytime, anywhere! What are you waiting for? Download and subscribe now!
What Is a Business Calendar?
A business calendar is a tool used in planning business activities. It is easy to use and it is an important tool for planning and scheduling your tasks and events, thereby providing an overview of your appointments and assignments.
How to Create a Business Calendar?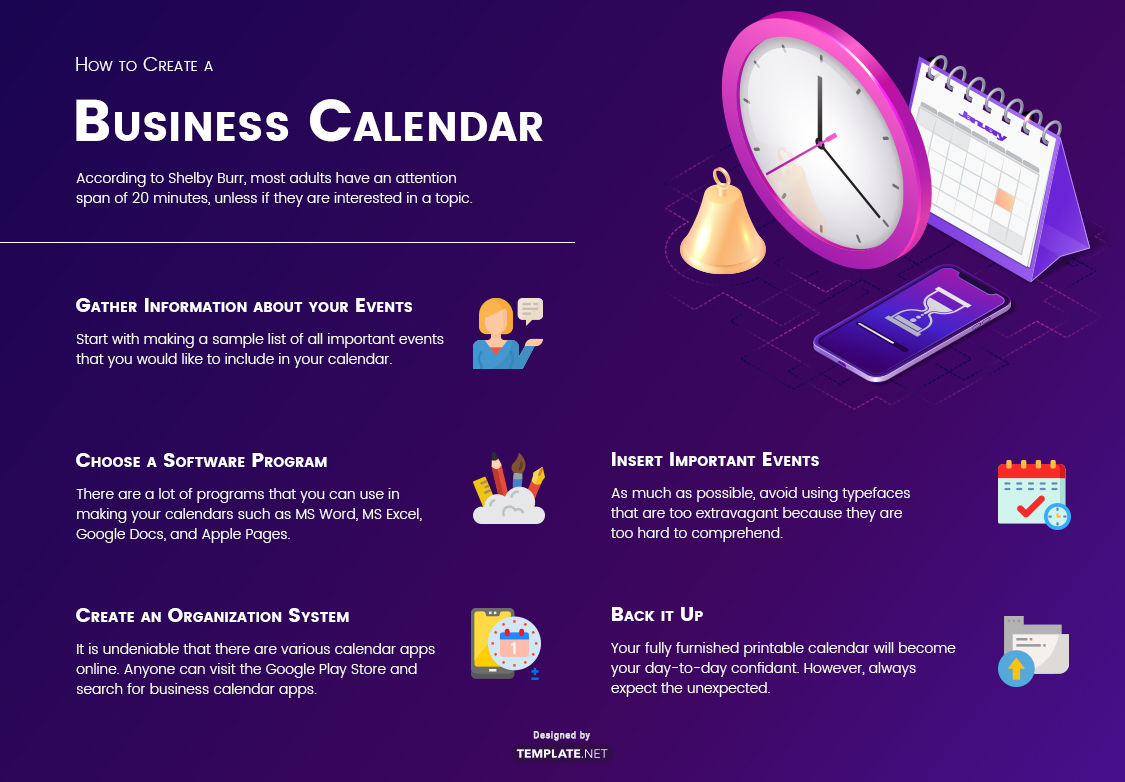 According to Shelby Burr, most adults have an attention span of 20 minutes, unless if they are interested in a topic. People working in a corporate arena or in the company industry are too busy to remember all forthcoming meetings, events, and other business-related activities. Having a business calendar will keep you and your employees on track. Furthermore, it allows you to create a business plan ahead, thereby taking the stress away in remembering the things that you need to accomplish. Here are some guidelines that can help you in creating a business calendar.
1. Gather Information about your Events
Start with making a sample list of all important events that you would like to include in your calendar. Gather all details with regards to the event—the name of the event, location, contact details, and etc.
2. Choose a Software Program
After collecting the information, you can now start with the making process. There are a lot of programs that you can use in making your calendars such as MS Word, MS Excel, Google Docs, and Apple Pages, however, choose a program that you are confident and familiar with. By doing so, you are allowing yourself to save time because you can easily navigate the program's options.
3. Create an Organization System
It is undeniable that there are various calendar apps online. Anyone can visit the Google Play Store and search for business calendar apps. However, if you opt to make a personalized calendar—whether it is weekly, monthly, or yearly—you should strive for an organized one. Having an organization system would be significant in this instance. Make your customer support or office calendar easy to read by categorizing the events that you compiled. You may use different colors for each category for easy classification. You don't have to input a paragraph description about an event in your calendar—a great way to make your calendar less cluttered is to use abbreviations.
4. Insert Important Events
After creating a blank calendar, your task now is to import all forthcoming events. As much as possible, avoid using typefaces that are too extravagant because they are too hard to comprehend. You can use fonts such as Calibri, Arial, and Times New Roman, they may look simple but these fonts are classic and are commonly used in business documents. Always make sure to arrange your events properly to avoid inaccuracy. Moreover, you may place a note section where you can insert important remarks.
5. Back it Up
Your fully furnished printable calendar will become your day-to-day confidant. However, always expect the unexpected. You won't predict the future. What if you will lose your calendar? Probably, you will lose track of everything. Make sure that the device or the program that you used has a backup system. Having a system that backs up your files will save you from severe headaches if ever your business calendar is erased or lost.
Read More
Earn 20% commission on every sale from your Share
Bloggers: Publish/Mention Template.net products on your website, blog, Social Media or Via Email & Earn affiliate commission of 20% for every sale