Do you think that you have the best brochure for your repair services company already? Think again and compare it with our premium set of Repair Services Brochure Templates. Apart from their high-quality professionally-made layouts, they are also 100% customizable, easily editable, and downloadable. Enjoy a streamlined publication since these templates are printable using various types of printers. The formula in getting the attention of your potential clients is to enhance your credibility. With our templates, we don't just give you established credibility to attract your potential clients, but also a convenient process that you never experienced before. Get these premium brochure templates now and begin developing your business and attracting more clients because no one says no to our templates.
What Is A Repair Services Brochure?
A repair services brochure is an informative paper or advertising platform that is specialized in repair services businesses. Also, you can fold it into a template, pamphlet, or even leaflet. An effective service brochure must have convincing texts and eye-catching designs. If you can achieve this outcome, there's a high chance that you'll capture the trust of your potential clients.
How To Make A Repair Services Brochure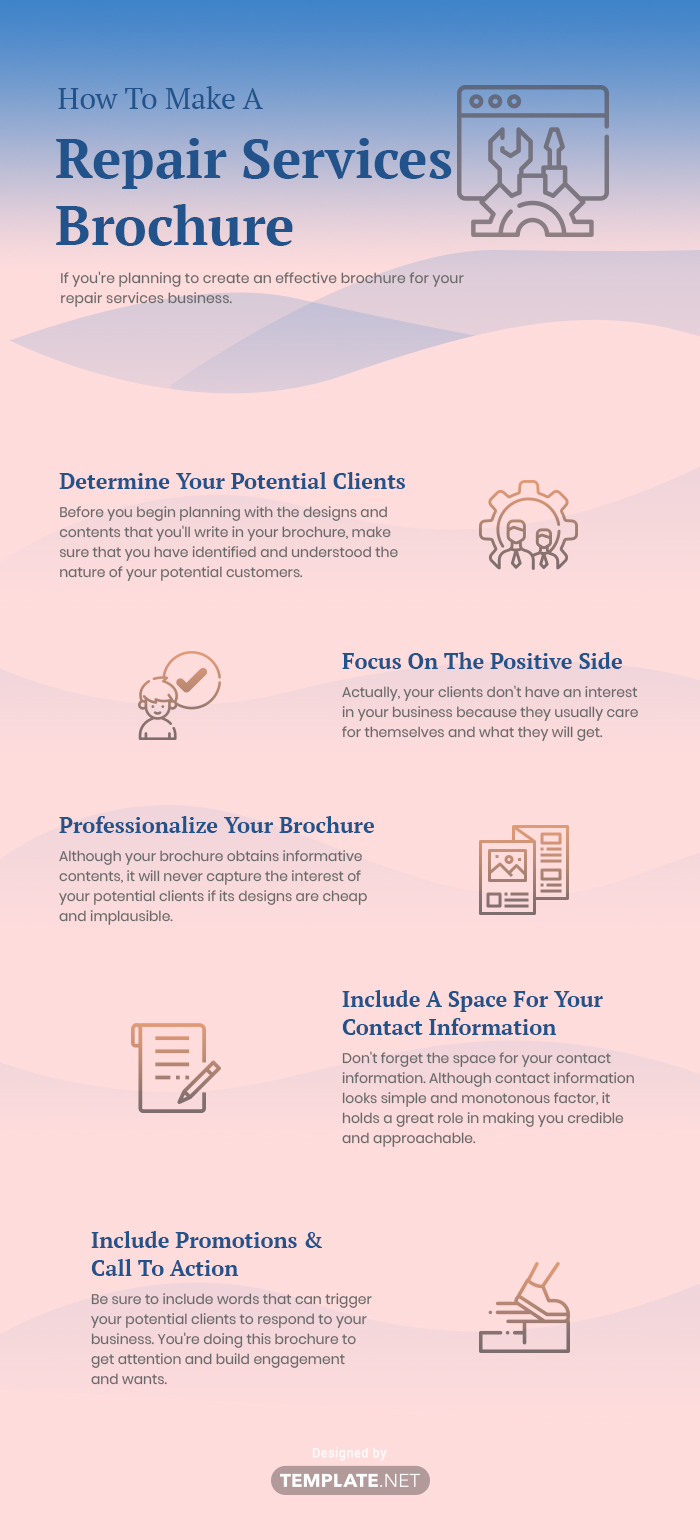 If you're planning to create an effective brochure for your repair services business, you probably want to ensure that you can showcase your world-class services such as auto repair, smartphone repair, automotive, or even car repair. If that's the case, don't worry, we'll help you create the best brochure for your business.
Just follow the steps given below and start generating more sales, clients, leads, and traffic today!
1.) Determine Your Potential Clients
Before you begin planning with the designs and contents that you'll write in your brochure, make sure that you have identified and understood the nature of your potential customers. You can have a meeting with your sales team or conduct a survey when acquiring information from your clients. Getting the opinion of your clients will help you to smoothen your processes and create an appealing brochure, for you'll adjust your content base from their response. You can have a meeting with your sales team or conduct a survey.
2.) Focus On The Positive Side
Actually, your clients don't have an interest in your business because they usually care for themselves and what they will get. You don't want to discourage your clients from availing of your services, that's why only include the benefits that your customers can acquire if they avail your services. Before creating your business brochure, compose a list of benefits and advantages that your business and services possess.
3.) Professionalize Your Brochure
Although your brochure obtains informative contents, it will never capture the interest of your potential clients if its designs are cheap and implausible. If your brochure includes irrelevant images, broad or too tiny fonts, with various tones of colors, and disorganized elements, don't expect to attract your clients. Also, avoid using free templates that are entirely available online for these doesn't only convenient and affordable, but also make your brochure ambiguous. This is the common reason why most of the businesses possess brochures that have similar looks, still, you can utilize simple brochure but ensure they're unique and exclusive.
4.) Include A Space For Your Contact Information
Don't forget the space for your contact information. Although contact information looks simple and monotonous factor, it holds a great role in making you credible and approachable. One tip is to let the white space dominate your brochure, so you don't have to worry about the space for your contact information. Besides, white is the color that represents honesty and loyalty.
5.) Include Promotions And Call To Action
Be sure to include words that can trigger your potential clients to respond to your business. You're doing this brochure to get attention and build engagement and wants. If you don't drive your readers to move immediately, stop creating your brochure now because you're wasting your time and effort. But if you still want to continue, ensure effective marketing approaches such as discount coupons, promotions, and call to action. Also, if you don't want to include discounts or giveaways, you can attach reminders that this service is valid only on a specific date or the price will increase after that date.
Read More
Earn 20% commission on every sale from your Share
Bloggers: Publish/Mention Template.net products on your website, blog, Social Media or Via Email & Earn affiliate commission of 20% for every sale