How to Create a Sales Flyer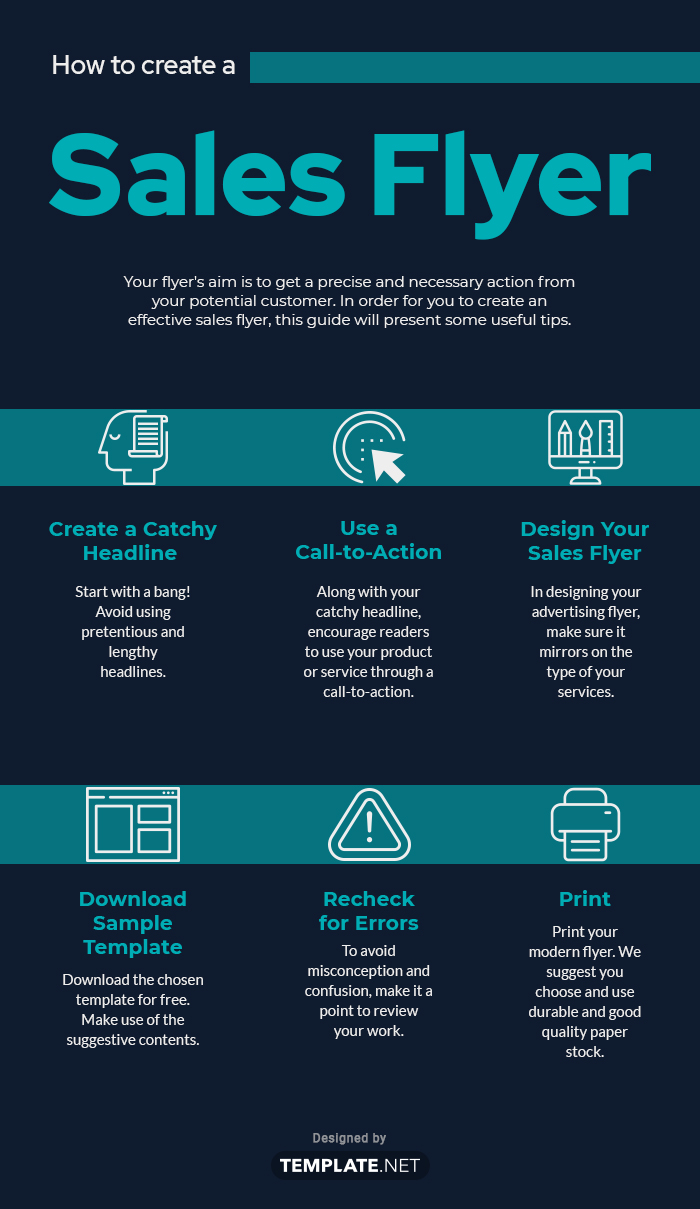 Your flyer's aim is to get a precise and necessary action from your potential customer. As with your other sales and marketing activities, your purpose is to assist your target in realizing that they have certain problems and that they need you to show how your service will fix their concerns.
In order for you to create an effective sales flyer, this guide will present some useful tips.
1. Create a Catchy Headline
Start with a bang! Avoid using pretentious and lengthy headlines. You have to grab the attention of your target audience immediately. Hook them to read further. Majority of the customers are focusing their attention on the benefits and how can you help them by introducing your services. Establish a concise and enticing headline in your marketing flyer. By doing this, your service will surely be a hit.
2. Use a Call-to-Action
Along with your catchy headline, encourage readers to use your product or service through a call-to-action. Enable your potential customers to do their part. For instance, in your bake and food sale flyer, you can convince your buyer through using lines such as save up to 50% in all cupcakes or take a bite of our mouthwatering dishes.
A research suggests, using call-to-action that prompts repeat or future sales is also a smart idea. For example, lines like "Book before August 11th and earn a 10 percent coupon off your next buy." This rewards your new customer when they come back to use your services again in the future.
3. Design Your Sales Flyer
In designing your advertising flyer, make sure it mirrors on the type of your services. Use colors and images that will truly reflect on your business. A study reveals, in marketing, color psychology is not a new thing. Using color can evoke the reader's emotion. Utilize it to improve your message. Take advantage of full-color printing- all online printers offer this.
You can use bullet points, lines, and graphs in presenting your precise and concise content. This will allow a comfortable reading experience.
4. Download Sample Template
If you are running out of ideas on how to design your creative flyer, welcome to our website. We offer expertly made sale flyers that will certainly attract potential customers to build transactions with you. Download the chosen template for free. Make use of the suggestive contents. Simply modify and replace specific details to complement your needs.
5. Recheck for Errors
To avoid misconception and confusion, make it a point to review your work. Check the spelling, grammars, and sentence structures. If you spot errors, edit them right away. Your sample flyer will affect the reputation and credibility of your business, so make sure it is error free.
6. Print
Finally, print your modern flyer. We suggest you choose and use durable and good quality paper stock. It will assure you longer time consumption and will help you save money.
A study suggests, using optional paper coatings can also make your flyers last longer. It provides additional paper thickness. Matte and gloss coatings add another layer of protection. They also make your design vivid.