How to Create a Sample Checklist?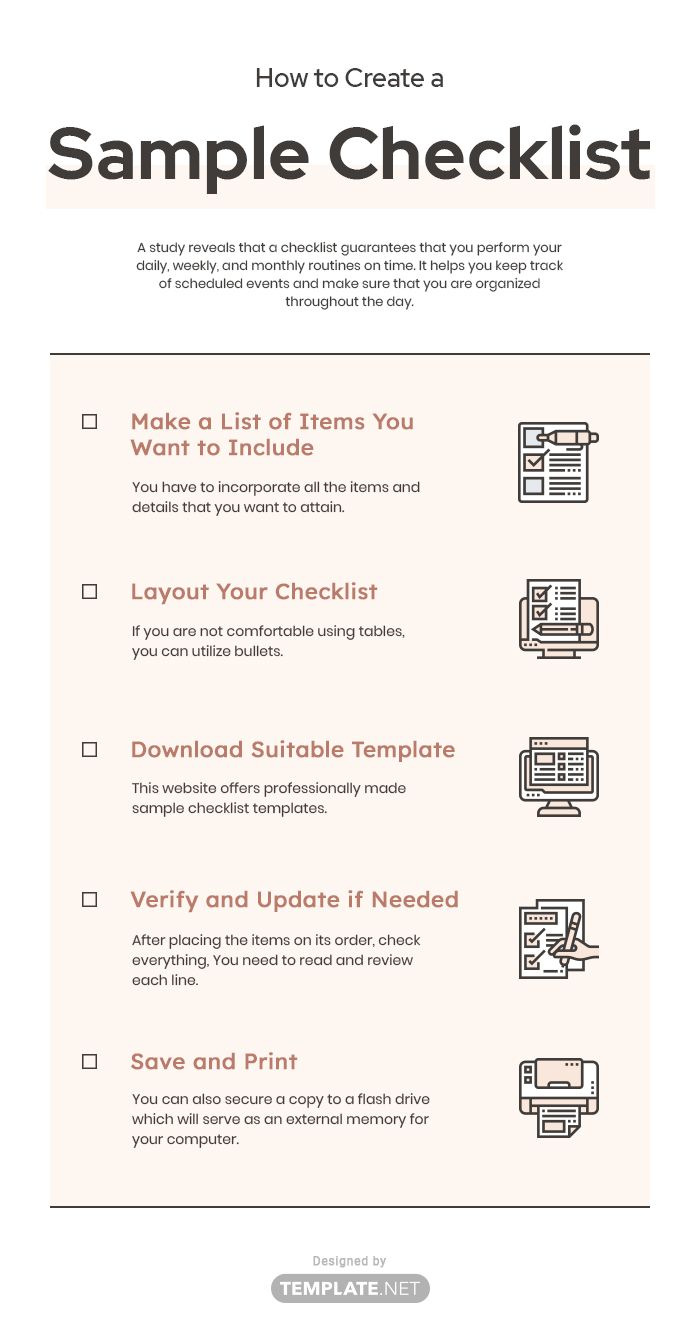 A checklist contains a list of items that are ought to be checked and done. It is commonly known as a "to-do list". Creating a planning checklist will guide you on things and tasks you need to carry out. It will enable you to organize your plan to ensure that you will not forget any item.
A study reveals that a checklist guarantees that you perform your daily, weekly, and monthly routines on time. It helps you keep track of scheduled events and make sure that you are organized throughout the day.
To help you create a checklist, read and follow these easy tips provided below.
1. Make a List of Items You Want to Include
First off, you have to incorporate all the items and details that you want to attain. They will be the flesh of your desired checklist. In order for you to remember easily, be concise and clear in presenting your items and routines. Make it as simple as possible. For instance, your cleaning checklist must include regular house cleaning tasks in all areas of the house, bathroom, kitchen, bedroom and etc. Specify each category in order for you to locate easily.
A study suggests, good checklist only needs to be five to ten items.
2. Layout Your Checklist
Your checklist does not require a bunch of creative designs. After all, it does not matter if you fail to meet the objective. As much as possible, design it in a minimal way. You can insert lines, graphs, tables in order for you to classify important items and the lesser ones. If you are not comfortable using tables, you can utilize bullets. Checkboxes and check marks can also be an alternative if you want to create a checklist and then print it so that the items on it can be check by hand. You can also use a checklist form. Place the items in a well-organized manner.
3. Download Suitable Template
If you want to have an instant layout, you are on the right track. This website offers professionally made sample checklist templates. Check them out. Actually, you can download them for free. Simply modify and replace certain items you want to include.
4. Verify and Update if Needed
After placing the items on its order, check everything, You need to read and review each line. In case you spot errors or you miss certain items, fix it right away. Remove unnecessary words. A study states that checklists are designed to make tasks easier and effective.
Another study recommends after you create your checklist, do not hesitate to go back and modify items in the future. You often have to experiment with a checklist before you get ideas on how to make it better.
5. Save and Print
Immediately save your formal document. You can also secure a copy to a flash drive which will serve as an external memory for your computer. This enables you to conveniently use or print the saved files with you anywhere. If you want a hard copy of your checklist, we suggest you use high-quality papers.