Up for some adventure? Not so fast! Manage your expenses now to begin living the best time of your life without misfortunes and mishaps. Whether you are traveling for an annual company event, an important business trip, or a long-awaited group vacation, avoid the shortage of resources and start the planning now! We offer you 100% customizable, fully editable, professionally written, and printable Travel Budget Templates. These template products are high quality and ready-made that will surely make your budgeting hassle-free! Do not let this amazing chance to turn into bubbles and disappear in no time! Subscribe to any of our subscriptions and start the easy-breezy work now!
How to Make an Efficient Travel Budget?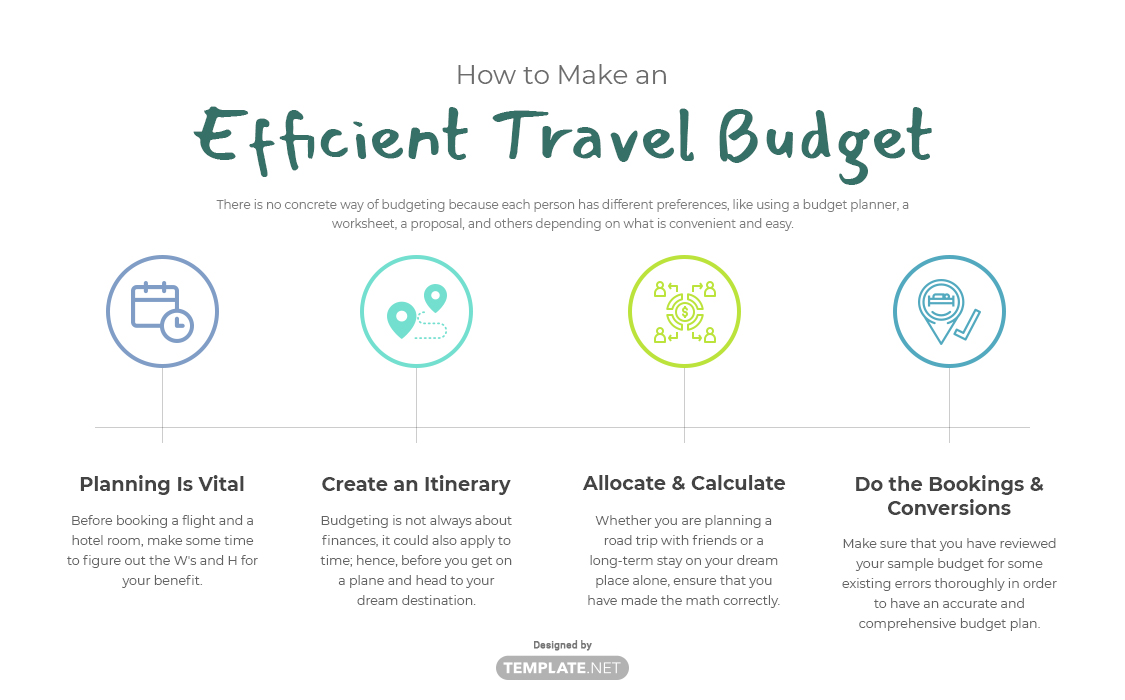 Generally, a travel budget is a well-planned estimation of how much resources a person will spend and gain over a specific period of time. A budget plan does not have to be so tough because it should be directly proportional to your current situation and finances. It is dependent on how much funds you have and on what things you will be allocating it to.
There is no concrete way of budgeting because each person has different preferences, like using a budget planner, a worksheet, a proposal, and others depending on what is convenient and easy. Even though people have diverse preferences, ensure that you are budgeting things the right way. So here are some useful techniques in crafting an effective budget plan.
1. Planning Is Vital
Before booking a flight and a hotel room, make some time to figure out the W's and H for your benefit. Take into account the questions like, "Where am I heading?", "When am I going?", "Who will come with me?", "What should I do when I get there?", "How much money should I spend?" and more. Plan thoroughly. In that sense, you will have a clear direction and purpose, which are important keys to achieving a successful trip.
2. Create an Itinerary
Budgeting is not always about finances, it could also apply to time; hence, before you get on a plane and head to your dream destination, make sure to make a comprehensive itinerary first. It is either you make your own list of places to go or ask the travel agency to create one for you or introduce various travel packages to you. In that case, you already have a well-made plan of places to go to, together with the allocated money to spend on each day.
3. Allocate and Calculate
Whether you are planning a road trip with friends or a long-term stay on your dream place alone, ensure that you have made the math correctly. Take into account the essential things in traveling such as transportation, accommodation, entrance fees, emergency fund, souvenirs, food, and a lot more. Look for plane tickets (if you want to go by plane) online or look for a travel agency that offers packages or promotions that are affordable and budget-friendly. Then, you can download booking applications or search for a hotel or guesthouse to stay that is not too expensive for you to avail. Also, allocate money for entrance fees if ever you want to visit famous sites or attractions in your upcoming trip. Moreover, allot some money for emergency purposes, just in case, and souvenirs for the people that you want to give presents to. Most importantly, research on the food and their prices so that you can estimate how much resources you will allocate to it.
4. Do the Bookings and Conversions
Make sure that you have reviewed your sample budget for some existing errors thoroughly in order to have an accurate and comprehensive budget plan. In that case, you will have time to adjust or redo your plan if ever you've made some miscalculations. After the thorough checking, you can already book your flight and hotel, then convert your money to the currency of the place that you will be visiting.
Read More
Earn 20% commission on every sale from your Share
Bloggers: Publish/Mention Template.net products on your website, blog, Social Media or Via Email & Earn affiliate commission of 20% for every sale