Your neighbor's lawn in brilliant twinkling lights, carols on loop over the department store in-house radio, your mother repeatedly calling to ask about your holiday. Snow, the cold breeze, shorter days, and longer nights. Christmas is upon us at last! But, first, we need to do our holiday shopping and choose gifts for friends, family members, and pets.
Gift-giving during Christmas does not require you to give away expensive and branded items. In fact, personalized or handmade items are preferred by most people. That is why, with the spirit of gift-giving, we provide you with these free Christmas photo templates and designs that you can use to create your own holiday card designs and other printed media.
Why should you use Christmas templates?
Creating Christmas cards from scratch can be tiring, especially if you intend to make one for each family member and friend. An efficient solution to this issue is, of course, the use of pre-made Christmas letter templates that you can readily customize or even print out right away.
So, if you still need convincing that going the printable template route is the right approach for you, check out the list below for more reasons why you should use them. You may also see Christmas decoration templates.
They are free. One of the biggest advantages of using pre-made Christmas templates is that you can find free templates online. In fact, all the templates included in this article can be downloaded for free. If you wish to create customized Christmas gift tags, for example, you may use the free gift tag template embedded below. This way, you do not have to spend more money just to have a customized tag for your holiday presents.
They are easy to edit. Most printable templates available online are created and stored in standard software programs that allow you to edit them easily. For example, some of the free templates included in this list are available in Microsoft Word (DOC) and Adobe Photoshop (PSD) file formats. As long as you have the right software program installed on your computer, it will be relatively easy to edit the text and graphic design elements on the template. These templates will also include an instruction file that you can follow if you do not yet know how to use the software. Check out this link for easy Photoshop tutorials for newbies.
They help you save time. Shopping for Christmas gifts is a task that is often done at the last minute. If you find yourself in this situation, using a holiday template may be a timesaving option for you. These templates are already pre-formatted and all you have to do is input the name and other event details into the template and it is ready for printing. They will also come predesigned so that you do not have to worry about deciding on a design theme or concept. Check this article for more tips on how to design a holiday card.
They allow you to improve your editing skills. If you are an aspiring graphic artist or designer, using free Christmas templates will allow you to practice your image editing and compositing skills. It is surely a win-win situation since you will also get to create your Christmas cards in the process. In addition, a different set of editing skills will be used when tinkering with a Christmas template. To illustrate, these templates will focus on vivid festive colors and complementary typography. You can edit and develop your own style of Christmas template design when you have a lot of free templates to experiment on.
To show off your creative side. In connection with the previous benefit of using Christmas templates, using them for your holiday stationery design needs also allows you to show off your creative side more. Regular people may not think of using printable templates geared for the holiday season as a way to glam up their Christmas present. But when you employ this gift design technique, you are bound to gain admirers of your imaginative and creative Christmas card design projects.
To give unique gifts. Using Christmas templates for the different gift accessories that you intend to give away this season is a unique way to frame your real Christmas presents. For instance, you may use a Christmas-themed bookmark template to create a bookmark for a book that you are gifting someone else. Gifting unique items is not just limited to using Christmas templates for sample gift tags or bookmarks. You may also create other extraordinary gift ideas from these templates. For instance, you may create Christmas party flyer designs or even create a Christmas newsletter for the family.
To help de-stress. Another useful reason why it can be better to use printable Christmas templates is that they help you reduce stress. The Christmas season can be a very demanding time no matter how much fun you think you are having at all the parties and gift-giving sessions. So, if you want a better approach to this season, put on your creative helmet and labor away for a few hours of uninterrupted artistry by creating handmade card designs for your holiday cards. Check this article for more tips on how to create a handmade greeting card.
Blank Christmas Bookmark Template
Printable bookmark templates like the Blank Christmas Bookmark Template (embedded above) can be used to create a matching reading accessory, especially if you are gifting a book. Choose this template if you want an easy-to-edit Microsoft Word file. You may choose between three red background variations as well as change the Christmas message in each bookmark. The bookmark measures 2.12 inches by 6.5 inches. This means that one standard letter-sized paper will yield three bookmarks.
Tip: Do not forget to punch a hole at the top of the bookmark and loop a cute ribbon to complete the look. Download this free bookmark now!
Merry Christmas Flyer Template
Planning a Christmas party? Then, you will certainly like the Merry Christmas Flyer Template shown below to announce your party to the world. This free flyer template follows a teal and red color scheme. It will suit simple yet elegant Christmas party themes. But, if you would like to use brighter colors, you do not have to worry since the template is fully customizable in Adobe Photoshop.
Christmas Stationery Template Bundle
Sometimes, sticking to one stationery design is just not enough. And in gift-giving, this is a good thing because we all want what is best (and the most unique) for our friends and family. A solution to this dilemma is the use of the Christmas Stationery Template Bundle featured above.
This stationery template bundle includes more than 13 Christmas card designs—from traditional holiday greeting cards to Christmas coupon stationery designs. Get this free stationery mockup template bundle now and all your Christmas stationery needs will be taken care of.
Christmas Program Flyer Template
The Christmas Program Flyer Template showcased above is another example of a free printable party flyer template for the holiday season. Use this template if you want something creative for your Christmas bash's flyer design.
Tip: When printing out flyer templates, make sure to print them on thicker paper so that they will not become wrinkled easily. Flyers tend to get handled from person to person in order to help spread the news it contains.
Christmas Invitation Flyer Template
Get the Christmas Invitation Flyer Template shown above if you want an attention-grabbing business flyer template design. This Christmas flyer template will suit businesses or companies who wish to organize a party in time for Christmas and New Year.
You may choose between three color background variations (white, maroon, and dark teal or green). The template follows a chalkboard design without appearing too cozy—a good aesthetic choice if you want to attract the affluent partying crowd.
Christmas Gift Certificate Template
Are you a business owner looking for ways to gain more customers and increase sales during the holiday season? If yes, you may try out selling Christmas gift certificates as an additional income stream. To do that, you first need to create them using a gift certificate template.
The Christmas Gift Certificate Template shown above is a good example. This template measures 8.5 inches by 4 inches and is ready to print. But if you wish to personalize the template to include your business logo design, you can easily edit the template for that. In addition, this template is available for free. So, get it now!
Christmas and Happy New Year Gift Certificate Template
The Christmas and Happy New Year Gift Certificate Template embedded above is another example of a free printable gift certificate template. Choose this template if you want your business gift certificate to have a simple template design. With a little customization, you may add your own company seal and social media information on the template. Purchasers of the gift certificate will be the ones to fill out the recipient's name on the printable certificate.
Christmas Discount Newsletter Template
The Christmas Discount Newsletter Template (shown above) is a free newsletter template that online retail stores can use to advertise an upcoming Christmas sale. This is a PSD template that can be easily transformed into an email HTML file. Instructions on how to do this are included in the download file.
In a world that is slowly becoming smaller due to technological innovations, having an email list and the use of email newsletters is surely a sustainable marketing strategy. Keep this up by downloading and using this free email newsletter template now!
Christmas Sale Email Newsletter
Creating an email newsletter using Christmas email newsletter templates is an effective way of spreading the news about a retail store's promotional digital marketing strategies. An excellent example of this is the Christmas Sale Email Newsletter shown above. As an owner of a brick-and-mortar or online store, you should invest in creating an email list for these can be a treasure trove of potential customer leads. Customers also benefit from this by being able to avail of products and services at a lower price point.
Christmas Tree Letterhead Template
Thinking of writing your friends and colleagues a letter this Christmas? Then you will like the Christmas Tree Letterhead Template featured above. This free letterhead template makes your letter paper look better and more personalized. This is a printable template so you may print it out before handwriting your letter. Or, you may type up your letter and print it out along with the pre-formatted template.
Signature Christmas Letterhead Template
The Signature Christmas Letterhead Template (shown above) will work for business owners and those in company management teams who wish to reach out to their employees during the holiday season. This formal letter template allows them to glam up the company letterhead to match the holidays.
Hurry and customize this free template for your own business!
Printable Christmas Letter Template
Of course, Santa is real! That is the belief most parents want their young children to uphold. And to do that, you have got to make the whole process of asking Santa for gifts more genuine, right?
For mothers, father, and godparents out there, print out the Printable Christmas Letter Template featured above for your children to fill out. This free printable template will perhaps convince them that Santa Claus is really investigating whether they have been naughty or nice the whole year.
Christmas Poster Template
The simplest things often make the biggest impact. So, whether you are a business owner or you are in charge of your office party planning, try gearing up everybody else for the upcoming party by putting up announcement signs. You may use the Christmas Poster Template shown above as a template guide for your own announcement poster design.
As usual, this poster template is available for free on our site. So, hurry and start hyping up everybody else for your office party!
Christmas Discount Sale Tag Pack
Christmas bazaars and sales are common during the holiday season. So, if you are a business owner looking to distinguish your store and your services among other retailers, use this creative Christmas Discount Sale Tag Pack template shown below.
And, good news: This sale tag template plate is available for free! The template download file also includes six different free tag design variations you can use to your heart's content.
Christmas Photo Card Invitation Design
Want to invite friends and family over for the holidays? Then, use the Christmas Photo Card Invitation Design shown above as your family's Christmas invitation card. With this invitation card template, you can also incorporate your family's portrait photos. It is all for free, too!
PSD Christmas Photo Template
PSD card templates are preferred if you want more creative freedom in altering a template's design. Choose the PSD Christmas Photo Template shown above if you want to have a whimsical feel for your family's Christmas card design this year. This card template prints out on paper or cardstock measuring 8.25 inches by 4.25 inches.
Christmas Holiday Photo Postcard
Add another creative twist to your family's Christmas card design by following a postcard design using the Christmas Holiday Photo Postcard featured above. This card template has three color variations (blue, green, and pink). What is great about this printable postcard template is that you can add your own family pictures to it and it is also free!
Christmas Photo Frame Mockup Design
The Christmas Photo Frame Mockup Design template is perfect for those looking for a monochrome card template. In this template, you may still add a collage of your family photos, but they are organized to resemble a photo frame. This template prints on one side so that you can leave a handwritten message on the card's reverse side.
Merry Christmas Postcard Invitation
For those who want a Christmas holiday postcard template that prints on the front and back sides, you should use the Merry Christmas Postcard Invitation shown above. This card template will appeal to those do not want too much fuss over their Christmas card designs. You may mail the postcard right away after signing it and after paying for postage, of course.
Christmas Tree Postcard Template
Choose the Christmas Tree Postcard Template shown above if you want your Christmas postcard template to follow a neutral color scheme. This postcard measures 6.25 inches by 4.25 inches when printed out. And, yes, it is available as a free download as long as it is for personal use.
Christmas Greeting Card Design
The Christmas Greeting Card Design below follows the same template design as the free Christmas flyer template shown earlier on this list. However, with this greeting card design, you may easily use it as a card template. It includes vintage floral patterns that will appeal to crafters and artists. It is best printed on card stock measuring 6.25 inches by 4.25 inches.
Christmas Greeting Card Invitation Design
The Christmas Greeting Card Invitation Design embedded above makes use of a blurred background. You may choose between three background variations with this free template. The download file is also created and stored using Adobe Photoshop, so make sure that you have the correct software program installed on your computer before you can edit it.
Merry Christmas & New Year Greeting Card
Christmas Holiday Social Media Cover Page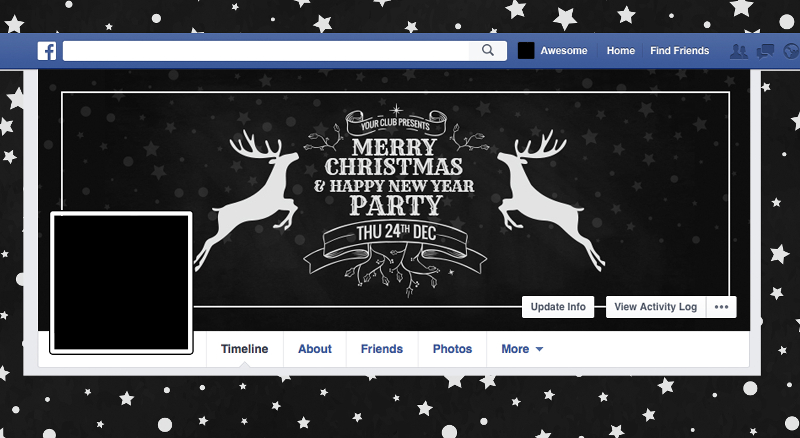 No matter how busy you get from attending so many parties and events during the holiday season, you should not neglect your social message pages. They should also reflect the festive vibe you are personally experiencing. To do that, use the Christmas Holiday Social Media Cover Page template (shown above) to transform your social media profile pages.
This free Christmas social cover page template follows a black and white design. If you prefer minimalist yet meaningful cover photo designs, then this template is the one for you. Get it now for free!
Free Christmas Facebook Cover Page
Of all social networking sites, Facebook is undoubtedly the most popular. So, if you want your Facebook cover page to fly high during the holiday season, try out the Free Christmas Facebook Cover Page embedded above. If you want your Facebook cover design to look like this, then download it now!
Christmas Menu PSD Format
For restaurant owners who intend to operate during the entire holiday season, it is best to use a special menu design for this time of the year. Use the Christmas Menu PSD Format shown above and entice your diners to keep returning for more.
Note that this is a free menu template, so there is no cost for downloading it. Also, check this article for more information on restaurant menu hacks.
Christmas Menu Template Example Format
For a more festive-looking restaurant menu template, use the Christmas Menu Template Example Format shown above. It is available for free, so hurry and download it for your restaurant now!
Christmas Wishes Flyer Template
Use the Christmas Wishes Flyer Template featured above if you want an elegant-looking free party flyer template design. This template is fully editable, so you can add your party details before printing the template.
PSD Christmas Party 3D Flyer
PSD flyer templates are the ones to use if you intend to make a lot of changes to a free template design. You can do this with the PSD Christmas Party 3D Flyer shown above. This template follows a white and red color combination—very fitting for the holiday season.
Discount Christmas Coupon Template
Free discount coupon templates are a life-saver, especially if you intend to create a Christmas coupon for your own business establishment. The Discount Christmas Coupon Template featured above is an example of a pre-formatted template that you can edit to match your business' image.
Christmas Gift Voucher Design
Last on the list is the Christmas Gift Voucher Design template shown above. Use this free voucher template if you want a creative take on gift vouchers for Christmas. This template measures 7 inches by 3 inches when printed out. This means that you will get two gift voucher cards out of one standard letter-sized paper.
Enjoy these free Christmas templates!
Going the printable template route is perhaps the best decision that you or anyone (person or business entity) can make when it comes to gift-giving or party planning. They are easy to create and fast to produce. So for this holiday season, stop worrying about the perfect holiday gifts to give your family and friends. Instead, give them your time and perhaps also a little Christmas photo card where you have poured your feelings into the mix. Happy holidays, everyone!
If you found this collection of free Christmas templates helpful, do not hesitate to share it with your friends. They, too, perhaps need a little break from obsessing over the holiday gift-hunting trade.