Having some available van mockup designs online brings great ease among automotive designers and artists around the world. A roaming restaurant, for instance, no longer requires a team of salesmen who would advertise their menu on the street because the design of their vehicle itself is already enough to inform the public that it is selling particular food items.
If you want to consider van designs as one of your marketing or branding tools, then definitely the post is perfect for you. Whether you are a restaurateur, a freelancer or simply a van design-lover, surely you will be enthralled by our collection of van designs tirelessly curated by our team.
Van Mock-Up Template
Cargo Van Mockup
Download
Food Van Mockup
Download
Delivery Van Mockup
Download
Customizable Van Mockup
Download
Advantages of Mobile Marketing
Having your fleet vehicles wrapped with a specific unified design does bring a number of advantages to the owner. The following list of benefits is provided below:
Businesses and companies do not need to hire a bunch of salesman and saleswoman to market their products and services to the public because their well-designed vehicles could do the task effectively and efficiently by just driving them around the town. For example, if the design is of a pizza, then pizza lovers who happen to see the vehicle might be persuaded to try their product.
For agencies who prefer to have a marketing strategy by placing their company name on their vehicles, all people across the street will definitely notice their unique vans compared to those with plain design. People will then be informed of their existence as well as the products and services that they are offering. Different varieties of vehicle branding mockups can help you with this as well.
Moreover, freelancers who do not have enough funds to advertise themselves online and on the TV can still inform the people of their services by having their name, scope of service, and contact details specified on the van itself. By doing so, they get to advertise themselves as long as they want without paying much.
Van Car Mockup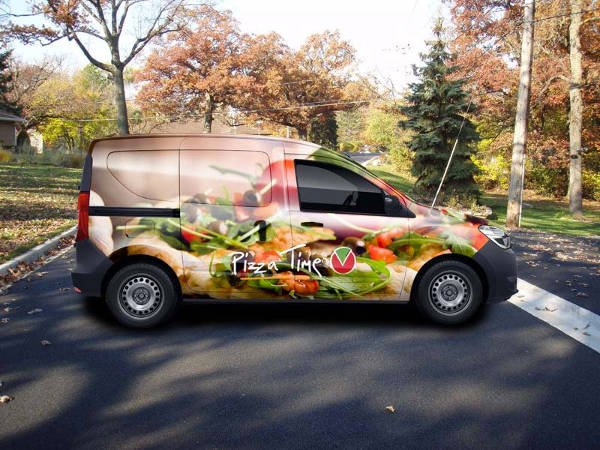 Download
Courier Van Mockup
Download
Compact Van Mockup
Download
Mini Van Mockup
Download
Types of Vehicle Designs
Despite the increasing popularity of wrap advertising and truck mockups especially in the commercial and retail sectors, a certain company may still be confused as to whether to cover its vehicle fully or only partially. A business may likewise choose whether to use image only, text only, or a combination of both.
To help them in their decision-making, three types of vehicle designs are detailed below:
Vehicle lettering. This is advised for companies and business which want to identify their vehicles as part of their fleet. Usually, details like the company's name, physical address and contact details are displayed on the vehicle's surface, along with their own logo or trademark.
Vehicle full wrap. The design is intended to cover whole vehicle's surface to the fullest. Despite its high cost, some business and companies do choose full wrap because it is considered the most effective among other designs. People will remember the company name easily.
Vehicle partial wrap. For those seeking economical and cheaper compared to full wrap design, they may consider partial wrap instead. This is ideal for small-time businesses to implement product marketing because they do not have to invest too much on designing their vehicle.