15+ Free List Templates
For anyone who likes to stay organized, making lists is something that comes very easily to them. White other can find this job very tedious. Why do we need lists at the first place? We need them as they help us in better management. Before starting anything, it is always a good idea to break down all the important task in the form of a list. Whether you are going for shopping or setting out for a vacation or planning an event, preparing a list before starting anything gives a solid shape to the plan. It minimises the chances of error.
But all those who do not prefer preparing lists and look for an easy way out, we have a free list templates where we have brought for you all kinds of lists. These lists templates come in word format and are print ready. You can customize them as per your requirement.
Contact List Template
A contact list can be used for personal purpose or it can a client contact list. Basically with a contact list you can keep track of all your personal and business relations. The list includes details and information like first and last name of the contact person, postal address, landline number, mobile phone number and email address etc. if you don't want to get into the details of it, just click on the link and download the list. And all you are left to do is update the list with your contacts.
Equipment List Template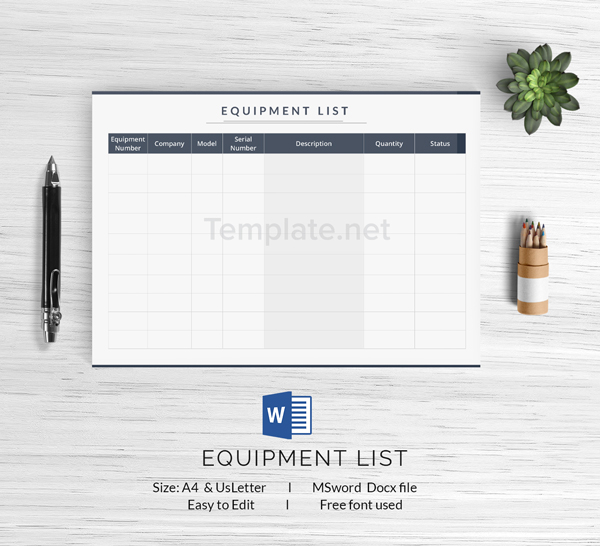 Grocery List Template
This list is mostly prepared in grocery store to keep track of the grocery. You can prepare the same for your home storage also. The list has different categories marked for grocery like – vegetable, meat and dairy. The list template here come in microsoft word format and is editable and print ready.
Guest List Template
Whether you are preparing for a small gathering or a huge event, a guest list is something that helps in both. With a guest list, you have the name of all the people you want to invite and one place and this makes sure you do not forget any guest in the last moment. If also helps you in going ahead with further preparations as per the number of expected guests.
Inventory List Template
An inventory list of all the good and stocks that a company or a business holds. An inventory list is very essential for small and large businesses as they help in better organization and the stock record intact.
Material List Template
Medication List Template
Packing List Template
Packing the hardest thing that one has to do before going for a vacation. Especially if you are doing last minute packing, chances of forgetting something important is very high. For such situations make sure you have a packing list ready with you. This list should contain everything that you have to pack and once you start packing you will not have to think very hard as everything will be present in the list.
Phones List Template
Price List Template
Project List Template
Reference List Template
Shopping List Template
To-Do List Template
This is a list of task that you desire to accomplish on daily basis. This list is generally prepared while starting the day, listing the thing to be executed. It helps you remain focus and productive every day.
Wedding List Template
These templates have been prepared by our professionals and all of them are compatible with word format. You will find it easy to prepare a list with these templates. All you have to do is download and save, and if you require a hard copy you can always print the file. If you are new, don't worry it will not you much time to figure out how to work with these templates.