15+ Free Log Templates
A log is a record of activities that is used mostly for the purpose of maintenance. It helps keeping a record in written and can be used later or in future for reference. They also help in identifying risk and opportunities in work.For this article, we have for you free log templates that you can use to easily create every kind of log. These templates provide you with a well structured format which cut down your burden of creating log to almost half. Check out the templates provided and ease out your task.
Activity Log Template
Activity log is mostly used in corporate offices to keep track of the employees activities. It maintains the time that an employee devotes to his work to annalyse the output that is being produced by him. It helps the management in assessing the employees and their productivity and help them be more optimal if required. The template given here comes in word format. With this template you get a readymade outline to create the activity log.
Call Log Template
A call log is used to keep a record of all the calls that are sent and received from a phone number. It also states the time of the call and duration. It helps in maintaining a permanent record of call.
Daily Log Template
A daily log states about the daily progress made in a workplace. It records the everyday performance of the employees and helps in analysing the effect the daily activities has on productions and results. With the template provided here, creating a daily log is become very easy since it provides with a ready made structure on which the records have to be maintained.
Food Log Template
Food logs are mostly used people who look after their diet and their food intake. If you are measuring your food intake to analyze you health and nutrition level then you need a food log. It record all your nutrient intake through your meal information. It also helps you stay motivated and you makes It easy to check progress.
Maintenance Log Template
Mileage Log Template
As the name is making it obvious, mileage log keeps track and record of the mileage provided by a certain vehicle. Mostly the log is required by certain companies who have to then reimburse their employees based on the mileage log information.
Phone Log Template
Reading Log Template
Sales Call Log Template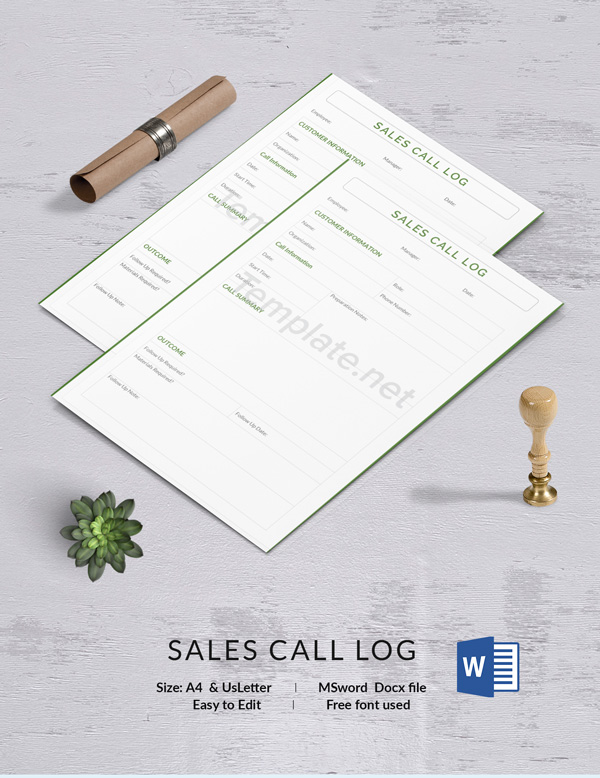 A sales log maintains the record of number of sales made on everyday basis by a company or a store. This log helps in calculating profit and maintaining finances. Use this template to instantly get access to the sales log format. You then have to put on the records manually.
Time Log Template
Training Log Template
Travel Log Template
Visitor Log Template
Work Log Template
Workout Log Template
You might find it difficult to maintain a log but the outcomes of maintaining a log are great. It helps you in easily see through every day records and progress. Based on this, it becomes easy to plan for the next day objective. And it is not that difficult a task if provided with a proper and professional format. The templates available here are perfect and will provided you with a basic structure that is essential for maintaining a log. Once you have it ready, all you have to do is keep updating the records everyday.
Along with creating and maintaining the log, one more important thing to keep in mind is, reviewing the log. If you want you and your work to progress keep reviewing the log from time to time to design strategies for the optimal production. Keep a track of your accomplishment and keep working towards getting better.
We hope these log provided here help you. Our professional have carefully created these templates for you. They are all available in word format and are easy to use and edit.