Free Templates
13+ Free HR Dashboard Templates
HR dashboard can be defined as the visual representation of the data gathered from HR metrics. Such a board generally follows a graphical layout that allows an easier grasp of the different aspects of the workforce data- such as salary distribution of employees in a year or attendance of employees, efficiency in the staff force and so on. It helps to assess what improvements are needed to be done with the employees. There are HR dashboard templates online to relieve you from drafting the whole dashboard from scratch.
Free Revenue Per Full Time Employee Dashboard Template
Free Benefit Statement Dashboard Template
HR Return on Investment Dashboard Template
Human Resource Ratio Dashboard Template
Recruitment vs Hires Dashboard Template
Organization Structure Dashboard Template
Employee Demographic Template
Employee demographic is an important aspect while counting the HR metrics and this HR dashboard template show you what parameters to include in covering employee demographic and employee compensation of a year.
Employee CTC HR Dashboard Template
This HR dashboard template would be useful when you are looking for a chart on the CTC of your staff in connection to their age, rank sales in different departments, bands and experience bracket.
Employee Salary HR Dashboard Template
This is a simple yet very useful HR dashboard template which comes with 2 important HR data, including the number of employees by year and number of employees by salary- and also provides data on salary distribution.
HR Dashboard Template Excel Format
This Excel HR Dashboard template offers a neatly-defined data on the Average, Final and Plan Metrics of up to 5 employees in 4 quarters. It is by a chart representation for easy visualization of data.
Graph Format HR Dashboard Template
If you are looking for a HR dashboard that would allow you to study the number of employees and their salary distribution graphically, then this template would be handy with its bar graphs and charts.
Employee Attendance HR Dashboard Template
When you are looking to calculate the attendance and absence rate of the employees, this HR dashboard template is just the thing you need with its separate columns for absent and working days.
Analysis HR Dashboard Template
Attrition analysis is an important part of assessing the performance and failure of the sales team in any company and this template here shows you the tips to keep in mind while making the analysis.
Employee Behavior Dashboard Template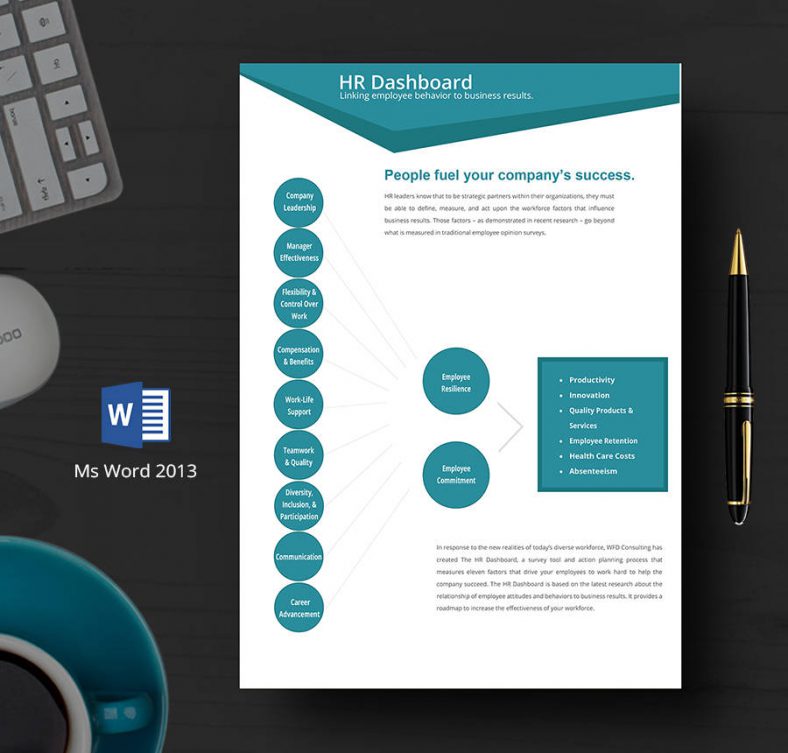 This HR dashboard template shows you an important account of how employee behavior is linked to business behavior in a company. Data presented in circular frames assures easy understanding of the pointers.
> How to use HR Dashboard Templates
HR dashboards are to be used to analyze performance as well as point out scopes of improvement in the office through enhanced employee concentration and contribution. It works based on HR metrics but you must be careful to stress on those HR metrics which can actually highlight performance. Make sure that the metrics you are taking to can be related to future actions on part of the company. However, creating HR dashboards with all the charts and graphs could be a great deal of task for you. Thus, an easier route to use HR dashboards is to go for HR dashboard templates that come with readymade dashboard structure.
> What are the benefits of HR Dashboard Templates?
HR dashboard templates are always useful when it comes to assessing the HR metrics in your company. As the HR manager, your job doesn't stop with collecting information on your workforce- you need to get the complete story on the information gathered. This is where a HR dashboard template comes in as it helps to get you full understanding on the data through analytics, mostly done through graphical presentations such as charts or bar graphs. These HR dashboard templates would help you to make your data even more meaningful so that it's easier to spot the trends and derive at important decisions regarding employees at a glance.