As the month of May begins, we are greeted with a special day that commemorates the success of workers as they fought for their freedom from being forced to work for more hours than what is necessary for a day. Many people don't know about this historic labor movement as they are more familiar with May Day being celebrated in state communist countries like Cuba or the former Soviet Union. What they don't realize is that it is as American as it gets, like baseball and apple pie. As we enter May, we shall educate ourselves more on what this holiday really stands for and how it has paved way for everyone in every industry.
Free May Day Facebook Template
May Day Facebook Cover
Free Download
May Day Facebook Event Cover
Free Download
May Day Facebook Post Template
Free Download
May Day Email Newsletter
Free Download
What is May Day?
In the late nineteenth century, workers usually worked for 10 to 16 hours a day. What was worse than this abuse was that they were made to work in unsafe conditions so much that deaths and injuries were, unfortunately, common instances in workplaces. Facing such exploitation has pushed the workers to form a movement to collectively fight for their rights and decrease the working hours to 8 hours without a cut in pay. This international struggle prompted the violent confrontation between the police and labor protesters that was called the Haymarket Riot (Haymarket Affair or Haymarket Massacre) in Chicago on May 4, 1886.
May Day Flyer Template
Free Download
May Day Instagram Post
Free Download
May Day Snapchat Geofilter Template
Free Download
Free May Day Tumblr Post
Free Download
Free May Day Poster Template
Free Download
In 1889, May 1 was designated as a day of commemoration of the Haymarket Riot in support of the workers who protested for their rights. Although it already existed as a holiday on the first Monday of September in some states, the official signing of the legislation made May 1 into Labor Day, the official U.S. holiday to honor the workers. The legislation was signed by U.S. President Grover Cleveland, five years later. Since then, some countries followed suit, like Canada. This is a sign that not only Americans suffered from this mistreatment.
Why We Should Celebrate May Day
Now that you know how and why May Day happened, it would be a normal reaction to be grateful for the effort of the workers who fought for the rights that we are enjoying right now. Without the fight that the workers had put up in the past, we would still be having more than 8 hours of work a day, which is more than what is needed, and would still be paid less than what we deserve.
May Day Pinterest Pin
Free Download
Free May Day Twitter Templates
May Day Twitter Post
Free Download
May Day Twitter Header Cover
Free Download
Overworking would only negatively affect the productivity rate and would be the stigma for mental health issues related to stress and pressure. If it wasn't for the workers' struggles, you might even not be able to have much time to read this due to the fatigue caused by more hours of work.
Free May Day LinkedIn Templates
May Day LinkedIn Post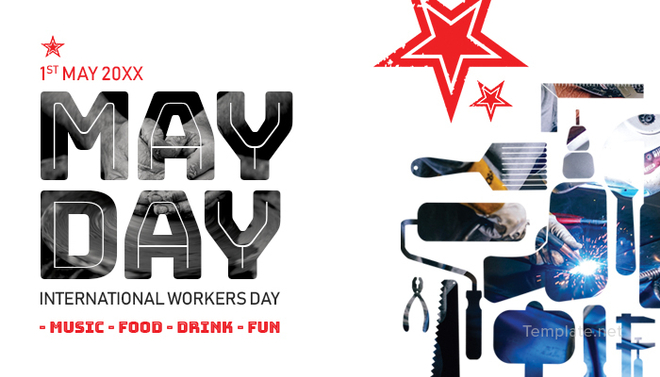 Free Download
May Day LinkedIn Blog Post
Free Download
May Day is the result of the relentless protest and consistent demand for justice by uplifting the rights of the workers. On this day, we commemorate their courage in resisting and fighting the abuse and exploitation. On the occasion of May Day, we raise our salutes to the brave people of the labor force.