13+ Free Analysis Templates
An analysis is a detailed examination, observation or inspection that is conducted to derived a certain conclusion  and a possible solution. If you are planning to prepare a certain analysis but have not been successful so far, you are at the right place. Chances are you are going to find the required analysis listed here in the form of a template. You can download the template and edit the document and with few changes you will find your analysis ready.
Cash Flow Analysis Template
A cash flow analysis is by a organization to report their finances in terms of cash. It is a listing of the flows of cash into and out of the business or project. The deposits are taken as cash inflow and the withdrawals are the cash outflows.  It also enlists equity and liabilities. Untill done by a professional it can be difficult to present a cash flow analysis and it can take a lot of time and still there are chances that you would forget few key points that should have been enlisted.
Competitive Analysis Template
Competitive analysis is an important and critical plan for any company that mainly analyses their marketing plan. It is an evaluation that helps in identifying their uniqueness that distinct them from the competitors.  It helps the company in identifying ways to attract target customers.
Cost Analysis Template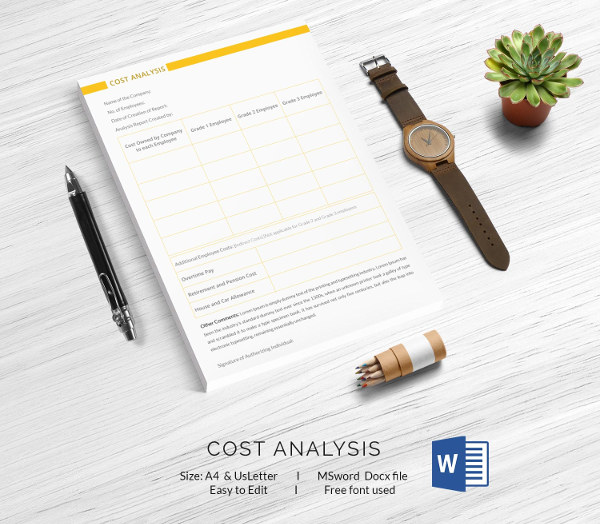 A cost analysis is also known as cost benefit analysis that helps a company identify potential risks by comparing costs and determining investments. A cost analysis can help you know your strength and weaknesses.
Impact Analysis Template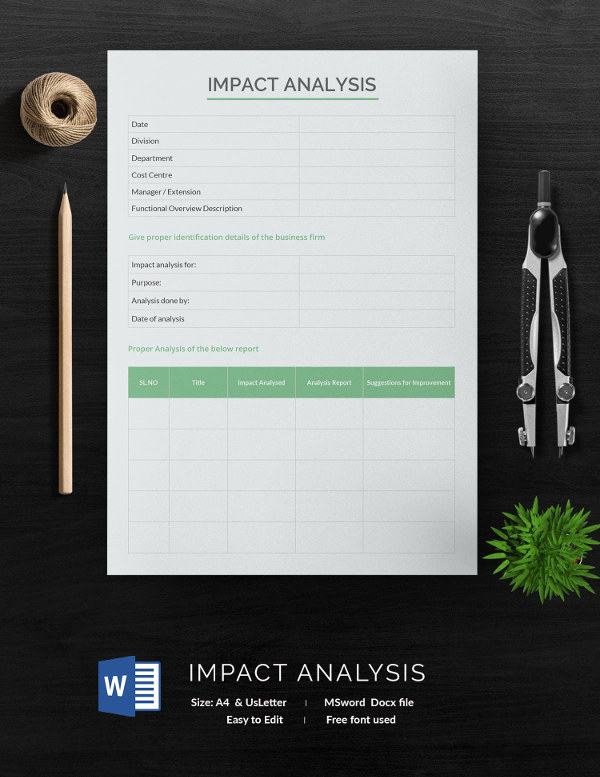 A gap analysis identifies the difference in performance between a business' information systems or software applications to determine whether business requirements are being met and, if not, what steps should be taken to ensure they are met successfully.
Industry Analysis Template
Industry analysis is also somewhat similar to competitive analysis. It helps in identifying a company its position compared to a similar company with same product or services. There are a lot of aspects that are covered in the competitive analysis. The analysis can easily help your company in coming up with strategic planning.
Job Analysis Template
Job analysis is about is created to find out and determine particular job duties and requirements and the relative importance of these duties for a given job.
Need Analysis Template
Need analysis is create to bring focus human elements of the requirements. It helps in identifying needs of a defined population of people. It describes the problems of the target population and also lists the possible solution to these problem.
Risk Analysis Template
The name very well defines what risk analysis is. Risk analysis reviews the possible risk that involved in particular event or decision. It is component of risk management. It can be applied to any kind of project that may involve any kind of risk.
Stakeholder Analysis Template
Stakeholder analysis is the key element of stakeholder management. The process identifies the individuals or groups that are likely to affect or be affected by a proposed action.
Market Analysis Template
Financial Analysis Template
Gap Analysis Template
Root Cause Analysis Template
Swot Analysis Template
Task Analysis Template
An analysis helps in identifying strengths as well as weakness and it is important for any company of be well aware about both strengths and weaknesses. It only when the problem is diagnosed can a problem be solved. With these analysis template you can prepare any kind of analysis and it won't cost you much in terms of time and also in terms of money since these templates are all free.