Free Templates
17+ Free Sheet Templates
Log Sheets are crucial pieces of information documents as they assist in tracking and recording basic information such as debits and credits, walk in and walk out time, attendance and similar types of information. Apart from financial accountants and log keepers, sheet templates find utility in our daily lives and almost all of us might feel the need to create such a document sometime. The Sheet templates have been created keeping your basic logging needs in mind and you can easily customize these documents to suit your individual needs.
Simple Grade Sheet Template
Silent Auction Bid Sheet Template
Weekly Grade Sheet Template
Supply Inventory Spreadsheet
Teacher Grade Sheet Template
Silent Auction Bid Sheet Template
Stock Inventory Control Spreadsheet Template
Sample Warehouse Management Spreadsheet Template
Volunteer Sign Up Sheet Template
Sample Inventory Spreadsheet Template
Sample Grade Sheet Template
Balance Sheet Template
A Balance sheet can assist you to give a client, a stakeholder or an investor an insight into the current financial standing of your business. This short and crisp template, with a robust layout and neatly arranged sections, can help you create your own balance sheet with ease.
Bidding Sheet Template
The Bidding Sheet template can be maintained by auctioneers to seamlessly record the respective bidding amounts against a particular auction item. You have sizeable space to cover all important sections on the agenda like the bidder name and number and the respective amount.
Call Sheet Template Download
This sample Call Sheet Template proves to be an essential document for event managers and organizers. The distinct layout has specific spaces to record every person's contact info and reporting time in a sheet.
Fax Cover Sheet Template
This document is useful to attach as a cover letter when you send important faxes to your business clients and customers. With a big bold sign to grab attention and a considerable space to include your personal details and messages, this sheet template is a winner!
Sign in Sheet Template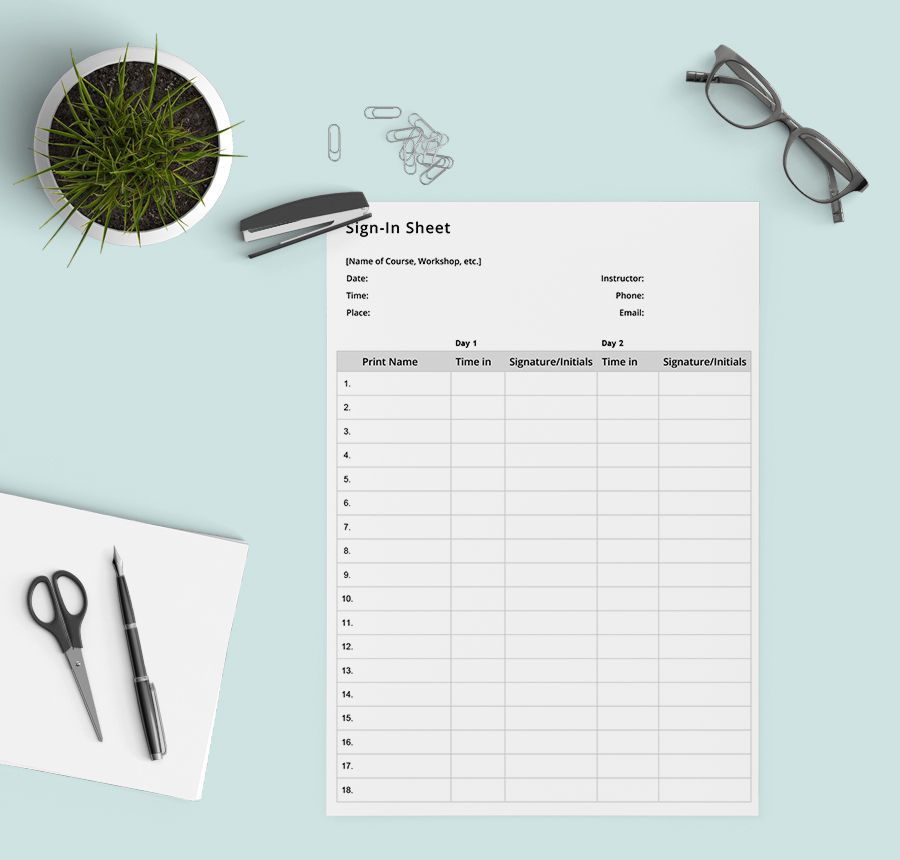 The Sign in sheet can be used to track the daily attendance of students, employees, workers or any other groups of individuals attending a course, workshop or any other activity.
Sign Out Sheet Template
Many employee driven organizations require a document where the employees have to personally sign their in time and out time. The Sign out sheet template is just the ideal document to be put to use for this purpose.
Sign Up Sheet Template
Looking for estimates against attendees for an upcoming event or a get-together? Use this easy printable simple format to pass around and make appropriate estimates to plan a successful event.
> How to use the Sheet Templates?
Sheet Templates are useful and handy pieces of documents suitable for both your personal and professional needs. Apart from tracking finances, business productivity, transactions, employee engagement and attendance, these templates can also be used to plan parties and get-togethers in an efficient and effective manner. The expert-designed templates ensure that you do not have to think hard and spend a lot of time in creating such a useful log document. Arranged in neat columns and sections and bounded by all the necessary information required in business, these sheet templates can be edited and printed as per your needs.
> What are the Advantages of the Sheet Templates?
Sheet templates are crucial pieces of documents which can hold important and sensitive information and save the user from the hassle of summarizing a detailed history of any aspect of his business such as finance, productivity or employee attendance. These templates can also be used to maintain logs or as planning documents to arrange for parties, events or shows. The professionally designed layout coupled with sizeable fonts and considerable space for detailed logging ensures that you get the best of balance or log sheet templates which require minimum editing although you can change the font and the color at ease.