Graphic Design
Email Signature Ideas
Email signatures give a unique feel to email letters, promoting the company brand with every email it sends. Make sure that yours stand out with attractive yet professional designs for personal or business use, and gain inspiration from our compilation of email signature ideas.
Download the Free Email Signature Ideas Article in PDF

Download
Table of Content
Email Signatures Ideas & Examples
Promote brand awareness by incorporating brand colors in an email signature. Ensure that email recipients can contact the company or the individual directly by providing necessary information. Gain inspiration from our list of email signature ideas and examples below.
Business Email Signature Ideas & Examples
Constructing attractive and professional email signatures allows companies to showcase their brand. Deliver simple yet effective designs in your work emails, and incorporate social media icons. View our example of a business email signature template below.

Unique Ideas for Construction Ideas & Examples
Construction companies send out personalized messages to clients for updates regarding construction projects. There are also construction newsletters that clients subscribe to receive monthly updates about special promos and sales promotions during holidays. Incorporate creative construction email signatures to these emails, similar to the one below.
Company Email Signature Making Ideas & Examples
Promote your theater company by incorporating email signatures with a similar color scheme to the brand colors. Indicate the brand logo and link the company's professional contact details. Attach a company email signature to your next email to promote a Christmas event or a special program, identical to the example below.
Gmail Email Signature Ideas & Examples
Utilize simple yet effective electronic mailing systems to the advantage of the organization. Make way for newsletters and other company marketing materials to clients through digital means. Get your Gmail email signature today!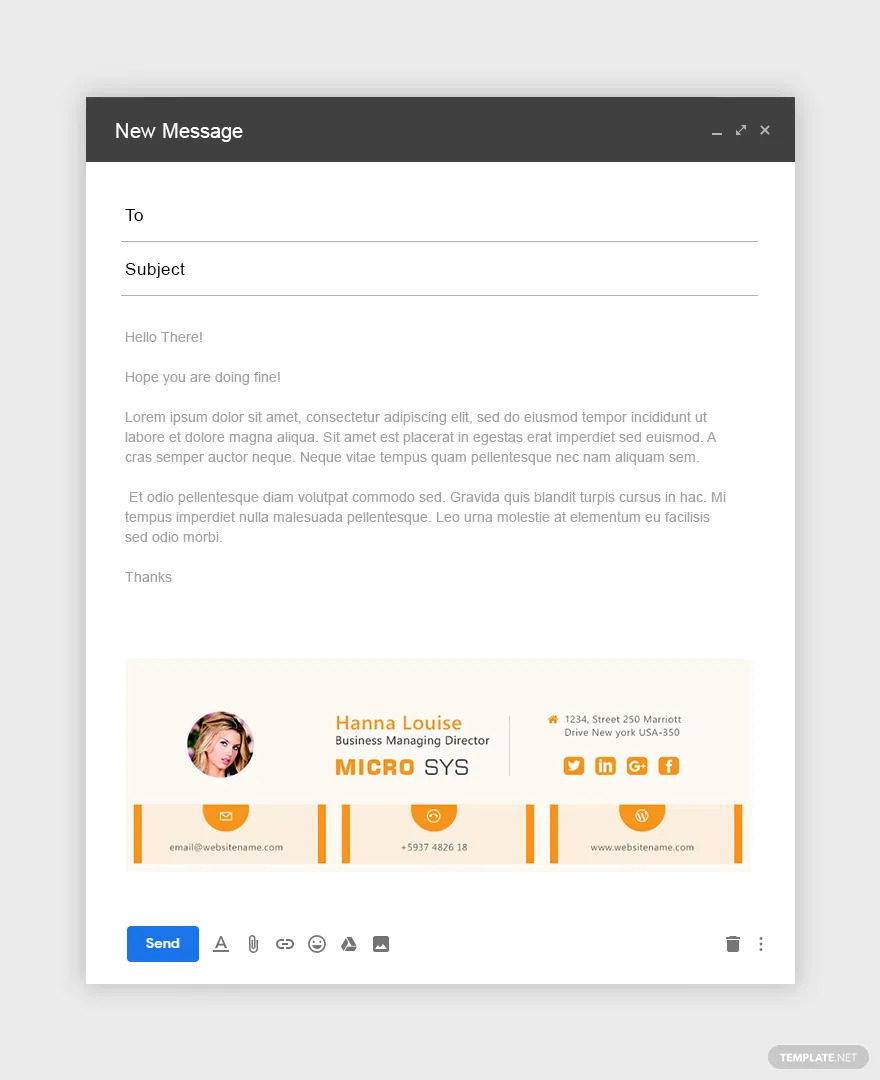 Student Email Signature Design Ideas & Examples
Student email signatures show professionalism in the educational environment. Creating an email signature layout allows teachers and other students to list different ways to contact an individual. Check out our examples of a student email signature below!
Email Signature Ideas & Examples for Events
Whether the company is promoting a Christian event at a church, an educational event at an academy about autism, or a Covid awareness seminar, send out event newsletters to clients with an email signature for an RSVP. Incorporating an event email signature gives the clients an idea of who to contact. Check out our example of an event email signature below.
Yahoo Email Signature Ideas & Examples
Deliver professional emails using the Yahoo messaging platform. Generate electronic mail, including newsletters, notices, early childhood education programs, freelance work opportunities, DIY seminar invitations, and personal responses with an email signature. Create one for yourself and check out our Yahoo email signature example below.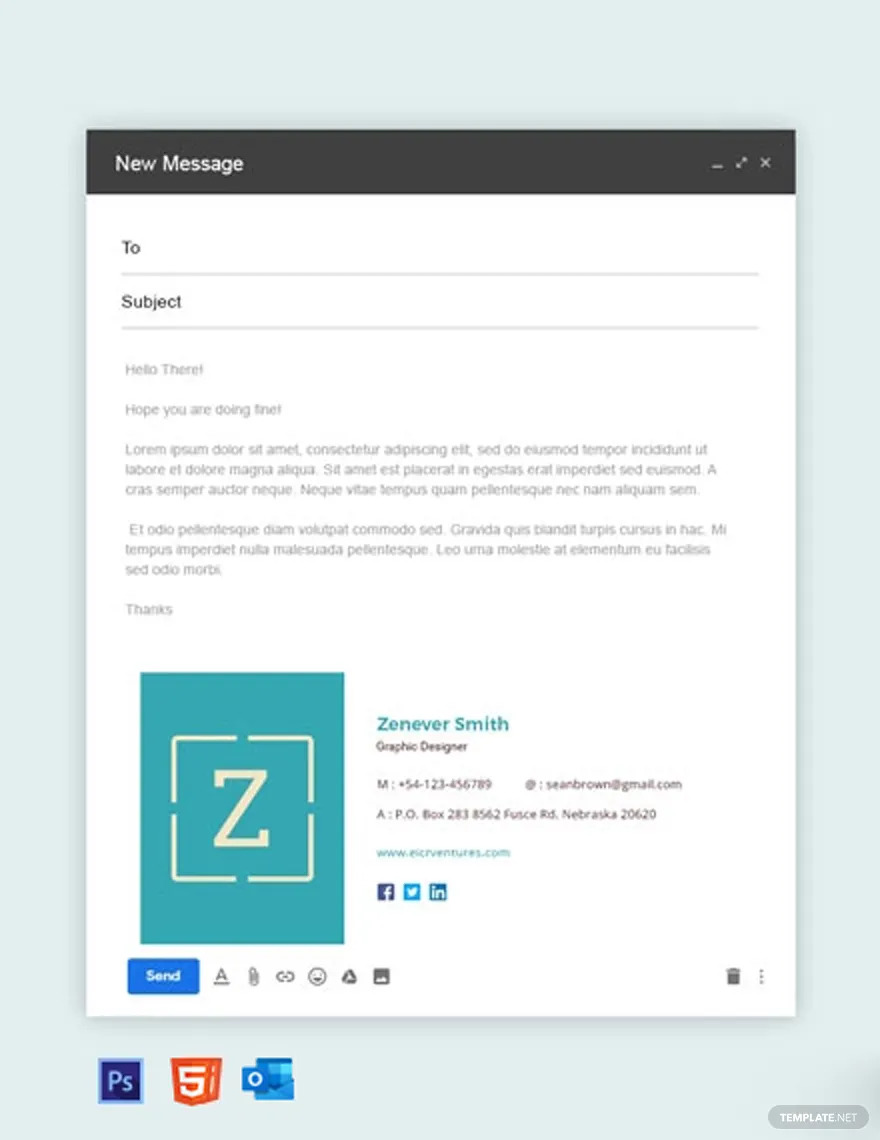 SEO Email Signature Ideas & Examples
Construct marketable, attractive, and professional content for a client when marketing SEO services to increase web traffic, search engine results, and lead conversion. Elevate the way you communicate with clients through a comprehensive SEO email signature. Check out our editable template you can tweak to suit your needs.
Personal Email Signature Ideas & Examples
Whether you are replying to professional email letters or submitting an employment resume, add a personal touch by incorporating a personal email signature. Incorporate personal phone and mobile information and social media accounts through small icons in the signature. Check out our example below.
Email Signature Ideas FAQs
What Are the Important Elements of an Email Signature?
Email signatures must contain the complete name of the sender, job title, department, and contact information.
How Does an Email Signature Work?
Email signatures help clients, customers, and recipients to get in touch with individuals when their sent email receives no response.
What Is a Digital Signature on an Email?
A digital signature in an email gives additional security by providing the recipient with an assurance that the sender provides a signature.
What Image File to Use on Email Signatures?
The image files that people use in the email signatures must either be JPEG or PNG file formats.
Is an Email Signature Necessary?
An email signature is a necessary attachment to email letters because it displays brand personality, introduces the person behind the email, and supplies the recipient with contact information for a reply.
What Makes a Professional Email Signature?
Professional email signatures contain sender details, including their full name, job title, department, and contact information.
Are Email Signature Banners Effective?
Email signature banners are effective marketing tools for promoting content, introducing special offers, or upselling products and services.
Which Signature Is the Most Formal?
There are various signatures you can use when writing letters or responses, with the word Sincerely being the most formal.
What Is an Exclaimer Email Signature?
Exclaimer or Microsoft Exclaimer is a program that allows individuals to design and manage the email signatures and disclaimers of the company.
Where Are the Email Signatures Stored for Outlook?
People can access the email signatures for Outlook by opening the application, going to the File menu, Options tab, Mail, and clicking the Signatures button.
Where Does the Email Signature Go in an Email?
Individuals can see their email signatures directly after the end of the text.
Where Should Your Signature Appear at the End of an Email?
A signature appears at the very end of an email, below the quotes or text replies after multiple email conversations.