Holidays
Boxing Day
Boxing Day isn't exactly a well-known holiday but it's celebrated by a lot of individuals and families, especially Americans. It's often overshadowed by other holidays in the month of December, so it isn't surprising if you aren't familiar with it—and no, it's not about boxing, the sport.
Download the Free Boxing Day Article in PDF

Download
Table of Content
Boxing Day Definition & Meaning
Boxing Day is the holiday after Christmas and is typically celebrated by going out shopping for gifts, clothes, and other items that individuals want.
Boxing Day is the second day of the Christmastide season and is a holiday that's historically from Great Britain where the rich give boxed-up gifts to the poor.
When Is Boxing Day?
Boxing Day is celebrated every year on December 26, the day after Christmas. If ever Boxing Day falls on a Saturday or Sunday, it'll be moved to the first business day after the weekend.
Boxing Day History
The history and origins of Boxing Day are quite debatable. Some say that the name "Boxing Day" is derived from the Victorian era practice where the rich give boxed-up gifts to their servants and the poor after Christmas Day. Others suggest that it's inspired by the alms boxes that churches use to gather donations for the less fortunate. The church gives the collected donations to the poor on December 26, the feast of St. Stephen—the saint known for his charitable acts. Despite the differing accounts concerning when and where Boxing Day began, they both have one thing in common. They're centered around charity and giving back to the community—the core purposes of Boxing Day.
Boxing Day Purpose, Importance
It's pretty much common knowledge that Boxing Day is a day for shopping and spoiling yourself. However, it's more than that. Boxing Day has a genuine purpose other than taking advantage of Boxing Day sales in department stores.
Give Charity to the Poor
Boxing Day is a perfect opportunity to give charity to the poor and is one of the earliest traditions of the holiday. In Great Britain, during the Victorian era, it was customary for wealthy families to give gifts to their servants and the poor the day after Christmas. The working class of society at that time was required to work on Christmas. As thanks for their services, their employers give them gifts and the day off on Boxing Day. Though it's not practiced as much today, you can continue this tradition simply by giving charity to the less fortunate in modern society.
Spend the Day with Family and Friends
Not all of us are privileged to spend Christmas Day with family and friends, most likely because of work and other responsibilities. So what other people do is spend time with their loved ones on Boxing Day. As a delayed Christmas celebration, they go out shopping together, exchange gifts, go to the beach, have lunch in a fancy restaurant, go camping, watch a professional sports match, and engage in other fun activities.
Take Advantage of Discounts
Boxing Day is most well known for the discounts in stores and shopping malls. On that day, shoppers will flock to shops offering discounts and go on a shopping spree. Some of the items they'll buy are for themselves and some will serve as late Christmas gifts.
What's on Boxing Day?
A lot happens on Boxing Day. Particularly, malls, shops, and department stores offer general discounts on some of their best items. People fresh from earning their Christmas bonuses will shop all out, buying products and goodies they've always craved. Restaurants and bars will also be packed with families and friends spending the day together. In other countries like England, various sporting events take place such as rugby, football, horse races, and foxhunting.
How to Create a Boxing Day Social Media Post
If you have a business and you plan to offer promos on Boxing Day, you should use social media to announce them. That way, thousands of people will be made aware of your Boxing Day event. As a preparation, start drafting your Boxing Day social media posts today.
Facebook
1. Make use of our Boxing Day Facebook Post Templates.
Our Boxing Day Facebook templates each have elegant designs that can uplift your brand. Every one of them is editable in our Editor tool. Choose one that you like and start customizing.
2. Customize the text.
Next, customize the text of your selected template once you're in the Editor tool. To do that, access the Fill panel and simply change the content of the Fill Text boxes. Fill in your business name, Boxing Day event name, and Boxing Day promo announcement details.
3. Attach additional clip art to the graphics design.
If you want to add more flair to your post, add more clip art to its design. You can find more clip art in the Graphics panel. There are plenty of categories to choose from and you can find specific ones by searching in the search box. To attach a clip art, just click, drag, and drop it into the post template.
4. Use a decent background color.
The background color is a significant element of the design. That said, make sure to choose the best color. It should highlight all the other elements in your post. You can find choices of background color by heading to the Background panel. Custom background colors are available in the Colors section. Just click a color to set it as a background.
5. Save your Boxing Day Facebook post draft.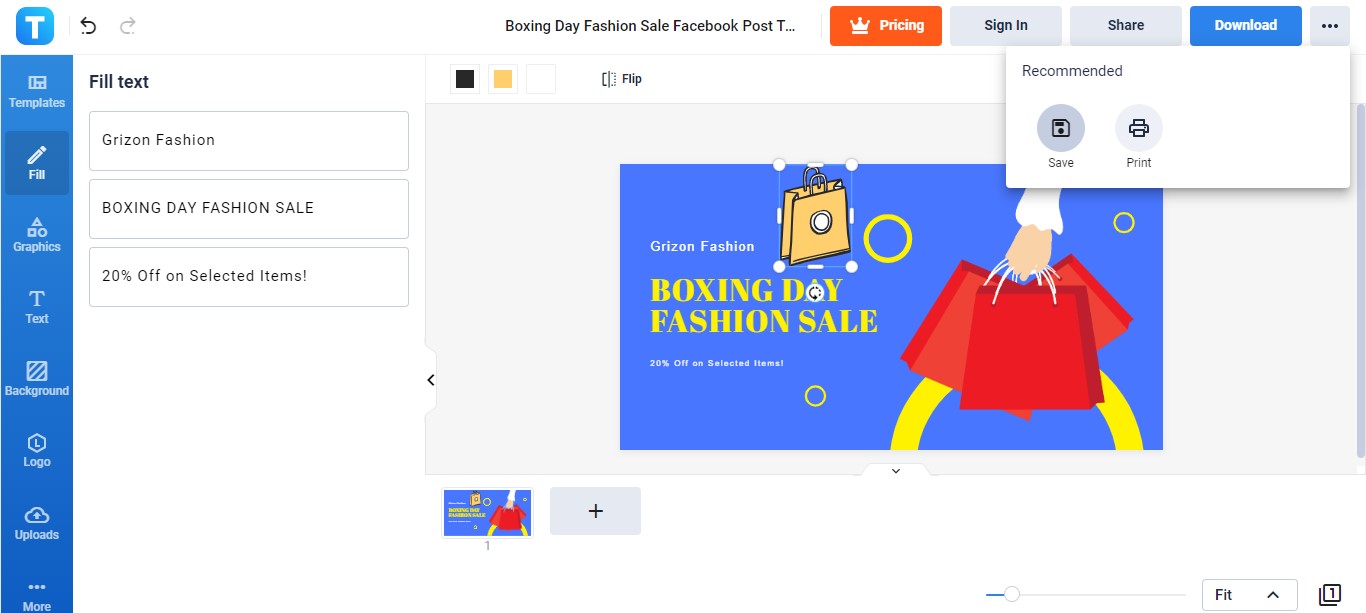 Once you see that your post is perfect, make sure to save it. To do that, select the button with three dots in the upper right corner and click Save. Your Boxing Day Facebook post draft is good for uploading on December 26.
Instagram
1. Choose from our selection of Boxing Day Instagram Post Templates.
Have a look at our Boxing Day Instagram templates and choose one that fits your business. Once you've chosen a template, open it in our Editor tool to start customization.
2. Use shopping photos as background.
Since Boxing Day is mostly known for shopping, it would be fitting to use shopping photos as the background. To do that, go to the Background panel, click See All in the Photos section, and type "shopping" in the Pixabay or Unsplash search box. Simply click a photo and it'll automatically apply as background.
3. Edit the text.
Next, you must edit the text of the template in the Fill Text boxes which you can access in the Fill panel. Type in your business name, name of Boxing Day event, and brief details of your Boxing Day discounts/promos.
4. Include your official business logo.
Representing your brand is important. So make sure to include your business logo in the post. Go to the Logo panel of the Editor tool and select the Upload Your File button. You'll need to upload an image file of your business logo and drag and drop it to the template. Place the logo beside your business name text.
5. Save your Boxing Day Instagram post draft.
When you're done, click the button in the upper right corner and select Save. For now, keep your Boxing Day Instagram post draft and wait until December 26 is fast approaching to upload it to Instagram.
LinkedIn
1. Use any of our Boxing Day LinkedIn Post Templates.
Choose from our selection of Boxing Day LinkedIn templates. Each has a unique design that's editable in our website's Editor tool.
2. Display your brand logo.
You can display your brand logo on the template easily. Just upload it via the Logo panel in the Editor tool. In the Logo panel, select the Upload Your File button. Upload an image file of your logo from your PC. Then after uploading, place your logo above or beside your business name text.
3. Change the default text.
All our Boxing Day LinkedIn templates have existing text. Change them and write your unique business name, Boxing Day event title, and Boxing Day promo details. Head to the Fill panel and input them in the Fill Text boxes.
4. Customize the LinkedIn template's background color.
If you wish to change the background color, open the Background panel and pick a color under the Colors menu. Choose any color you want as long as it glorifies the other visual elements of your post.
5. Save your Boxing Day LinkedIn post draft.
Lastly, click the button on the upper right side of the screen and click Save. Doing so saves your Boxing Day LinkedIn post draft. It's good to go and you can upload it once December 26 is nearing.
Boxing Day vs. Christmas
Boxing Day is a holiday observed after Christmas Day that was originally celebrated to give to the poor, but it's now heavily commercialized and more commonly known as a day to go shopping.
Christmas is a yearly religious event observed by Christians to commemorate the birth of Jesus Christ and is typically celebrated with family.
Boxing Day Ideas & Examples
Though it's usually overshadowed by Christmas and New Year's Day, Boxing Day is worth celebrating. With that in mind, plan your Boxing Day celebrations today with the help of our ideas and examples.
Boxing Day Ideas
These are some of the best activities to do on Boxing Day:
Watch a live football match in a professional league.
Go for a swim on the beach with your friends or family.
Organize a Boxing Day party with good food and drinks.
Go for a walk on the street and give charity to homeless people that you pass by.
Acquire Boxing Day gift cards and use them to buy stuff at a discounted price.
Binge-watch Christmas-themed films with your friends.
Donate clothes to donation centers.
Organize a Boxing Day charity project.
Visit shopping malls and department stores.
Spend time with your family if you don't have the time to do so on Christmas.
Boxing Day Examples
Check out some of our Boxing Day templates and examples below. You can use them to quickly create your own Boxing Day promotional material.
5. Boxing Day Promotional Product Flyer
10. Boxing Day Promotion Flyer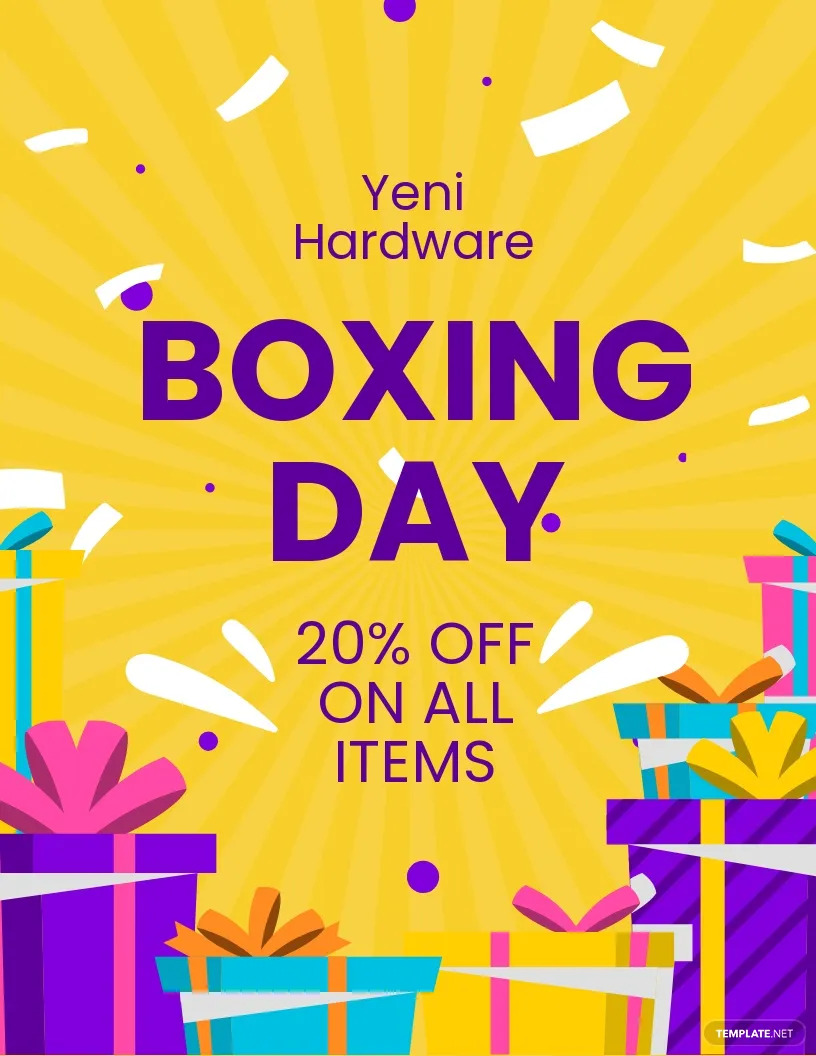 FAQs
What is Boxing Day and why is it celebrated?
Boxing Day is the holiday after Christmas and is popularly celebrated by people to go shopping thanks to sales and discounts.
How did Boxing Day get its name?
Boxing Day got its name from the boxes used by the rich to contain their gifts for the poor.
When was Boxing Day invented?
There is no exact date when Boxing Day started, but some theories strongly suggest that it started during the Victorian era.
What is the origin of Boxing Day?
Boxing Day is said to have originated in Great Britain in the Victorian era when the rich would offer gifts contained in boxes to their servants and poor neighbors.
When did Boxing Day sales first start?
The commercialization of Boxing Day and its association with shopping sale events started in the late 1990s.
How do you explain Boxing Day to kids?
You can tell kids that Boxing Day is a celebration before Christmas and is also a day to spend time with family and have fun doing leisure activities.
What historically occurred on Boxing Day?
One of the significant events that occurred on Boxing Day is when former President Franklin D. Roosevelt declared that Thanksgiving will be moved to the fourth Thursday in November due to his belief that it was better for the country's economy.
Who celebrates Boxing Day?
The people who celebrate Boxing Day are mostly Americans, British, and Canadians.
What is the tradition on Boxing Day?
Among the earliest traditions of Boxing Day is when employers give gifts and bonuses to their workers after Christmas.
What is the concept of Boxing Day?
The main and original concept of Boxing Day is giving charity to the poor.
When was Boxing Day made a public holiday?
Boxing Day became a public holiday in 1871.