Holidays
Juneteenth
Juneteenth is a significant federal holiday in the United States. Other than being highly significant, it's among the oldest African-American holidays celebrated annually. Interested in knowing what this occasion is all about? If you are, let's talk about Juneteenth's history and the reason behind its existence.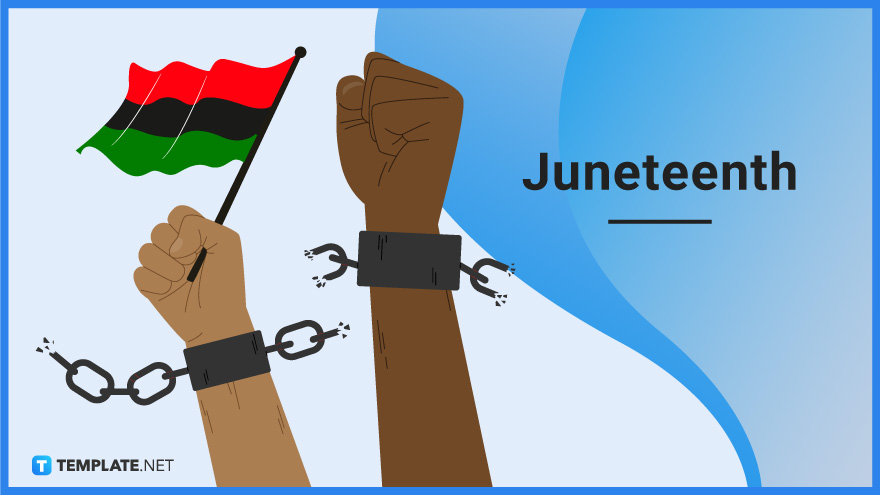 Download the Free Juneteenth Article in PDF

Download
Table of Content
Juneteenth Definition & Meaning
Juneteenth, also known as Freedom Day, is an important holiday in African-American history that celebrates the abolishment of slavery in the US.
Juneteenth is one of the yearly events in the US mostly celebrated by African-Americans to commemorate the 1865 proclamation that ended slavery in their country.
When Is Juneteenth?
The national holiday Juneteenth is celebrated across the US every year on June 19. The reason why it's observed on that day is that it was on June 19, 1865 that Major General Gordon Granger and his Union military men arrived in Galveston, Texas. Upon their arrival, they brought news that the war has ended and the slaves have been freed.
Juneteenth Purpose, Importance
African-Americans have braved countless adversities to fight for their rights, overcome racist situations, and preserve their history and legacy. For that reason, they wholeheartedly celebrate Juneteenth yearly. It's a time when they can reflect on how far they've come and honor the memory of those who fought for them. With that said, let's discuss the purpose and importance of Juneteenth.
Reminds African-Americans of Their History
Today, African-Americans are free people and proudly wave the colors of the US flag. However, that doesn't mean they forgot the suffering that their forefathers and foremothers went through at the hands of slavers. They honor the memory of their ancestors who fought the good fight.
Celebration of True Freedom
When people talk about freedom, liberty, and independence in the United States, the holiday that comes into mind is the 4th of July, which isn't wrong. However, some African-Americans view the 4th of July holiday as an imperfect day of liberty since slavery was still legal when it was proclaimed. For them, the truer day of independence is Juneteenth.
Rally African-Americans to Stand for Their Rights
Racism and other forms of discrimination against African-Americans still exist in the US. One of those is the illegal use of authority among police officers of which one incident led to the death of George Floyd. To this day, African-Americans continue to fight for civil rights and they use the Juneteenth holiday as a call for a rally.
What's In Juneteenth?
During Juneteenth, a lot of events and activities occur in celebration of this holiday. There are family gatherings, religious events, picnics, parades, festivals, house parties, school activities, and more. Participants of Juneteenth events are mostly African-Americans, but everyone is welcome to join the celebration. And also, gatherings aimed at honoring those who died fighting for African-American rights take place as well. It's similar to how Americans honor deceased US soldiers on Memorial Day.
How to Create a Juneteenth Social Media Post
Social media is a powerful tool we can all use to voice out our cause. So if you want to take part in Juneteenth movements, you can do so by sharing Juneteenth social media posts. Let us show you the basics of how to make one of your own.
Facebook
1. Select a Juneteenth Facebook post template.
We have several Juneteenth Facebook post templates with well-crafted graphic designs. Each of them embodies the spirit of the holiday which helps you create a compelling Juneteenth post.
2. Customize your Juneteenth greeting or message.
Once you've selected a template, you'll be brought to our Editor page where you can start customizing the template. To begin with, go to the Fill panel. Under its Fill text boxes is where you can encode your custom Juneteenth message.
3. Change the background color if needed.
If you need to change the background color, simply go to the Background panel. Head to the Colors sections, and from there, choose the color that you want. Changes in the template will reflect upon clicking your selected color.
4. Add more Juneteenth-relevant graphics.
You can add more graphic designs if you want. Just go to the Graphics panel and search for Juneteenth-related clipart. You can type "Freedom" on the search bar as shown in the image above.
5. Save and download.
If you're done, click the three-dotted icon in the upper right corner. Click either Save or Download to secure your custom Junteenth template. After that, you're good to post it on your Facebook timeline.
Instagram
1. Choose a Juneteenth Instagram post template.
We offer plenty of Instagrammable Juneteenth post templates. They sport unique designs and aesthetics that speak to people who religiously celebrate the holiday.
2. Customize the template's default text.
Change the default text of the template by going to the Fill panel. The boxes under Fill Text are where you can input your unique Juneteenth greetings, message, or event title.
3. Insert your official company logo.
If you want to represent your company or organization on the post, consider inserting its logo in the template. Just head to the Logo panel and upload an image file of your company logo.
4. Customize the background.
5. Save and download your Juneteenth template.
Once everything is set, save and download your template. Then, open your Instagram account to upload and share it with your Instagram friends and followers.
LinkedIn
1. Select a Juneteenth LinkedIn post template.
Check out our Juneteenth LinkedIn post templates and choose one that catches your eye. Each of them has its own unique design and color scheme.
2. Input your Juneteenth greetings.
To input your unique Juneteenth greetings, go to the Fill panel. You'll see two rectangular boxes under Fill Text. Click on those boxes and start typing your custom greetings. It can be as simple as "Happy Juneteenth: A Day of Liberation."
3. Insert Juneteenth clipart.
Your chosen template likely already has graphic designs, but you can add more if you want. Go to the Graphics panel and search for Juneteenth-related clipart. Simply type "Juneteenth" on the search bar and you'll find accurate results.
4. Save, download, and upload.
Click the three-dotted icon in the upper right corner of the Editor page and click Save or Download. After that, you're good to log in to your LinkedIn account and upload your finished Juneteenth post.
Juneteenth vs. Black History Month
Juneteenth is a holiday that focuses on the celebration of the end of slavery in the United States.
Black History Month is a month-long celebration that celebrates African-Americans in general including their achievements and positive impacts on society.
Juneteenth Ideas & Examples
Read and take a look at our Juneteenth ideas and examples so that you can plan out your Juneteenth celebration ahead of time.
Juneteenth Ideas
Don't know what to do this Juneteenth? Consider trying these ideas we've listed below to ensure you'll have a memorable Juneteenth experience.
1. Organize a Juneteenth backyard party.
2. Prepare special dishes and desserts in celebration of Juneteenth.
3. Show your support for small businesses owned by African-Americans.
4. Binge-watch movies and TV shows starring African-American actors and actresses.
5. Read books authored by African-American authors.
6. Participate in Juneteenth parades and festivals.
7. Donate to charities aimed at aiding underprivileged African-American communities.
8. Learn about the history of slavery and how it was abolished and deemed illegal.
9. Spend quality time with your African-American friends.
10. Take part in movements that promote African-American civil rights.
Juneteenth Examples
Feast your eyes with our Juneteenth examples! Take inspiration from their designs to easily craft your own Juneteenth clipart, memes, quotes, posters, and flyers.
1. Black and White Juneteenth Clipart
2. Juneteenth Quote Clipart
3. Funny Juneteenth Meme
4. Juneteenth Facts Meme
5. Toni Morrison Juneteenth Quote
6. Martin Luther King Jr. Juneteenth Quote
7. Vintage Juneteenth Poster
8. Juneteenth Flag Poster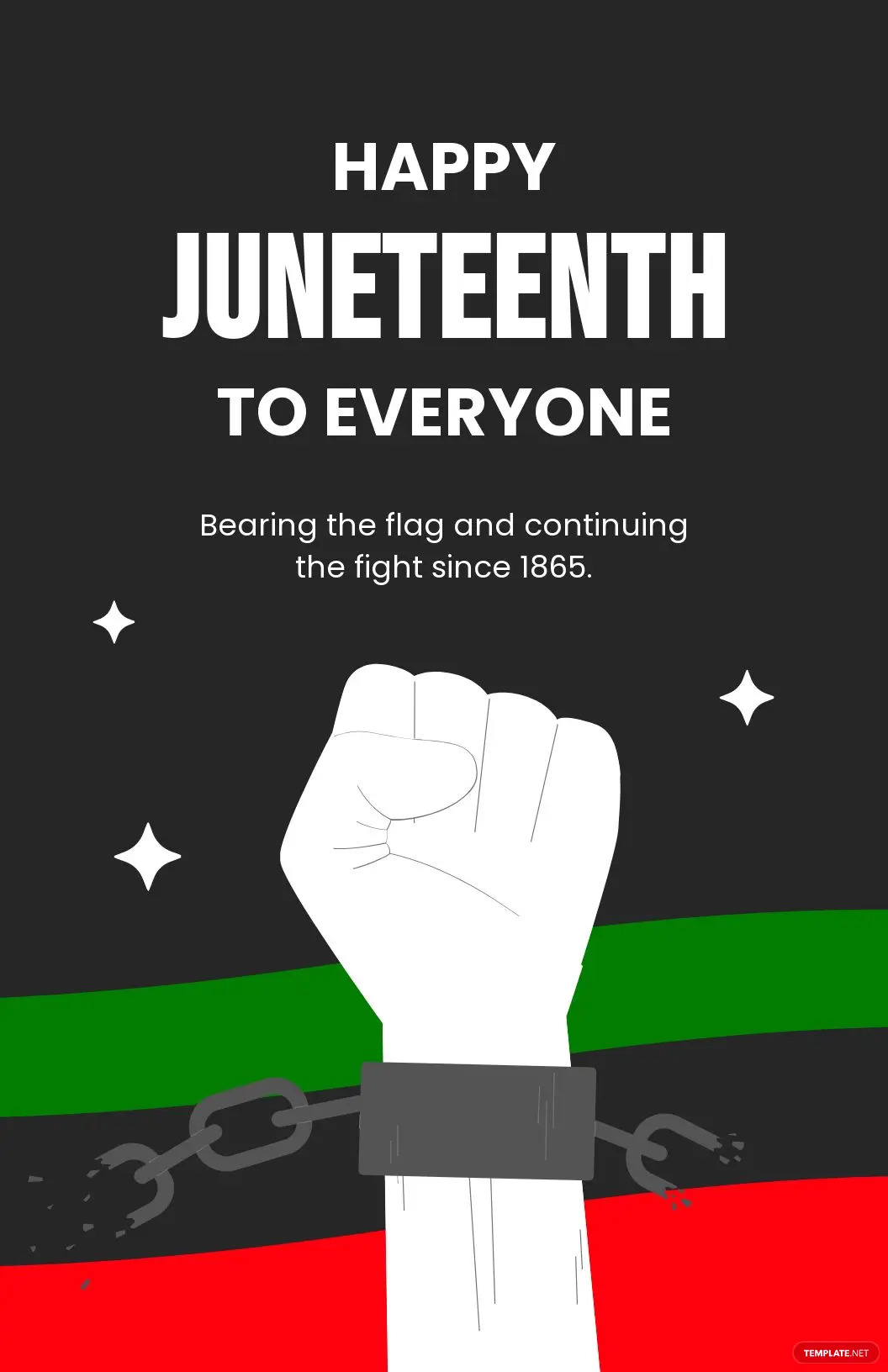 9. Happy Juneteenth Flyer
10. Juneteenth Celebration Flyer
FAQs
What does Juneteenth celebrate?
Juneteenth celebrates the freedom of African-Americans, particularly their freedom from slavery.
What are facts about Juneteenth?
Juneteenth is celebrated in the US yearly on June 19 and is one of the oldest African-American holidays.
Why does Juneteenth matter?
Juneteenth matters because it marks an important event in African-American history, which is the abolishment of slavery in the United States.
What does the Juneteenth flag look like?
The Juneteenth flag has a blue (top) and red (below) color and a white star in the middle.
What you should know about Juneteenth?
The important thing to know about Juneteenth is that it's a sacred day for African-Americans since they consider it their independence day.
When did Juneteenth become a federal holiday?
Juneteenth became a federal holiday on June 17, 2021.
Why was the name Juneteenth chosen?
The name Juneteenth refers to the date June 19, 1865, the day slavery ended.
Why is Juneteenth a black holiday?
It's considered a black holiday because it commemorates the day that countless African-Americans were freed from slavery.
What is the message of Juneteenth?
Juneteenth's message is to remind people that African-Americans are free people and have civil rights.
Why are Juneteenth colors red, black, and green?
The colors red, black, and green represent the blood, soil, and prosperity of the African continent and the Africans.
What does the Juneteenth flag have in the middle?
The Juneteenth flag has a white star in the middle which represents Texax, the Lone Star State.
How do you explain Juneteenth to a child?
The best way to explain Juneteenth to a child is to sit with them and read a book about its history to ensure you get the facts straight.
Why is red food eaten in Juneteenth?
Red food and the color red itself symbolize strength, spirtuality, and life as believed by West African cultures.
What does the Black History colors mean?
Red represents the blood shed by men for their liberty and redemption, black represents the color of the native African race, and green represents the rich vegetation of Africa the Motherland.
What is the flag on Black History Month?
The Black History Month flag is called the Black Liberation flag.
Why do we celebrate Black History Month in February?
That's because February is the birth month of the two most notable figures in Black History, Abraham Lincoln and Frederick Douglass.