Holidays
Kwanzaa
Kwanzaa is a seven-day African American and pan-African traditional celebration that emphasizes the importance of family and community. Families gather to feast and dance while also reflecting on and renewing their devotion to the seven principles on the last day of the holiday.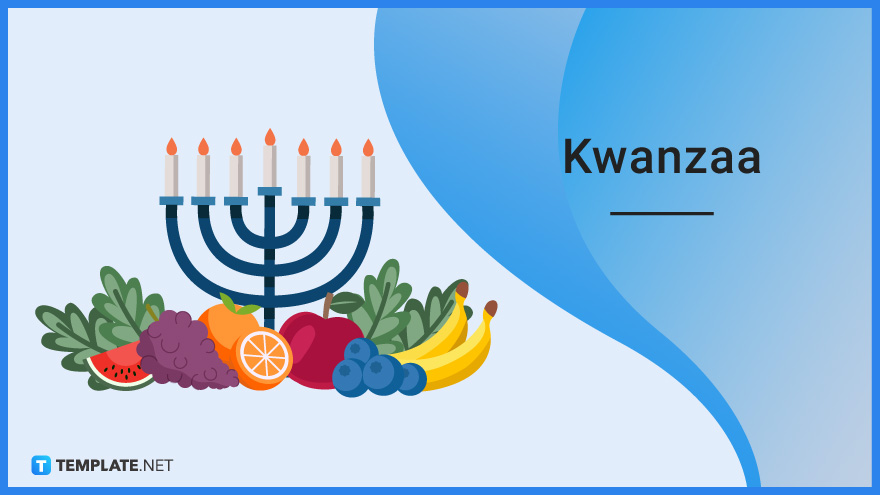 Download the Free Kwanzaa ​Article in PDF

Download
Table of Content
Kwanzaa Definition & Meaning
Kwanzaa is a secular festival observed by many African Americans from December 26 to January 1.
Kwanzaa is a celebration of African Americans for their cultural heritage and traditional values.
When Is Kwanzaa?
Kwanzaa is an annual festival that is largely observed in the United States from December 26 to January 1 that celebrates African family and social principles. Maulana Karenga, an influential figure in Afrocentrism and a professor of Africana studies at California State University, Long Beach, came up with the name and the event in 1966.
Kwanzaa History
The Swahili word "matunda ya kwanza," which translates to "first fruits," is the source of the term Kwanzaa. Although every family celebrates Kwanzaa in a different way, the holiday is frequently marked with songs and dances, African drums, storytelling, poem readings, and large meal traditions. The family gathers each night, the kids light a candle on the Kinara (candle holder), and one of the seven principles is then discussed. The Nguzo Saba, or "seven principles" in Swahili, are African cultural ideals that support and strengthen the sense of community among African Americans. Kwanzaa also contains seven fundamental symbols that stand for African culturally relevant principles and ideals. On December 31st, an African feast known as Karamu is held.
Kwanzaa Purpose, Importance
Kwanzaa is a very important event for African Americans in order to promote their culture and traditions, so let's take a look at the purpose and importance of this cultural holiday.
Celebrates African Heritage
In order to celebrate their heritage, black people observe Kwanzaa every year for seven days from December 26 to January 1. Many members of the African American community and other African diaspora countries in the Americas feel more connected to their roots during Kwanzaa. Participants can feel a calming connection to Africa by participating in a holiday based on a long-standing African custom.
Honor the Culture
Since Kwanzaa is regarded as a cultural festival rather than a religious occasion, you can still observe the winter holidays associated with your religion even if you take part in Kwanzaa celebrations. Many households will have both a kinara and a Christmas tree decoration in their living room at the same time. You can also still have a party where you can cook your favorite recipes and serve them on the table or organize some family activities.
Promotes Unity
The Watts Riots, which took place in response to enduring racial injustice in America, gave rise to Kwanzaa. Dr. Maulana Karenga created the festival as a way to unite the African American community and celebrate identity. The first principle of the event is presented in terms of upholding racial, social, and familial harmony.
What's In Kwanzaa?
Kwanzaa celebrations often include readings of the African Pledge and the Principles of Blackness, as well as drumming and a variety of musical selections honoring African origins. The lighting of candles, a performance, and a feast called Karamu frequently follow these readings. The greeting "Habari Gani," which translates to "What's the news?" in Swahili, is used each day of Kwanzaa in addition to the annual customs.
How to Create a Kwanzaa
Celebrate Kwanzaa online by creating your unique social media posts and showing your unity and respect for the African people.
Facebook
1. Choose a Modern Kwanzaa Facebook Post template.
We provide a number of stunning templates for Kwanzaa Facebook posts that go with the holiday's festive mood. Click on your chosen template. You can edit it using our Editor tool.
2. Add your custom message.
Go to the Fill option on the Editor page, where you can enter a unique Kwanzaa message under Fill Text. Try to make it brief and straightforward.
3. Insert graphic designs.
If you'd like, go to the Graphics panel and add more graphic designs to the template. Clipart, shapes, vectors, and other graphics can be added. Make sure they complement the aesthetic of the post.
4. Add Kwanzaa pictures.
Next, navigate to the Photos section and look through Unsplash or Pixabay for Kwanzaa-related images like candles. By clicking on the picture of your choice, you can insert one into your post.
5. Save your Kwanzaa Facebook post draft.
When you've finished, save the template. Head to the upper right corner of the screen and click the three-dotted icon, then select Save. Then you upload the template to Facebook on Kwanzaa week.
Instagram
1. Select a Kwanzaa Instagram Post template.
Pick one of our Kwanzaa Instagram templates with designs that will complement your Instagram feed. You can personalize it using our Editor tool and make it your own.
2. Add unique graphics.
If you want to add art and graphic designs, then go to the Graphics panel. Browse for clipart, cartoons, or visuals that relate to Kwanzaa.
3. Type in your special Kwanzaa greeting.
Despite the default greeting in the template, you can edit it by navigating to the Fill panel. You can edit the content in the fields marked "Fill Text" to create your customized Kwanzaa greeting.
4. Change the background.
Consider changing the background of your chosen template. Simply go to the Background tab where you can add a photo or change the color of the template's background. Make sure that the wallpaper will be associated with the Kwanzaa event.
5. Save your Kwanzaa Instagram post draft.
Save the template once you're done. Click the three-dots icon in the upper right corner of the screen, then choose Save. Then, during Kwanzaa week, you post the template to Instagram.
YouTube
1. Select a Modern Kwanzaa YouTube Banner template.
Select one of our Kwanzaa YouTube themes to match your YouTube channel's style. Using our Editor tool, you can customize your chosen template and make it uniquely yours.
2. Insert your unique quote or message.
Despite the template's default message, you can change it by going to the Fill panel. To make your own personalized Kwanzaa message, edit the text in the fields marked Fill Text. You can put some Kwanzaa story but be sure to make it brief.
3. Put some additional clipart.
Go to the Graphics section to add some extra graphics. Look up Kwanzaa-related clipart, cartoons, or images. Additionally, you can put Kwanzaa-related stamps to the template.
4. Modify the background color of the template.
A variety of background colors are available in our Editor tool. Select a color from Default Colors under the Background tab, then select See All under Colors. Any color you select will be used as a background right away. A wallpaper or image can also be used as the background.
5. Save your Kwanzaa YouTube post draft.
Once you are finished with your edits, you save the template. Choose Save by clicking the three dots icon in the top right corner of the screen. After that, you share the template on YouTube during Kwanzaa week.
Kwanzaa Facts
The following are the most interesting facts that made Kwanzaa history:
Kwanzaa is not a religious holiday; rather, it is a cultural one.
Kwanzaa is based on seven guiding principles.
Kwanzaa also includes historical and cultural African symbols.
Kwanzaa is an American-invented celebration with African influences.
Kwanzaa celebration guidelines are officially available in a book and on a website.
The principles of Kwanzaa can be embodied all year round.
Kwanzaa is and may be celebrated by many people who are not of African origin.
Dr. Maulana Karenga, who founded Kwanzaa, has drawn criticism and controversy for his criminal background.
Since its inception in 1966, Kwanzaa has gained influence within the African American community and is now recognized as an official holiday lasting for seven days.
On average, each person spends approximately $77 on Kwanzaa gifts.
The colors of Kwanzaa are green for the rich continent of Africa, red for the noble blood that links all people of African ancestry, and black for the people.
Kwanzaa vs. Hanukkah
Kwanzaa, also called First Fruits, is a seven-day festival celebrated after Christmas Day up to New Year's Day.
Hanukkah, also known as the Festival of Lights, is a festival celebrated by the Jewish community, commemorating the Jews rededicating their temple with a miraculous event taking place as well.
Kwanzaa Examples
Start preparing for the Kwanzaa celebration immediately and get some thoughts from the Kwanzaa ideas and examples below.
Kwanzaa Ideas
The following Kwanzaa ideas will help you make the cultural celebration successful:
Take part in the ceremony for lighting the candles.
Connect with your family and friends through food.
Exchange gifts and cards with your family and relatives.
Share your Kwanzaa story during the event.
Create crafts for children to try.
Eat meals together with friends and family during the Karamu.
Visit a local museum and enjoy some alone time.
Organize some cultural games for your Kwanzaa party.
Learn a little bit of the Swahili language for your greetings.
Celebrate Kwanzaa by playing music and singing African or African-American songs accompanied by the drums.
Kwanzaa Examples
Here are some of our magnificent Kwanzaa templates:
2. Kwanzaa Invitation YouTube Banner
3. Modern Kwanzaa Instagram Story
4. Kwanzaa Celebration LinkedIn Post
5. Kwanzaa Party Whatsapp Post
7. Happy Kwanzaa Greeting Card Design
8. Kwanzaa Facebook Event Cover
FAQs
What is Kwanzaa and why is it celebrated?
Kwanzaa is a cultural holiday with the purpose of celebrating African history, and during this celebration, people meet with family and friends to exchange gifts and light a series of candles in the colors of black, red, and green.
What do you say during Kwanzaa?
You'll say "Habari Gani" each day of Kwanzaa.
Which Kwanzaa candle is lit first?
The first Kwanzaa night starts with lighting the black candle.
Who created Kwanzaa and when was it created?
Kwanzaa is created by activist Maulana Karenga in 1966.
What activities do you do on Kwanzaa?
Some activities you can do on Kwanzaa are home decorating, hanging flags, greeting others in the Kwanzaa way, lighting candles, throwing a big feast, and giving gifts.
What happens each night of Kwanzaa?
There is a candle-lighting ceremony.
Do you give gifts at Kwanzaa?
Yes, gifts are usually exchanged by parents and children on the last day of Kwanzaa.
What is the religion of Kwanzaa?
There is no specific religion that celebrates Kwanzaa, but it is a cultural and ethnic holiday observed by African Americans and parts of the African diaspora.
What do the 7 candles in Kwanzaa stand for?
The seven candles represent the seven principles of Kwanzaa, including unity, self-determination, collective work and responsibility, cooperative economics, purpose, creativity, and faith.
Which countries celebrate Kwanzaa?
The United States and other nations with significant populations of African descendants observe Kwanzaa, which lasts for a full week.