Holidays
Mardi Gras Carnival
Mardi Gras Carnival is a prominent Christian holiday with traditions that date thousands of years ago. It is enjoyed among countries with mostly Roman Catholics and its celebratory parades and festivities are most notable in New Orleans, Italy, and other Catholic European nations.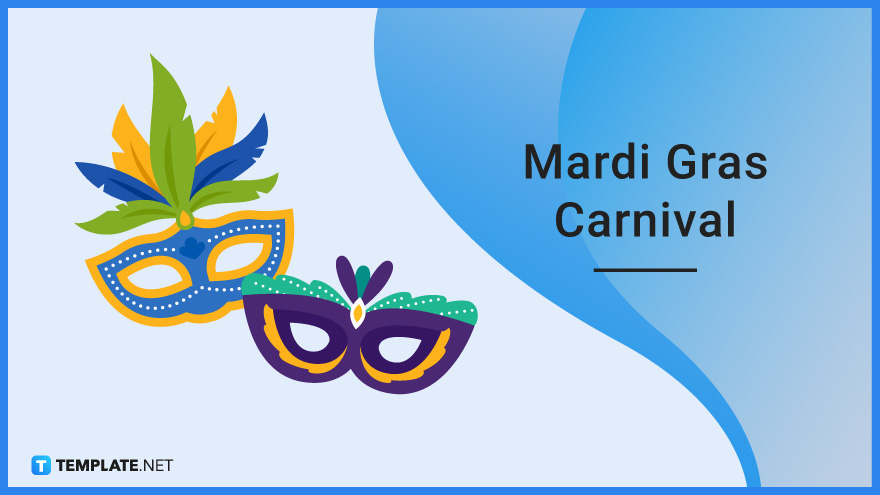 Download the Free Mardi Gras Carnival Article in PDF

Download
Table of Content
Mardi Gras Carnival Definition & Meaning
Mardi Gras Carnival is a French term for Fat Tuesday where Christians feast on large amounts of food such as meat and dairy before they are forbidden to eat during Ash Wednesday and the rest of the Lent season.
Mardi Gras Carnival is a holiday celebration often spent eating, drinking, and enjoying many things such as a party or parade before the ultimate sacrifice during Lent's fasting and penitence.
When Is Mardi Gras Carnival?
Mardi Gras Carnival's official date changes each year since it has something to do with Easter that usually happens on any Sunday from March 23 to April 25. What stays true is that Mardi Gras happens 47 days before Easter Sunday, exactly right before Ash Wednesday, and ends during Fat Tuesday's midnight.
Mardi Gras Carnival Purpose, Importance
Behind the festival theme of Mardi Gras Carnival, it is essential to understand the purpose and important bits of history that led to this type of Christian holiday.
Mardi Gras in New Orleans
March 3, 1699, marks the very first Mardi Gras in the USA, and it happened when French travelers Pierre Le Moyne d'Iberville and Sieur de Bienville arrived in New Orleans, Louisiana. It all began when they celebrated their landing at Point du Mardi Gras until New Orleans and other French explorers agreed to observe it as a holiday celebrated with masks, street parties, king-size dinners, and more. Then, it grew bigger with dance costumes, floats, bands, and processions.
Mardi Gras and the World
Other countries around the globe also have their way of celebrating the pre-Lenten season. In Canada, Quebec City practices the grand Quebec Winter Carnival, Brazil hosts the vibrant amalgam for Mardi Gras Carnival in a whole week, Italy parties with a masquerade ball in the Venice Carnevale, and Germany is most notable for empowering women by cutting men's ties during the Karneval. Thus, the carnival has its way of showing the unique culture and tradition of each country.
A Fun Way to Prepare for Lent
Mardi Gras Carnival is there to remind Christians that the Lent season doesn't have to be daunting after all. Consider Mardi Gras as a fun roller coaster ride where you can eat fatty foods, drink as much as you want, and party with everyone until fasting must be practiced starting on Ash Wednesday. And if your house is filled with lots of consumable food that will be forbidden during Lent, it only makes sense to consume and share them with everybody during Mardi Gras Carnival.
What's in a Mardi Gras Carnival?
Mardi Gras Carnival covers loads of events besides eating and drinking the entire day. Particularly in New Orleans, the festival consists of traditions and art related to the krewe parade, Krewe of Rex, bead throwing, Zulu coconuts, flambeaux or torch, and the king cake. These festivities attract tourists and Christians in many ways such as applying harlequin makeup, wearing a jester mask, riding the Mardi Gras cruise on deck, and viewing the carnival float.
How to Create a Mardi Gras Carnival Social Media Post
Looking for a fun and easy way to celebrate this iconic Christian holiday? You can start with making Mardi Gras Carnival social media posts to make noise, get trending, and invite some of your friends to celebrate with you during the actual festival date. And it is very easy to achieve when you follow these steps:
Facebook
1. Search for a Mardi Gras Carnival Facebook post template.
Head to Template.net and search for Mardi Gras Carnival templates for reference. And from the range of social media post templates related to Mardi Gras, click the one that is specifically for Facebook. Then, take customization to the next level with the Editor tool.
2. Tweak the template's text boxes.
Inside the Editor tool, click "Fill" on the menu. Then, you can fill out the text boxes provided with any message. For example, you mention the itinerary of when and where the event happens. You may also tease about the Mardi Gras plans to expect as long as you know how to keep it straightforward and easy to understand.
3. Place cool graphics.
Just like any Mardi Gras poster, don't forget to insert the right visual or decoration that fits the theme. Click "Graphics" and you can add all sorts of designs such as lavish food, royalty masks, vintage outfits, and more. Mind the position or size of every graphic element you insert as well in the Editor tool.
4. Mind the backdrop.
Besides the interior elements of your Facebook post, select "Background" so you can change the backdrop. There are tons of possible backgrounds to choose from such as using your photography skills, setting a transparent backdrop, and simply choosing a pleasant background color. Just make sure your texts are still visible from the background.
5. Save and post it to Facebook.
Conduct last-minute changes to your Mardi Gras Carnival Facebook post. Then, save your file by clicking "…" and "Save." And make sure to post it on Facebook during or a few days before the carnival.
Instagram
1. Find an easy-to-edit Mardi Gras Carnival Instagram post template.
Search from Template.net's collection of free Mardi Gras Carnival sample templates. Access the Mardi Gras Carnival Instagram post template. Then, click "Edit This Template FREE."
2. Create a message.
Go to "Fill" from the Editor tool's menu to begin editing the text of your template. From there, you can write the necessary message you need to say for the Instagram post. And don't forget to mind the spacing, position, and capacity of your text in the text boxes because they affect the whole presentation, as seen on the live preview on the right.
3. Input impressive visuals.
Using the "Graphics" button, add any image or object to your Mardi Gras Carnival Instagram post template. You can even add two or more elements. Don't forget to adjust their measurements and placements after.
4. Upload a logo or wallpaper.
Explore the other editable buttons such as "Logo," "Background," and "Text." You can even upload additional files to embellish the template. Just make sure they don't hinder the important elements inside your Instagram post.
5. Save and plan when to post it on Instagram.
Most importantly, save your work. Tap the three-dotted icon and press "Save" shortly. Then, open the Instagram app and plan when to post it as well as decide the appropriate hashtags for Mardi Gras Carnival.
Twitter
1. Look for a customizable Mardi Gras Carnival Twitter post template.
View the list of Mardi Gras Carnival templates on Template.net. Select your preferred template, such as the Mardi Gras Carnival Twitter post template. And continue to edit it afterward.
2. Fill in every text box from the template.
From the title, date, and CTA, to the event hashtag, make sure to complete your message on the template. To do that, tap "Fill" from the left-side corner and begin editing the text boxes provided. Adjust the positioning and texts after.
3. Get creative by adding images and graphics.
The "Graphics" button in the Editor isn't for naught. Utilize it to incorporate graphics, images, or stickers into your post. Same as before, mind the sizes and number of objects you need to place in the template.
4. Set the best background possible.
Access the "Background" button in the Editor tool. Take advantage of altering the color or inserting your backdrop into your Twitter post. Use your creativity in handling this.
5. Preserve your work and post it to Twitter.
Don't lose what you made so far and save your work. Select the three-dotted icon on your screen and choose "Save." Then, celebrate on Twitter with your Mardi Gras Carnival post shortly.
Mardi Gras Carnival vs. Epiphany Day
Mardi Gras Carnival is a Christian holiday referring to Fat Tuesday which is the last day for Christians to eat forbidden meals during the Lent season's fasting, and it is celebrated 47 days before Easter Sunday.
Epiphany Day is a Christian holiday celebrating the Magi's visit to baby Jesus, and it is commemorated 12 days after Christmas.
Mardi Gras Carnival Ideas & Examples
Even though Mardi Gras is just one day to enjoy everything that must be sacrificed during the Lent season, the carnival can also be celebrated one week before Ash Wednesday.
Mardi Gras Carnival Ideas
Eating and drinking are very much associated with the Mardi Gras Carnival, but if you are looking for other ways to enjoy and spend this important holiday, you can try these highly recommended activities:
Wear costumes with purple, gold, and green shades as well as a festive mask.
Bring lots of beads for bead throwing during the parade.
Head to the nearest port and book a Mardi Gras cruise ship or take a vacation staying at carnival cabins and suites.
Keep track of the Mardi Gras Carnival parade schedule to view floats, marching bands, radio shows, and games.
Look for more options to eat such as feasting at a restaurant, picnic area, and more.
Organize a party with harlequins and jesters for the theme.
Join the lighting of the flambeaux or torch in a Mardi Gras procession.
Bake and design the most creative king cake possible.
Take part in carnival street dancing.
Make sure to add the classic must-have Mardi Gras dishes to your list of meals such as red beans, hot muffuletta dip, and jambalaya.
Mardi Gras Carnival Examples
In case you had scrapped a bunch of Mardi Gras Carnival ideas and want to try other examples or templates to celebrate the holiday, here are effective Mardi Gras Carnival examples you can optimize:
1. Mardi Gras Style Ticket Invitation
5. Carnival Mardi Gras Party Flyer
8. Mardi Gras Party WhatsApp Post
9. Mardi Gras LinkedIn Career Cover Photo
10. Masquerade Ball Invitation Mardi Gras Party
FAQs
Why is the Mardi Gras Carnival celebrated?
Mardi Gras Carnival celebrates spring and fertility back in early pagan festivities; and it is theorized to be celebrated as a way to eat meat, drink excessively, and have sex before fasting during Lent.
What happens at Mardi Gras Carnival?
Christians party, drink, and feast as a celebration along with bead throwing, parades, street dances, and many more celebratory practices.
What is special about Carnival Mardi Gras?
Mardi Gras Carnival is special because it is celebrated in different destinations with a range of activities involved; and Christians admire it because they get to eat meat, drink alcohol, have sex, and do other activities that are discouraged the next day and the rest of Lent season.
Where was the first-ever Mardi Gras parade?
It happened in New Orleans and was made possible by the Krewe of Comus way back on February 24, 1857.
Who started Carnival Mardi Gras?
Mardi Gras Carnival was started by French travelers Pierre Le Moyne d'Iberville and Sieur de Bienville.
How did Mardi Gras parades start?
Mardi Gras parades started in 1827 when certain students wearing multi-colored costumes danced in New Orleans's streets until there was a successful New Orleans Mardi Gras parade after ten years.
Where did Mardi Gras parades originate?
They originated in New Orleans, Louisiana.
What are the facts about Mardi Gras Carnival?
Interesting facts about the Mardi Gras Carnival are that it is celebrated not just for one day, beads are thrown off during parades, and there are lots of colorful costumes and masks often in purple, green, and gold.
How long does the Mardi Gras Carnival last?
Mardi Gras lasts 24 hours while the carnival can take a whole Carnival season.
What religion is Mardi Gras Carnival?
Mardi Gras Carnival is for Christians or Roman Catholics.
What is the cultural significance of Mardi Gras?
It is said to be an early pagan festivity of spring and fertility, specifically Saturnalia and Lupercalia.
Why is Mardi Gras Carnival so important?
It closes the pre-Lenten season wherein abstinence and fasting are already required after Fat Tuesday.
How does Mardi Gras impact society?
Mardi Gras eventually transformed into a force for inclusivity such as diverse races and LGBTQIA groups; hence, the parade helps society express its creative and unique nature.
What activities does Mardi Gras have?
Refer to the Mardi Gras Carnival ideas section in this article for the full answer.
What is the message of Mardi Gras Carnival?
The celebration reminds us of the current pleasure of meat, alcohol, and other examples in excess to prepare for fasting during the Lent season.