Holidays
National DJ Day
National DJ Day celebrates the artists in charge of the record spinning and catchy music we dance to—the disc jockeys. From amateur disc jockeys down to the established sound manipulators, National DJ Day encourages us to appreciate every talented master behind playing recorded music.
Table of Content
National DJ Day Definition & Meaning
National DJ Day is a holiday commemorating the many disc jockeys in the nation (or on an international scale) whether they play music at a wedding, birthday party, club, radio, etc.
National DJ Day is a special day to honor and thank every disc jockey who puts enough sweat, passion, and love into manipulating tunes just to make us groove to the music, dance to the beat, and be entertained all night long.
When Is National DJ Day?
January 20 celebrates National DJ Day, and it falls on Friday of 2023. And it has been a tradition to observe National DJ Day on the said date annually through parties, feasts, and so much more.
National DJ Day History
Although the holiday is a celebration to appreciate every disc jockey out there, the very core of the event traces back to the 1950s when Alan Freed aka Moondog rose to stardom as a first-rate DJ. His contribution to rock and roll and disc jockeying became the inspiration for National DJ Day since he died on January 20, 1965. Hence, he is remembered along with other dead and living DJs on this special holiday.
National DJ Day Purpose, Importance
If there are holidays dedicated to doctors, teachers, and other passions, then a holiday commemorating DJs is just as important as the rest. And if you're wondering why celebrating National DJ Day is significant, here are the main highlights:
DJ Appreciation for Our Entertainment
As people who dance and groove to the music played out by DJs, it makes sense for National DJ Day to be the perfect opportunity to show DJs love and appreciation. DJs give life to a party because, without them, partygoers would be forced to jam with original songs without any surprise or sound manipulating element. And for all the memories you had from the best clubs and music festivals, DJs surely have contributed to music culture and entertainment.
Alan Freed's Death Anniversary
Always remember that National DJ Day is also Alan Freed or Moondog's death anniversary. It was his death on January 20, 1965, that National DJ Day is celebrated every 20th of January. Who knows what life would be like without the concept of disc jockeying in the first place? Hence, honor the late Alan Freed during the holiday.
Efforts of a Disc Jockey
Why should we celebrate and appreciate the DJs? Always consider the work and effort they put through in every performance. DJs set remixes, record songs, perform in front of a live audience, broadcast on the radio, coordinate with the sound and lighting department, or even hype up the crowd to keep them alive. It's no easy feat. And National DJ Day is how we can make them feel rewarded that their efforts to keep us entertained aren't overlooked.
What's in a National DJ Day?
To celebrate National DJ Day, you can come up with creative ways to surprise resident DJs with a party, feast, or a simple thank you or greeting card. Social media posts that show appreciation towards DJs would be expected. And if DJs play at a bar, club, or any show during this holiday, give them the biggest cheers, tips, or even a day off to make them smile.
How to Create a National DJ Day Social Media Post
Are you planning to make a riveting National DJ Day social media post but don't know where to start? Don't fret. Premade templates can make your experience a lot easier, and you only need these few steps:
Facebook
1. Download a National DJ Day Facebook Post template.
Access Template.net and search for a list of professionally made National DJ Day templates. Click the one in a Facebook post format. Then, move to the Editor tool to customize your template for free.
2. Fill the template with messages.
Select "Fill" inside the Editor tool. Then, click on any text box you want to type on and insert your messages. Your messages may include your National DJ Day greetings, the holiday month and year, or the full agenda if you are planning parties and events to celebrate with DJs.
3. Serenade your post with DJ-driven graphics.
Click "Graphics" from the left-side menu. This part is where you insert colorful images into your template. You may go for an animated picture of a DJ, rap and hip hop art, metal and blade aesthetic, and so much more.
4. Don't forget to add a cool background.
The background is just as important as the elements mentioned earlier. Hit the "Background" button on the Editor tool and decide whether to adjust the background color or use an image as your backdrop. Backgrounds may involve music photography, the entire face of the music production staff, or simply abstract art.
5. Save the template and post it on Facebook.
Apply the finishing touches to your National DJ Day Facebook post template. After that, hit "…" found on the top-right and press "Save." Go to Facebook to upload your post shortly.
Instagram
1. Click on a National DJ Day Instagram Post template.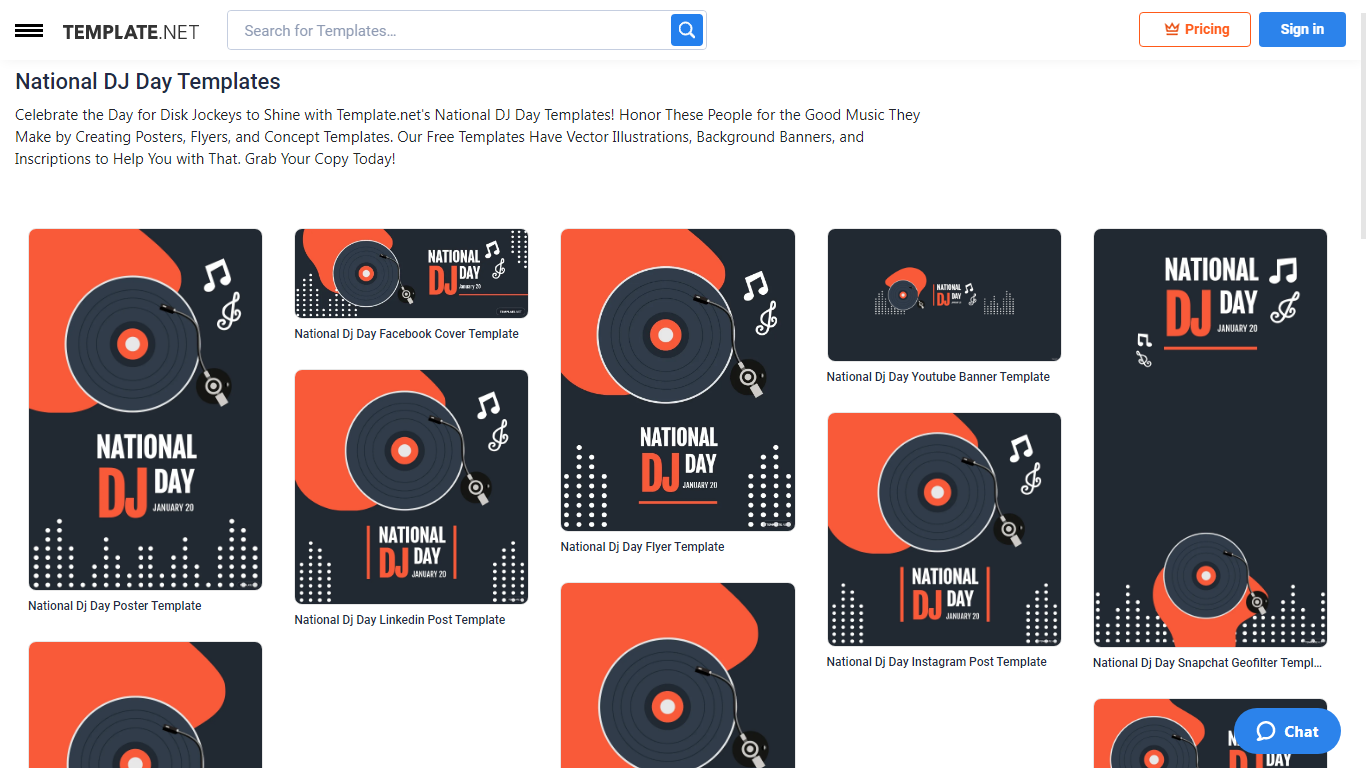 Open Template.net and explore a variety of National DJ Day templates in different formats. Select the National DJ Day Instagram post template. Then, click "Edit This Template FREE."
2. Fill in the boxes with texts.
Using the Editor tool's "Fill" feature, select a text box you want to write on. Use this opportunity to type your holiday greetings, event timesheet, singing lyrics, DJ job news, or any other message you want to include in the Instagram post. Then, view the template on the right side to see what the texts look like.
3. Access Graphics to insert images.
Press "Graphics" from the side menu and work on your visual elements. Remember that an Instagram post should not be merely text-driven. Flex with graphics from paintings, DJ travel designs, vector stickers, and other music-related images.
4. Upload your background or logo.
Hit "Background" to adjust the background such as changing the color and adding a visual wallpaper. Click "Logo" to add your signature brand to the template. Or select "Upload" to use your original files and insert them into the template.
5. Save your whole work.
Finalize your National DJ Day Instagram post and save everything. Just press the three-dotted icon on the top-right. Then, click "Save" and publish your work on Instagram.
WhatsApp
1. Download a free National DJ Day WhatsApp Post template.
Look for ready-made and easy-to-edit National DJ Day templates at Template.net. Click specifically to a National DJ Day WhatsApp post template. Finally, tap "Edit This Template FREE" to head to the Editor feature.
2. Add text to your template.
Select "Fill" and play with the text boxes provided. You can insert your greeting, holiday schedule, and other messages that are worth adding to the template. Be sure to keep your message clear and easy to read so that whoever sees it won't have a hard time reading and understanding the details.
3. Play with the graphical elements of your post.
Chase for visually striking aesthetics when you click "Graphics" and insert all sorts of images into your WhatsApp post template. You can add DJ artwork, music note stickers, a photo of the DJ playing in front of an audience, and more. Explore different graphics in the Editor tool and adjust the image size and position as well.
4. Implement stellar designs for the background.
The "Background" button is there to help you set the background color or backdrop image. Search for a range of backgrounds in case you want to change the template background. Then, look at the preview on the right side to have a glimpse of what your post looks like.
5. Save everything and be alert during the holiday.
Last but not least, select the three dots from the upper right. Then, click "Save" and reserve your template when National DJ Day is coming soon. Post it on your WhatsApp account and don't forget to share it with DJs and your friends worldwide.
National DJ Day Facts
To hype you on the need to celebrate National DJ Day, there are tons of mindblowing truths about disc jockeys that you may want to know. Hear out these iconic DJ facts and don't forget to share them during the holiday:
Thomas Pentz aka DJ Diplo got his name from the Late Jurassic Period dinosaur the Diplodocus, which is a plant-eating reptile with a graciously long neck.
Calvin Harris marks the most expensive DJ around the globe with a yearly income from $30 to $40 million.
DJ Zedd sure is popular with EDM anthems but what's interesting is that since he was four years old, he's actually pretty skilled in classical music.
According to The Groove Cartel via polling, David Guetta is dubbed the number one DJ around the world.
The two masked DJs Daft Punk vowed never to take their photos with their faces shown to the public ever since 2006.
National DJ Day vs. Indigenous Day
National DJ Day is a holiday dedicated to every disc jockey who made music fun and worth jamming to; it is celebrated every January 20.
Indigenous Day or Indigenous Peoples' Day is a holiday celebrating the history, culture, and contribution of natives in the US, specifically Native Americans; and it is observed every second Monday of October.
National DJ Day Ideas & Examples
Get excited because there are so many activities you can groove to on National DJ Day. At the same time, you can honor DJs around the world with different types of templates to leverage.
National DJ Day Ideas
If you don't know what you should do or how you should celebrate National DJ Day, we have a list of ideas that may encourage you to be more productive during this holiday to celebrate with the DJs in the nation.
Request a song on a radio show and state your greeting to the DJ.
Watch DJ battles or contests near you.
Take a dance party with your peers.
Research disc jockeying and practice the basics to appreciate its art.
Send a mobile, social media, or personal greeting to your favorite DJs.
Post a National DJ Day social media post with the hashtag #NationalDJDay.
Send a special gift to resident DJs.
Go to the club and surprise the DJ.
Dress up the look as a DJ and you'd be surprised when you find something that matches your style.
Request DJs to play their favorite tracks rather than sticking to client requests for the holiday.
National DJ Day Examples
Besides the three social media post templates discussed in detail earlier, there are still other examples you can use to honor the holiday.
2. National DJ Day Facebook Cover
3. National DJ Day LinkedIn Post
5. National DJ Day YouTube Banner
6. National DJ Day Instagram Story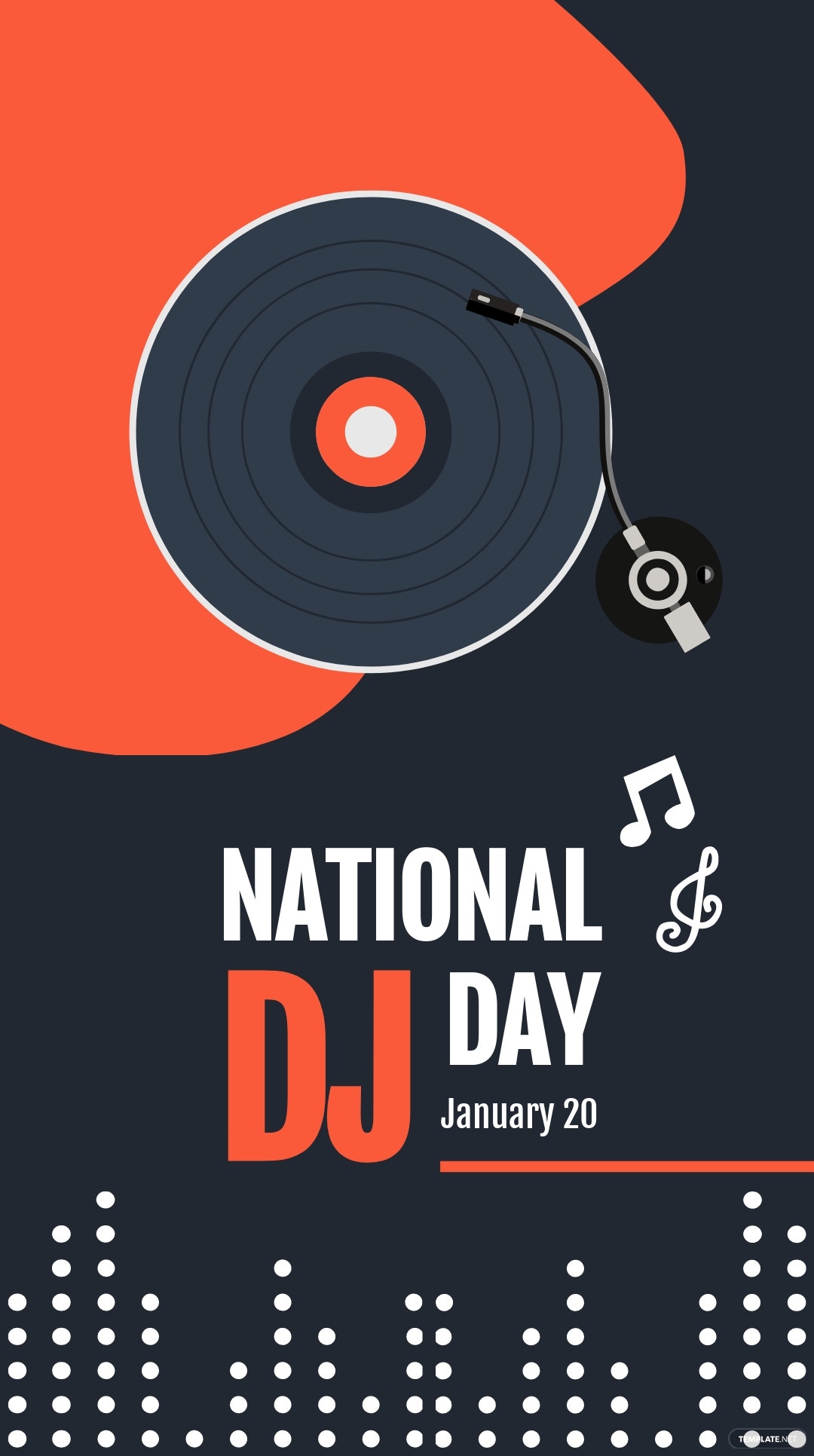 7. National DJ Day Snapchat Geofilter
FAQs
Why do we celebrate National DJ Day?
National DJ Day reminds us to appreciate the work done by all striving DJs as well as the death anniversary of the great Alan Freed.
Who was the first DJ in the world?
Jimmy Savile was known as the very first DJ in the world and this dates back to 1943.
Why National DJ Day is on January 20th?
It is the date when the iconic DJ Alan Freed "Moondog" died on January 20, 1965.
How do you celebrate National DJ Day?
Kindly refer to the activities listed under National DJ Day Ideas in this article for your answer.
When did the first DJ start?
Disc jockeying started way back in 1943.
Why do DJs play other people's music?
DJs play other people's music because like producers, they have a creative expression or leeway to play them live, give a remix, and entertain people by ensuring the public's beloved tracks would be played out loud.
How do you appreciate a DJ?
Ideas are endless such as saying thank you, acknowledging their hard work, reminding them of they made your clubbing and partying experience fun, etc.
Why are DJs so important?
Disc jockeys are essential in the music industry because they can interact with a live audience, play music for hours, hype up the crowd to keep dancing, and know how to manipulate sounds that would affect the audience's reaction.
What are the values of National DJ Day?
National DJ Day teaches us that DJs also deserve to be hyped, loved, and appreciated after all the work they gave to keep us entertained.
Who created National DJ Day?
It is difficult to trace back who established National DJ Day as a holiday but one thing is sure: it was derived from a well-known DJ Alan Freed whose death anniversary falls on National DJ Day.
When was DJ first used?
The term DJ which refers to disc jockey was used way back in 1935 and was credited to Walter Winchell.
What do you do on National DJ Day?
You can send a gift to a DJ, show some gratitude to resident DJs, request songs from different radio shows, and other creative ways you may want to try to keep DJs feeling appreciated on this holiday.
Where did National DJ Day originate?
It is said to have originated in the US; hence, National DJ Day is popular in America every January 20.