Holidays
National Freedom Day
National Freedom Day is one of the holidays celebrated in the United States that signifies the elimination of slavery and serves as a reminder for different generations about the nation's history of freedom from slavery. It is essential to look deeper into this holiday as there's more to it besides the ubiquitous promotions honoring this occasion such as social media posts, flyers, posters, and other marketing tools.
Download the Free National Freedom Day Article in PDF

Download
Table of Content
National Freedom Day Definition & Meaning
National Freedom Day is a special holiday observed in the USA to celebrate freedom, in memorial of the nation's slavery, and how America symbolizes liberty.
National Freedom Day was coined from the signing of Abraham Lincoln regarding the joint US House and Senate resolution to end slavery on February 1, 1865, which later became the 13th amendment to the American Constitution.
When Is National Freedom Day?
National Freedom Day is observed every February 1st in America. As iterated earlier, February 1, 1865, commemorates Abraham Lincoln's signing of the proposed resolution of ending slavery aka the 13th amendment.
National Freedom Day Purpose, Importance
Despite the gloomy and dreadful background of slavery in the US, you might be wondering why National Freedom Day should be celebrated in the first place.
First Step to Freedom
Enslavement led to hard labor, tyranny, and suppression, and it wasn't until February 1, 1865, that a joint resolution to eliminate slavery was passed. Although Abraham Lincoln signed the amendment in February, it still took a while before the amendment was approved. It was on December 6, 1865, that it was approved and included in the American Constitution. And the reason every February 1 is National Freedom Day is that it marks the foundation or very first step to freedom from slavery.
Major Richard Robert Wright Sr.
Get to know Major Richard Robert Wright Sr., a Spanish-American war veteran, teacher, banker, and leader of a community, who was enslaved for nine years upon the signing of the amendment. He proposed that slavery must end until the National Freedom Day Association was born. Sadly, Major Wright passed away before National Freedom Day was legally observed. Congress passed the bill for the holiday which was signed by President Harry Truman in 1948.
Freedom for the Past, Present, and Future
National Freedom Day is a good reflection to remember the struggles and achievements of the past. Also, it is essential to appreciate the freedoms we all presently have upon celebrating this special holiday. And most importantly, don't forget that celebrating National Freedom Day is also a reminder about certain freedoms in the country that other people are still fighting for.
What's in a National Freedom Day?
During National Freedom Day, the common practice among American citizens is to honor the freedom of fellow nationals such as giving greetings via a social media post, getting an education from real enslavement stories, and waving the American flag. In Philadelphia, a wreath of flowers is laid on the Liberty Bell since it is an American symbol of freedom. And the US president can decide if National Freedom Day must be celebrated yearly.
How to Create a National Freedom Day Social Media Post
Now that you know and care about the reason behind observing National Freedom Day every February 1st, what can you do to commemorate the event? Remind people about the purpose, importance, and celebration of National Freedom Day on your socials. And no matter which social media platform you are using, you can ace your social media post with these steps:
Facebook
1. Pick a National Freedom Day Facebook post template.
Browse Template.net's free collection of National Freedom Day templates for Facebook. Each template is specially curated to match the logo and signature colors of the American flag. Just click the specific Facebook post template and select "Edit This Template FREE."
2. Write your National Freedom Day greetings.
Type down your message for National Freedom Day and other texts by clicking the "Fill" tool on the left menu. Then, you get to see the different text boxes available where you can write your message. Be sure to complete a brief yet memorable message that matches the theme of National Freedom Day.
3. Add special vector graphics.
Give life to your National Freedom Day Facebook post with creative visuals or graphics. Just select "Graphics" from the left menu and you can either search for an image by name on the Search graphics field or just choose any from the stock clipart images below. Then, insert and adjust the image into the template.
4. Change the background.
Click "Background" and you can add a photo as your template's background or change the background color to your preferred shade. Simply select any color from the options and you can even preview how each option looks on the working template. You might want to optimize with the "Text" and "Logo" tools too.
5. Save your National Freedom Day Facebook post.
Once you have finished designing, save your work. Click "…" from the upper-right corner of your screen and press "Save." Then, you can upload that to your Facebook post on National Freedom Day.
Instagram
1. Choose a free National Freedom Day Instagram post template.
Template.net offers an array of National Freedom Day templates, including templates specifically made for Instagram. Every Instagram post template is professionally made and you can edit its content shortly. Just tap the specific template of your choice from the library and head to the Editor tool.
2. Type your special message about the holiday.
Click "File" on the side menu provided so you can access the different text boxes in the template. Then, write your message or whatever needs to be changed in your Instagram post's message. You can use this platform to write your CTA as well.
3. Add graphics and illustrations.
Select "Graphics" from the Editor tool's menu so you can insert any illustration, clipart, or graphic of your choice. The Graphics tool allows you to add a photo, sticker, shape, and so much more. And you can even alter the size and position of each object.
4. Insert beautiful texts, backgrounds, and logos.
Explore the rest of the Editor tools such as the text where you can insert headings, subheadings, and paragraphs. Also, you can change the color of your background. The same goes for how you can craft logos for your template.
5. Finalize your work and save the file.
Lastly, save your file by clicking the three-dotted icon found on the top right. Click it and select "Save." Then, you can make your mark on Instagram with a post shortly.
WhatsApp
1. Select an editable National Freedom Day WhatsApp post template.
Look specifically for a National Freedom Day WhatsApp post template on Template.net. You won't run out of options easily because there are even other related social media posts and promotional tools such as flyers, banners, posters, etc. So click your preferred template and edit it after.
2. Fill in the text.
Whether you need to write about religious prayer, freedom journal, or quotes about independence, head to the "Fill" button first. Then, write your message on any of the text boxes provided. Thus, you can change the text of your WhatsApp worksheet because every template is editable.
3. Incorporate cool graphics.
Get creative with the "Graphics" button in the Editor tool. You can achieve any aesthetic with it such as if you want to add a time chart, cartoon photography, college newspaper vibes, and so much more. Don't forget to manipulate the measurements and placements of your graphics as well.
4. Tweak your template's background.
Mind what's behind the text, images, and other elements of your template too. Select "Background" from the side menu and you can choose your favorite background color as well as pictures that represent the freedom department, Armed Forces logo, online parade, and more. Improve your WhatsApp post worksheet in every way you can.
5. Save your National Freedom Day WhatsApp post.
When you're through making your National Freedom Day WhatsApp post, proceed to save it. Click the three dots icon on the right side of your screen. Then, hit "Save" and your post is ready for WhatsApp on National Freedom Day.
National Freedom Day vs. Juneteenth
National Freedom Day is a US holiday celebrating the freedom and liberty of slavery as signed by Abraham Lincoln, and it is observed every February 1.
Juneteenth is a holiday celebrating the emancipation of anyone enslaved in America and it is observed every June 19, which is why it was named as such.
National Freedom Day Ideas & Examples
National Freedom Day can be a day to reflect, reeducate, and celebrate the past events that led to the goodness of today, and whether you're an American citizen or not, you should know that there are plenty of ways to commemorate this occasion.
National Freedom Day Ideas
During National Freedom Day, here are some of the things you can do to honor the holiday:
Witness the Liberty Bell's wreath of flowers displayed in Philadelphia.
Engage in poster-making contests on what freedom means.
Encourage every student, employee, or individual to memorize the Constitution amendments.
Read books about civil rights icons including Susan B. Anthony and Martin Luther King Jr.
Research on which areas are greatly known for practicing slavery and making a difference.
Organize charitable events that support freedom.
Spread the word about the importance of National Freedom Day on a website, conference, or any platform.
Attend National Freedom Day parties and events near you.
Engage in making quotes, poetry, or any creative writing about the holiday.
Watch movies and documentaries related to National Freedom Day.
National Freedom Day Examples
Besides creating the social media posts given earlier, there are still more templates related to National Freedom Day that you can optimize to celebrate the holiday.
1. National Freedom Day YouTube Banner
2. National Freedom Day Snapchat Geofilter
3. National Freedom Day Linkedin Post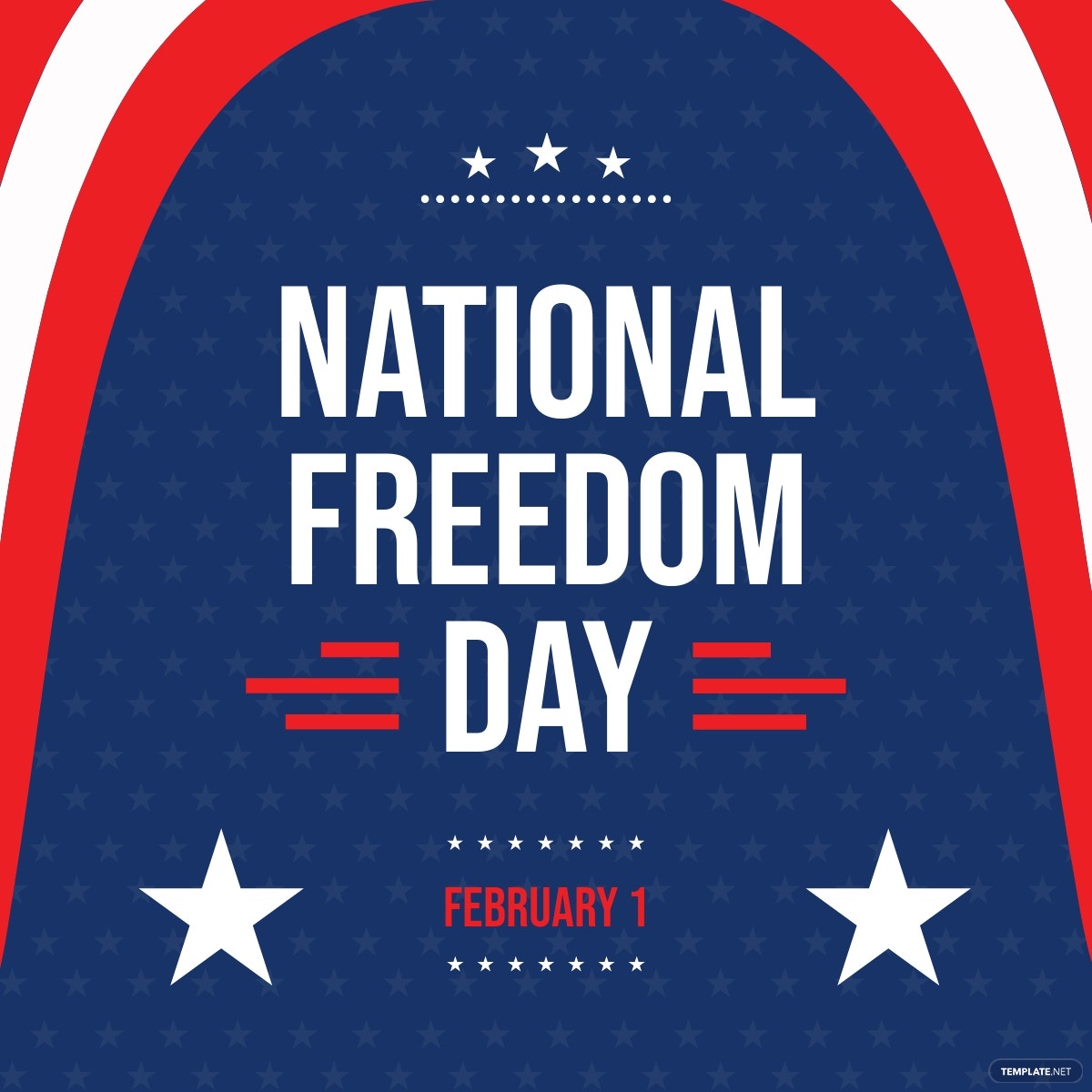 4. National Freedom Day Poster
5. National Freedom Day Facebook Cover
6. National Freedom Day Instagram Story
FAQs
Why is National Freedom Day celebrated?
National Freedom Day reminds Americans about how freedom from slavery was founded and why such freedom shouldn't be taken for granted.
When did National Freedom Day start?
The very first concept of National Freedom Day started on February 1, 1865, but it was only on June 30, 1948, that the bill for having February 1 as National Freedom Day was signed by President Harry Truman.
Who created National Freedom Day?
It was Richard Robert Wright Senior who made the National Freedom Day Association.
Why is February 1st called National Freedom Day?
The main agenda why Major Write picked February 1st as National Freedom Day was due to how it was the same date that President Abraham Lincoln signed the 13th amendment.
How do you explain Freedom Day to a child?
The key is to explain what National Freedom Day is in simple terms to a child without sugarcoating the facts that happened during the time of slavery and how it ended.
What do you do on National Freedom Day?
You go to National Freedom Day events and festivals and do the ideas listed under "National Freedom Day Ideas" discussed earlier.
Where did National Freedom Day originate?
National Freedom Day originated in Philadelphia, Pennsylvania.
Why is National Freedom Day important?
National Freedom Day is important because without remembering and reflecting on it, slavery would have continued until today.
How do we celebrate Freedom Day?
Celebrating National Freedom Days depends on what you like whether it involves dining in with your friends and doing the examples stated in "National Freedom Days Ideas."
What activities do we do on Freedom Day?
For Freedom Day, celebrate democracy with a barbecue party, especially braai, attend Freedom Day parades or parties, and so much more.
What does Freedom Day stand for?
Freedom Day stands for the very end of 300 years of colonialism and the segregation of black and white communities.
What is laid at the liberty bell on National Freedom Day?
It is a wreath with lots of beautiful flowers.