Holidays
National Spouses Day
National Spouses Day is the ultimate day to spoil your lover, be thankful for affirmation, and show your appreciation to one another. Similar to the popular Valentine's Day, this holiday encourages couples to get extra time off from their busy schedule and spend it with their life partner. Let's dive deep into this love-filled holiday for your soulmate.
Download the Free National Spouses Day ​Article in PDF

Download
Table of Content
National Spouses Day Definition & Meaning
National Spouses Day is a holiday to celebrate your love, affection, and gratitude for your spouse, and this is the perfect moment to rekindle and bring that spark back into your relationship.
National Spouses Day eventually evolved by not only being a holiday for spouses or couples under marriage but also for all types of couples who aren't married yet.
When Is National Spouses Day?
National Spouses Day is observed every January 26. However, there is no official record regarding who created this holiday except that it got popular in America during the 2000s. There are theories that state it probably got inspiration from Military Spouses Day which had its official proclamation as a holiday in 1984.
National Spouses Day Purpose, Importance
Why should there be a National Spouses Day? If there is a celebration for your birthday, your family's contributions, or your friends' achievements, don't ever forget your love for your spouse/lover. And here are the top important reasons why National Spouses Day must be celebrated by couples:
Time to Tend to Your Love
The moment a couple becomes official, gleaming sparks and butterflies take over that it is always easy to spoil each other, have sex often, or put some effort into the relationship. But after how many years, chances are things get too comfortable that you often get busy with work and struggle at maintaining that spark again. Hence, National Spouses Day is here to remind you and your soulmate to feel appreciated and that love has never been forgotten.
Lucky in Love
According to Gillespie Shields, there is one divorce in America every 13 seconds. Love doesn't always work out for everybody that some people are divorced, in a legal separation, or just out of love. If you are still married or in a relationship with your partner, don't ever take it for granted. Celebrate your luck in love that you are both still together and that setting time off even just for National Spouses Day shouldn't be that of a burden.
Celebration for All Couples
National Spouses Day isn't discriminatory where only married couples should get their time off with their loved ones to celebrate. Boyfriends and girlfriends, girlfriends and girlfriends, boyfriends and boyfriends, and all other labels for couples also get to celebrate this love-filled holiday. In fact, you can always think of many reasons why your partner is worth celebrating and National Spouses Day should inspire you to share that.
What's in a National Spouses Day?
National Spouses Day is celebrated by spending some alone time with your soulmate. While Valentine's Day is known for sending gifts such as a flower bouquet or sweet chocolates, National Spouses Day is more focused on getting time off from whatever busy life you have and spending it with your lover instead. Couples may reflect on their relationship journey, remind each other of their affection, and do whatever they love to reconnect.
How to Create a National Spouses Day Social Media Post
Looking for a creative and fun way to greet your soulmate on National Spouses Day? Declare your love through a romantic social media post and inspire other couples to do the same. And it is so easy to make a National Spouses Day social media post with these steps:
Facebook
1. Download a customizable National Spouses Day Facebook post template.
Scan through a plethora of free National Spouses Day templates available at Template.net. Select the option in Facebook post template format. And work on the template using the Editor tool.
2. Write a special message.
Click "Fill" from the Editor tool's menu. Then, use the text boxes provided to insert messages for your loved one or the couples you wish a happy National Spouses Day to on social media. You can talk about your undying support to your soulmate, a simple message ala greeting card, or a romantic quote perhaps.
3. Put love into graphics.
You can honor your soulmate through visuals too. Click "Graphics" from the menu and insert an image or any type of visual material into your template. An example is to humor your partner with a love-themed meme, insert a cute couple clipart, and other images related to love or National Spouses Day.
4. Work on your template background.
Don't forget to consider the background of your template. Select "Background" on the side menu and you can change the background color. Or, you may use a picture of your lover as the backdrop and other creative wallpaper you may think of.
5. Take time to edit and save.
Are you done editing your National Spouses Day Facebook post template? Save your work pronto. Just press "…" from the upper right of your screen and choose "Save."
Instagram
1. Choose an easy-to-edit National Spouses Day Instagram post template.
Search a National Spouses Day Instagram post template at Template.net. Click the template and choose "Edit This Template FREE." You will then be directed to the Editor tool for further customization.
2. Insert messages inside text boxes.
Show how much you love your partner by saying thank you or writing any special message. You can do that by clicking "Fill" from the side menu and typing a message inside each text box. After the holiday greeting, you can add a special note or mini love letter in a text box to show your affection to your soulmate.
3. Add sweet and quality visuals.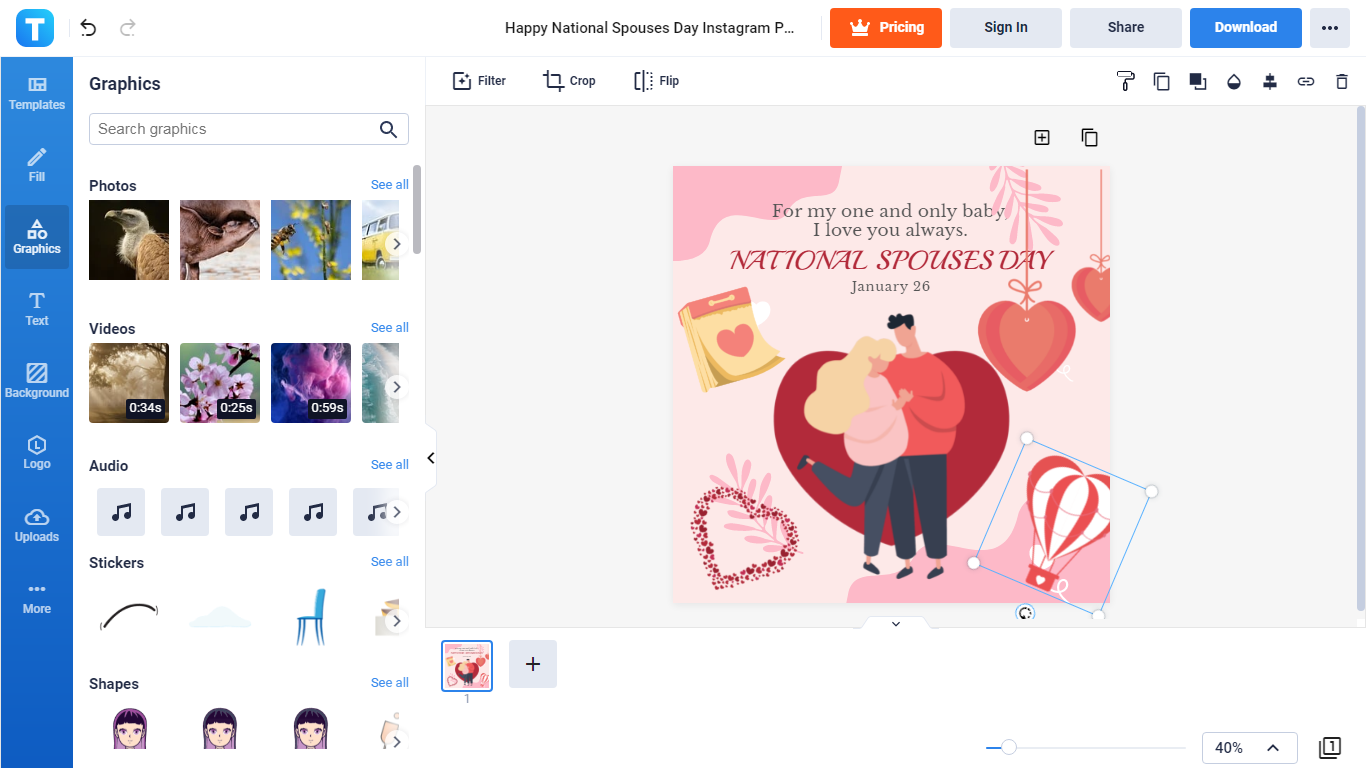 Use the "Graphics" button to incorporate artistic visuals into your Instagram post template. You could insert a sticker of a forearm filled with love tattoos, a weird cartoon sticker with a romantic message, or a cute photo of an animal as your gift. Be creative no matter what.
4. Insert other objects.
The Editor tool has a range of customizable features such as changing the background color, altering the background image, or inserting a logo into your template. So leverage these tools as you design your National Spouses Day WhatsApp post. Just make sure the other elements added earlier are still visible as you design with more objects.
5. Save your progress by hitting Save.
Finally, click "…" and press "Save." Only do that when you are done finalizing everything and that you have full confidence that it is the post you were going for. Then, post it on Instagram as National Spouses Day approaches.
WhatsApp
1. Pick a free National Spouses Day WhatsApp post template.
Visit Template.net and check out the full library of premade National Spouses Day Templates. Select the specific template with a format compatible with a WhatsApp post. Then, click "Edit This Template FREE."
2. Write your greeting and the rest of your message.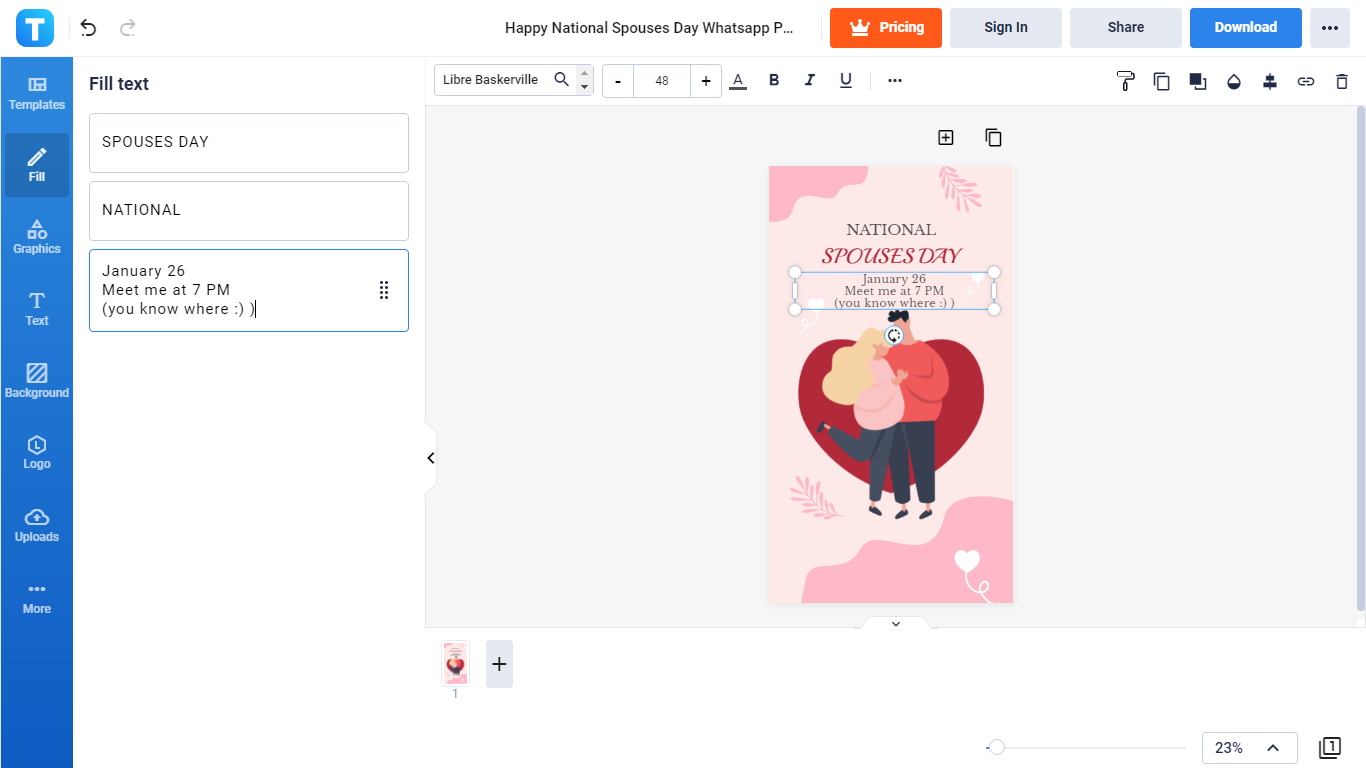 Click "Fill" to fill text. Be sure to mention the National Spouses Day greeting, schedule, and even your meeting place. Keep things clear with your message wherein your significant other can get it right away or that you think about general couples if your target audience is different.
3. Add romantic pictures or graphics related to love.
Hit "Graphics" to easily insert images into your National Spouses Day WhatsApp post template. Any graphic element is welcome such as a bicep image of a navy man with the spouse's picture as his tattoo, a couple sticker, or a bouquet of roses. There are so many ways to embellish your template's aesthetic factor.
4. Look for a sweet backdrop to celebrate the holiday.
Press "Background" on the left corner menu. Then, you can choose a color for your wallpaper or simply use background photos for the backdrop. A tip is to use a backdrop that still makes the graphic and text elements of your template to be crystal clear.
5. Save your progress and post it on WhatsApp.
Save your work so you won't lose any of your progress so far. Simply click the three-dotted icon above your screen. Lastly, click "Save" and you know what to post on WhatsApp during the holiday.
National Spouses Day vs Veterans Day
National Spouses Day happens every January 26 and is an unofficial holiday for spouses, or couples in general, to spend time and celebrate each other's love.
Veterans Day occurs every November 11 and it is a national holiday in the US to honor every Armed Forces veteran, especially those who were killed fighting for their country.
National Spouses Day Ideas & Examples
Shower your soulmate with all the love they/she/he deserves through different National Spouses Day activities and events. Rest assured, you won't be perplexed as to how to celebrate this love holiday by trying these National Spouses Day ideas and examples:
National Spouses Day Ideas
Once you and your partner can spare some time on January 26 and celebrate National Spouses Day, are you worried about what to do next? Never fret because it will surely be a productive love-filled holiday when you include these National Spouses Day ideas in your to-do list:
Go on an indoor candlelight dinner or an outdoor stargazing picnic for your romantic date.
Show cute or sweet gestures such as a hug, a kiss, wear a couple T-shirt, or send a greeting card.
Reflect on the days you encountered a problem or failure in your relationship and how love conquered it.
Consider what you and your partner enjoy doing whether it is going on a movie date, a fun car ride, etc.
Open in memorial about your relationship history and how it will stay strong for many years to come.
Research and discuss intriguing marriage statistics and check which category you and your partner belong to.
Remind each other about what to thank for.
Post a picture together on social media using the hashtag #NationalSpousesDay.
Help each other's tasks and chores for the day to finish early and proceed with your celebration pronto.
Keep that spark alive in making love and prove just how special your soulmate is to you.
National Spouses Day Examples
There are still other National Spouses Day templates worth trying besides the three social media post examples mentioned step-by-step earlier. Don't forget to use these top-notch National Spouses Day examples as alternatives:
1. Happy National Spouses Day YouTube Banner
2. Happy National Spouses Day Facebook Cover
3. Happy National Spouses Day Snapchat Geofilter
4. Happy National Spouses Day LinkedIn Post
5. Happy National Spouses Day Instagram Story
FAQs
Why do we celebrate National Spouse Day?
National Spouses Day tells us to spend quality time with our soulmates and show just how thankful we are for one another.
What do you say on National Spouses Day?
The internet can give you a bunch of love quotes to use for National Spouses Day but if you really want to make it special, use your own words that come straight from the heart.
What do you do on National Spouse Day?
On National Spouses Day, couples must find a way to spend time with each other to talk and not be bothered by their job or any other concern yet.
Why is National Spouse Day on January 26th?
Reports mentioned that National Spouses Day derived from the idea of Military Spouses Day in 1984 and it simply fell on January 26 to be unique from other official and unofficial holidays.
What is considered a spouse?
A spouse traditionally refers to someone whom you are married but since it is more inclusive nowadays, it can refer to your significant other, the one whom you live together with, or someone you are in a relationship with for at least three years despite not being married.
When did National Spouse Day start first?
The idea of National Spouses Day can be traced back to Military Spouses Day in 1984 but it only got its popularity during the early 2000s.
How do you celebrate National Spouse Day?
Be open to what you and your spouse would love to do may it be a simple handshake and kiss, a dinner to your favorite resto-bar, a donation to a charity you both support, an ID card that is only used for you both, watch the news together with your favorite pizza, or do any of the National Spouses Day Ideas discussed earlier.
What is the significance of National Spouses Day?
The significance, value, or importance of National Spouses Day is to show some gratitude to your soulmate and remind each other of being loved.
What is the message of Spouse Day?
National Spouses Day is a celebration to dedicate your lover and couples should not forget a bit of time for love despite being busy with life mostly.
Who created National Spouse Day?
There is no official record on who exactly made National Spouses Day except that it was inspired by 1984's Military Spouse Day.