Holidays
Red Nose Day
Red Nose Day is when you see people wearing a big, red, clown-like nose to support children and make them laugh, and it's actually a very important fundraising campaign to cease child poverty around the world. Get to know more about this event, or perhaps, get in the nose and learn how you can be part of it annually.
Table of Content
Red Nose Day Definition & Meaning
Red Nose Day is a yearly campaign to raise funds for keeping children healthy, educated, and free from poverty around the globe.
Red Nose Day is both an ongoing charity for kids so they can have a bright future and a holiday celebration where people who wear red noses help raise money and encourage others to do the same.
When Is Red Nose Day?
In 2022, Red Nose Day is celebrated on May 26. And it's easy to recognize this event when people outside or even pictures found on social media have people wearing big red noses similar to clowns.
Red Nose Day History
Red Nose Day was founded in 1988 in the UK with over $2 billion raised worldwide. And in 2015, Red Nose Day made its debut in the US where the funds reached up to $275 million and have helped 30 million kids in 50 states, Puerto Rico, and other international countries. And to be updated on when the next Red Nose Day will be every year, simply check out the official Red Nose Day website.
Red Nose Day Purpose, Importance
Yes, it can be fun to pull up red noses while celebrating Red Nose Day. But have you ever thought about its importance and impact on children on a national and global scale? You'd be surprised at these intriguing facts, purposes, or significance of Red Nose Day:
Child Poverty Is Ubiquitous
In America, about 20% of kids belong to families below the poverty sector. Besides the US, an estimate of 1 billion children worldwide run short of securing their basic needs. More so, statistics show that one out of two people who live with less than $1.90 per day are aged under 18 years. Hence, Red Nose Day exists to answer the call of children in poverty so they can have a future to look forward to.
Fighting for the Kids' Potential Is a Group Effort
Ending child poverty isn't a one-time solution. There will always be underlying issues that even one organization cannot solve alone; hence, Red Nose Day calls for everybody's group effort. And the organization behind Red Nose Day, Comic Relief US, continues to face these challenges to set a direction in uplifting children's lives. With that said, fighting for children will be worth it because they have the potential to do good someday.
Red Nose Day Is Now Needed More than Ever
After two years since the COVID-19 pandemic started and the current war in Ukraine, more children are hungry, homeless, and out of school. This factor alone calls out just how important the funds go to Red Nose Day so that kids worldwide receive food, shelter, education, medical aid, and hope. Just imagine how much people can make a difference if everybody works as one to support the mission of Red Nose Day.
What's in a Red Nose Day?
Red Nose Day is a yearly tradition for raising money, celebrating children, and changing their lives. Simply go to Walgreens and Duane Reade from over 9,000 locations nationwide and buy an exclusive red nose for just one or two dollars. And all its proceeds would go to the Red Nose Day organization. Or, you can donate online and wear a digital red nose that you can post on social media. The Red Nose Day website can also update you with all the Red Nose Day events you can look forward to during the event.
How to Create a Red Nose Day Social Media Post
Digital red noses and raising awareness online can certainly be achieved through social media. How much more if you have thousands of friends and followers online? And if you are looking for tips on how to make the best Red Nose Day social media posts possible, you can't go wrong with the following examples:
Facebook
1. Choose a Red Nose Day Facebook Post template.
Check out Template.net and search for a range of Red Nose Day templates. Click on any Red Nose Day template with a Facebook post format. Then, select "Edit This Template FREE."
2. Fill in the boxes with text.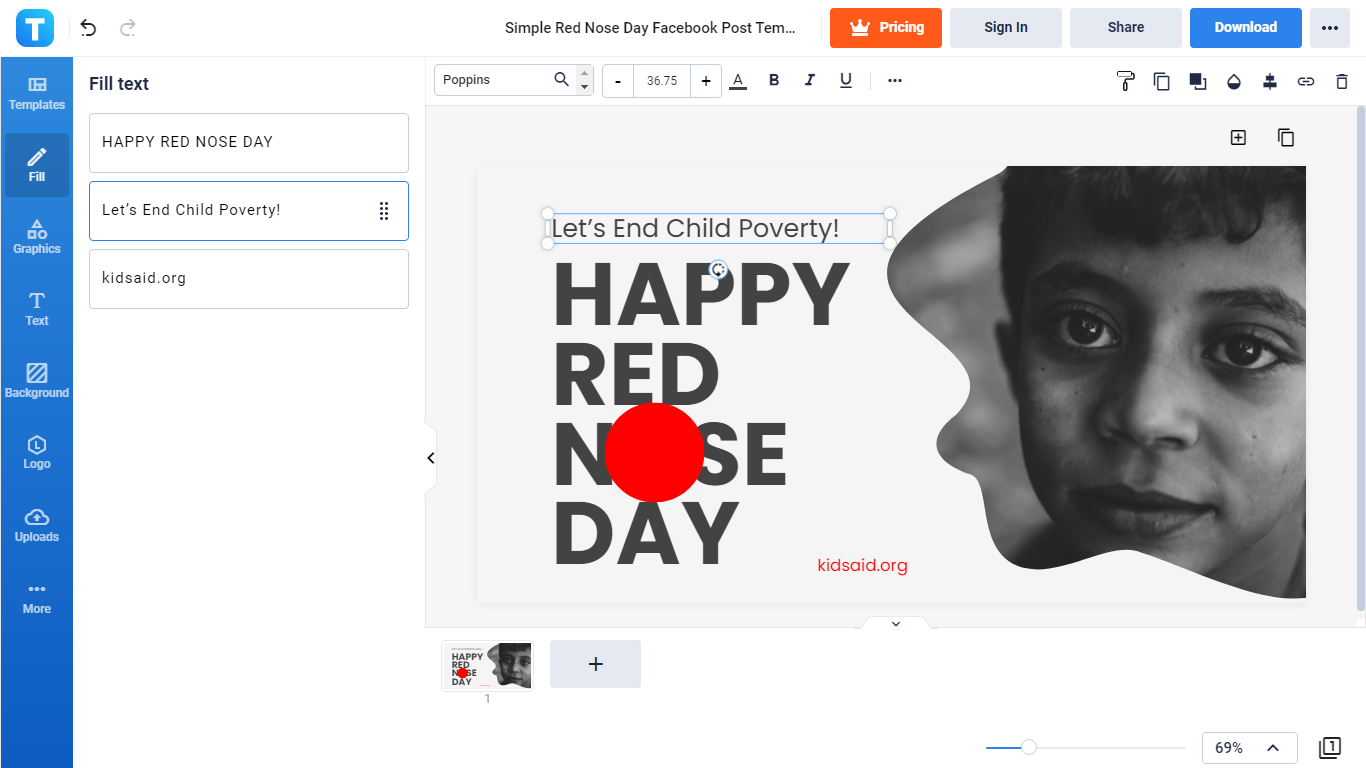 Inside the Editor tool, use the "Fill" feature found in the left corner. Then, click on any text box available so you can write down your text. Be sure the words "Red Nose Day" are evident on your Facebook post and that you have said what needs to be said for the event.
3. Design the template with vector graphics.
Access "Graphics" on the menu. Then, insert photos, frames, stickers, emoticons, or SVG graphics into your template. Examples of visual elements you can use would be a clown cartoon character, cute wiggles, or a celebrity wearing a red nose.
4. Add color to the background.
Coloring your template background adds life to the overall presentation. Just select the "Background" option from the menu. Then, click a background color of your choice or use an image as wallpaper.
5. Save your Facebook post.
See those three dots on the upper menu? Click it when you are finished editing your template. Then, select "Save" and post the template to your Facebook account shortly on Red Nose Day.
Instagram
1. Click on a Red Nose Day Instagram Post template.
Search for free editable Red Nose Day templates on Template.net. Look specifically for Red Nose Day Instagram post templates and click your favorite option. Same as before, customize it with the Editor tool.
2. Write a message on each text box.
Click "Fill" on the left side of the Editor tool. Then, type the message needed per text box. Besides a Red Nose Day greeting, you could write the name of the primary school behind making the post, the specific date of Red Nose Day, and other activities.
3. Insert beautiful visuals.
Click "Graphics" from the side menu. Next, decide whether to add clipart, photo, sticker, or any other graphic object to the Instagram post. You might want to insert pictures of children, anyone with a red nose, or anything creative you can think of that fits the theme of Red Nose Day.
4. Alter the background, logo, and other elements.
Use other options from the Editor tool such as Background and Logo. You can come up with a golden backdrop, a picture of children as your background, a logo of the bank or sponsor, and other examples. Make sure to mind not only the text and foreground elements because the background affects the entirety of the post as well.
5. Save the file in various formats.
Click "…" and "Save" to preserve all the progress you made so far. You can format it into JPG, PNG, or any other file format afterward. Then, you know what to do during Red Nose Day on Instagram.
WhatsApp
1. Download a Red Nose Day WhatsApp Post template.
Choose from any of the free templates available on Template.net related to Red Nose Day. Select a specific Red Nose Day WhatsApp post template to get started. Finally, click "Edit This Template FREE."
2. Write the text inside every text box.
Select "Fill." Write whatever you want on the text boxes such as the Red Nose Day greeting, event name, names of attendees, locations of events and clubs, Red Nose Day schedule, etc. Be sure the important details about the event are written inside.
3. Incorporate stunning graphics.
Complete your craft with a visual element. You might want to input a photo of a child doing the peace sign, a clown cartoon, and more. You can adjust the sizes, reposition them, and edit thoroughly by clicking the "Graphics" button.
4. Set a smooth background.
Whether you want a transparent backdrop, wallpaper for children in need, or any other type of background, everything is possible with the "Background" feature. You may adjust the graphics and texts in case they affect the background too. Adjust until everything looks seamless rather than a jarring appearance.
5. Save the template and post it on WhatsApp.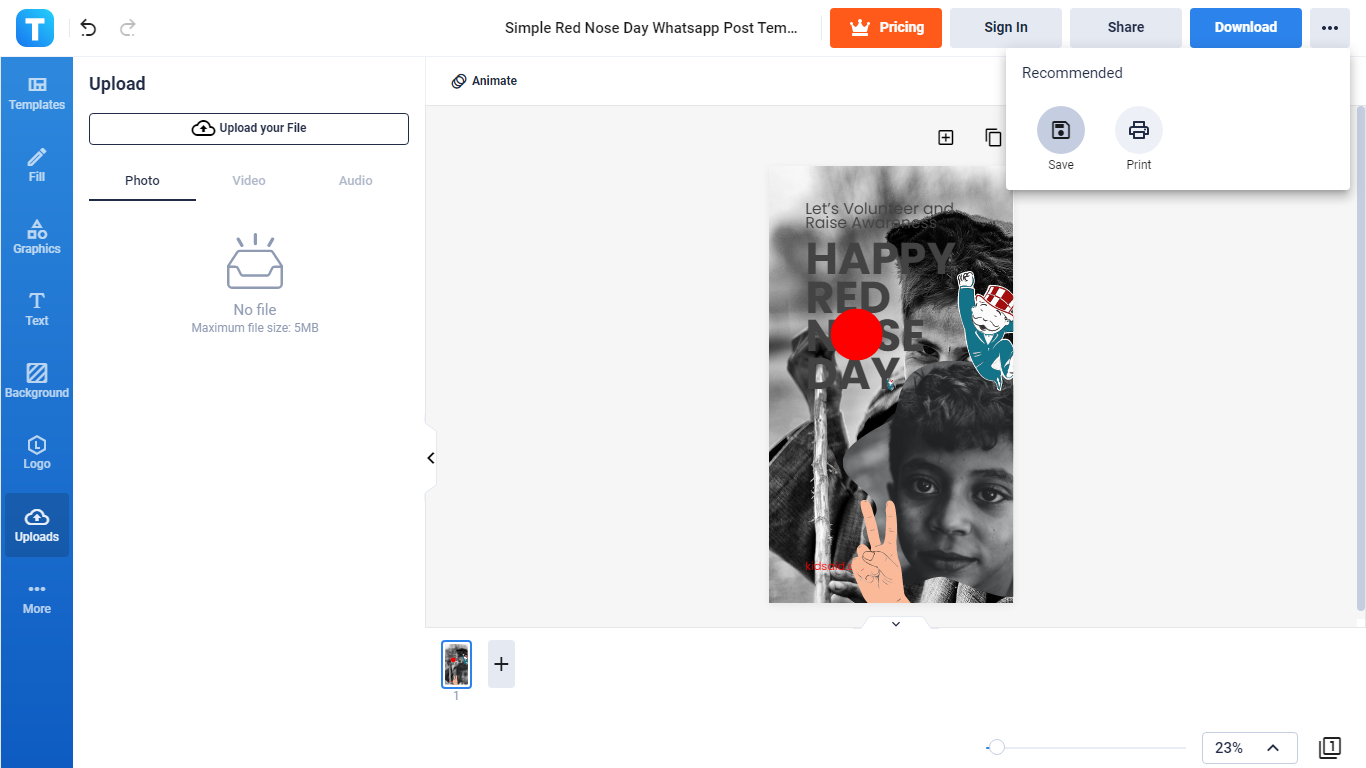 Add last-minute touches to improve the template using the Editor tool. Then, save your work by clicking "…" followed by "Save." Don't forget to post it on WhatsApp during Red Nose Day.
Red Nose Day Facts
Anticipate the excitement for Red Nose Day, even more, when you learn some of its intriguing details. Check out these noteworthy Red Nose Day facts:
During the very first Red Nose Day, around 150 comedians and celebs joined the event.
Broadcasting the Comic Relief charity event happened on BBC One during Christmas Day.
The founders of Comic Relief are Alexandar Mendes along with Richard Curtis.
Red Nose Day's fundraising has helped around 76 countries and counting.
Red Nose Day benefited 11,000+ projects in the UK.
Red Nose Day vs Comic-Con
Red Nose Day is a fundraising campaign to support children who are in poverty by using means of entertainment and fun events to raise awareness; this nonprofit event is organized by Comic Relief US and other nonprofit organizations such as Save the Children, Children's Health Fund, Feeding America, and more.
Comic-Con is a comic convention that celebrates comic books, their characters and cast, and literary culture, and Comic-Con International's California Nonprofit Public Benefit Corporation is the nonprofit organization in charge of its charitable mission to generate comic and art awareness or appreciation.
Red Nose Day Ideas & Examples
Red Nose Day involves a lot of activities so you surely won't run out of ideas and events for this specific holiday. And it is essential to also enjoy this celebration yourself and bring smiles to the kids' faces. So if you need more creative examples and fun ideas to do besides creating Red Nose Day social media posts, check this out.
Red Nose Day Ideas
You can show your support for the children in need in a variety of ways. And here are some of the top 10 ideas you should include in your Red Nose Day to-do list:
Bake cookies, cakes, or cook anything to raise funds for Red Nose Day.
Organize a raffle with special prizes in school, work, or any organization while the tickets spent go straight to the Red Nose Day nonprofit.
Encourage people to play games such as finding the hidden red nose for charity.
Donate old clothes for children in need.
Invite every teacher who likes to volunteer for free teaching programs for children out of school.
Sell fun merch, worksheets, and activity pages with proceeds for the Red Nose Day campaign.
Buy a red nose from Walgreens and Duane Reade and wear it the whole day.
Consider donating online, take pictures with your digital red nose, and use #RedNoseDay.
Repost or share pictures of influencers and celebrities of influential people who took part in the Red Nose Day event to encourage fans to do the same.
Pay for Red Nose Day face painting and get your face painted.
Red Nose Day Examples
From a flyer, banner, poster, t-shirt, to a social media post, you can spread awareness about Red Nose Day out of eclectic options. You can try these free examples of additional Red Nose Day templates for quick access.
2. Red Nose Day Charity Event LinkedIn Post
3. Red Nose Day Fundraising Instagram Story
4. Red Nose Day Charity Event Snapchat Geofilter
6. Red Nose Day Charity Event WhatsApp Post
7. Red Nose Day Event Snapchat Geofilter
8. Red Nose Day Fundraising Facebook Post
9. Simple Red Nose Day Instagram Post
10. Red Nose Day Party LinkedIn Post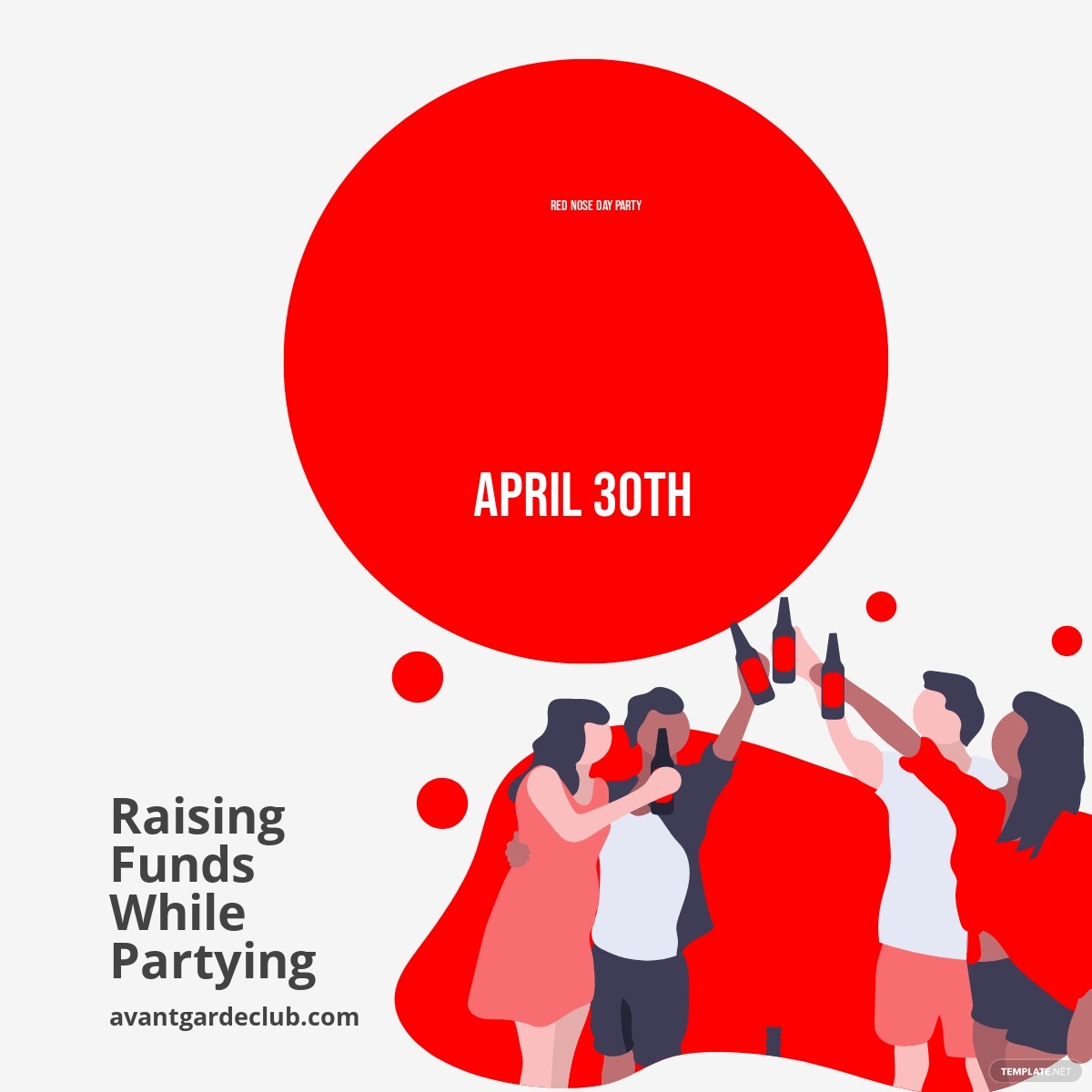 FAQs
Why do we celebrate Red Nose Day?
Red Nose Day is celebrated to fund the fight for eliminating child poverty all across the world.
What is the theme for Red Nose Day?
Red Nose Day's theme is "superheroes" with "funny is power" as the official slogan.
Why do we wear red for Red Nose Day?
It was all from a decision made by Lenny Henry and Richard Curtis wherein they pitched concepts related to Comic Relief that is easy to wear, simple, but still iconic; hence, the red nose became a dynamic symbol.
How do you explain Red Nose Day to kids?
Just explain to the kids that there are children in need out there and it is through Red Nose Day that the world can unite and stop child poverty "one nose at a time."
Who started Red Nose Day?
Lenny Henry coined Red Nose Day wherein a group of kids in Ethiopia was involved in a celebration organized by Comic Relief UK.
Where did Red Nose Day come from?
Red Nose Day began three years after the first debut of Comic Relief in a refugee camp in Sudan way back in December 1985; thus, the first-ever Red Nose Day happened on February 5, 1988.
What is the story behind Red Nose Day?
Red Nose Day aims to continue its mission of stopping child poverty through funding year by year.
What does the red nose symbolize?
A red nose symbolizes hope and Red Nose Day brings that hope to children who are suffering from poverty.
What are interesting facts about Red Nose Day?
The first Red Nose Day fundraiser garnered up to 15 million pounds, 82 million pounds in 2009, 108 million pounds in 2011, and has gathered more than 600 million pounds in the present.
Who sponsors Red Nose Day?
Lots of other organizations are sponsoring Red Nose Day such as Walgreens and NBC's Bill & Melinda Gates Foundation.
What percentage of money from Red Nose Day goes to charity?
Half of the funds go to America's support programs in over 50 states including Puerto Rico while the rest would be for international support programs such as the areas affected greatly by poverty in Latin America, Asia, and Africa.
Why do we wear red noses on Red Nose Day?
Red noses are the easiest examples to symbolize Comic Relief, which is the founder of Red Nose Day; red noses are then used to raise awareness about child poverty.
What do you do on Red Nose Day?
Some of the Red Nose Day activities or things to do for the event are listed under the Red Nose Day Ideas of this post.
How long does Red Nose Day last?
Red Nose Day lasts for 24 hours.