Magazine
11+ Architecture Magazines in InDesign | MS Word | Pages | Photoshop | Publisher
Architecture is an art form, as objects in architecture at times evoke awe, wonder, and beauty. It is even a testament to how civilizations have developed, adopted, and progressed throughout the ancient world. Much of it is an expression of the architect either from innovative ideas or mimicking what is in nature. Not only are people fascinated by the structures, but they are also impressed by the genius behind it. One way to spread the beauty of architecture is through magazines. Take a look at the sample magazines we have included in this article.
Table of Content
11+ Architecture Magazines in InDesign | MS Word | Pages | Photoshop | Publisher
1. Architecture Magazine Template
2. Architect Magazine Template
3. Simple Magazine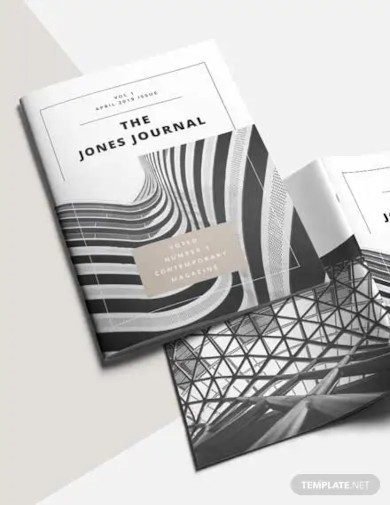 Minimalism and simplicity are two of the modern trends in designing your creative magazine. The two remove unnecessary details that can compromise the reader's experience while browsing. This simple magazine template offers a generic design which is a good starting point. All you have to do is to fill in the content. Plus, insert the desired images, and you are good to go!
4. Modern Interior Magazine
Not everything is all about the outside. A structure can be beautiful on the outside, but hollow within. The edifice may strike appeal, but inside is bland, tasteless, and dull. Interior designs are also within range of the architect's capabilities. Grab this template if you wish to give an insider's view with a modernist catch!
5. Construction Magazine
A blue print's purpose is for mobilization. What better way to make the print come to life than by actually constructing it. It is necessary also to feature construction trends and even showcase advancements in the engineering sector. All of those are relevant when it comes to architecture. Grab this template now and print it side by side with your other feature architecture magazines!
7 Steps to Create an Architecture Magazine
Showcasing the trends and masterpieces in architecture is one way to prove to people that it is also an art. Architecture is not only about grey buildings, but beautiful and intricate design concepts turn into reality. Not only does the architecture magazine show stunning photos, but it also includes fascinating insights from the experts. Have your magazine on the people's subscription list by following the steps below!
1. Create Content List
The main question to ask is, "what is going to be inside the magazine?" The content has to be a top priority and will serve as the skeleton of your publication. Make sure you have the right conception of the general theme so that everything else will come smoothly. You must anchor your contents to something, and that takes thinking. So, sit down and get that concise list of the ideas your magazine will have.
2. Organize Content Outline
From the reader's perspective, the table of contents is for their convenience. For them, it is an overview of the entire content. But for the writers and editors, it is the outline that they are going to work through. It is a suitable strategy to start first with the table of contents because you can see in advance the flow of your magazine. Thus, construct that comprehensive outline!
3. Assign Capable People Per Section
It is overly ambitious to do everything. That is why gather your best team of able and competent writers and layout artists to get the job done. Know each of their capabilities so that you can maximize it to its full potential.
4. Use the Best Photos
A magazine cannot be without photos. Plus, it is architecture; it would not work without images! Since the eyes appreciate this kind of feat, then choose the best pictures to put in your magazine. Whether it is a beautiful landscape architecture, modern architecture, or a blueprint, it must be in tip-top presentability! Adjust and edit as much as possible to make them all presentable!
5. Reread and Edit
Be a perfectionist! Before putting it to ink, search every nook and cranny! Find errors in grammar, spelling, and other things that will compromise the beauty of your publication! You do not want your subscribers to doubt your content and the release because of numerous problems. Plus, your readers bought it, so make it worth every penny!
6. Design Appropriately
Simple, creative, minimalistic, or modern, there is a wide selection of designs to choose from. Figure out what is most appropriate and fit for your content and theme!
7. Have the Perfect Magazine Cover
The number one head-turner and an eye-catcher for your viewers is the front page! Your magazine cover must be captivating enough to catch prying eyes. Lure the unsuspecting people, and let them dare open and read. Who knows? You will increase the number of your subscribers!
6. Free Architecture Magazine Template
7. Free Architect Magazine Cover Page Template
8. WORK – Architecture Magazine
Feature the latest trends in the industry with this simple yet creative layout for your desired magazine! It comes with a ready-made format that makes it easy for you to add your content. Avail this template now and begin wooing readers of the fads that they should not miss!
9. Architecture Magazine
Paste the products of your high-end photography sessions through this template! If you got the best angle from a building with the perfect lighting, then print it! Show to your readers the side that inspires. Insert details and descriptions to give regards to the masterminds behind the buildings!
10. Structures – Architecture Magazine
Most of the time, the outer layers of the building masks the structures; thus leaving them as unseen skeletons. Nowadays, you can see trends in structures about their intricate geometry which is a mixture of beauty and science! Make the people see the great level of human ingenuity and contemporary design thinking with this modern magazine template!
11. Architecture Magazine Indesign
Add a little variation to your monthly or quarterly release by having a different look on your magazines. Of course, do keep the branding, but always try to add novelty to your readers to keep them interested. If you are going to stick with one design, then your subscribers could not even tell which is which. So always catch their curiosity with novelty!
12. Multipurpose Magazine
The worst thing that can happen is that you are not confident with any given printable magazine layout at all for your features. So you can always go for a template for all trades! Versatility and flexibility are essential qualities of templates to make it usable for any potential users. End your worries by grabbing this file!
More in Magazine