Magazine
10+ Photography Catalog Templates in AI | InDesign | Word | PSD | Publisher | Pages
There are different techniques in promoting your products, services, or skills. You have flyers, posters, and even billboards to attract the attention of your selected target audience. But when you want to be specific about the type of advertisement you want for your company, you should try utilizing catalogs. This article has beautiful, editable, and professional photography catalog templates that businesses and individuals can revise according to their liking.
Table of Content
10+ Photography Catalog Templates in AI | InDesign | Word | PSD | Publisher | Pages
Don't worry about the design of your catalogs when you make use of the templates found here. Browse below and find what you need for your business.
1. Fashion Photographic Catalog Template
Keep up with the changing trends of the fashion world by choosing this creative catalog as your endorsement tool. The Fashion Photographic Catalog Template has a vibrant and energetic layout accompanied by spacious white space. You can change the cover with your preferred image. Don't wait for someone else; download now!
2. Jewelry Brand Photography Catalog Template
Make your advertising brochure a head-turner when you make use of this elegant catalog. The Jewelry Brand Photography Catalog Template has a well-arranged format that's convenient for all readers. You can replace the color schemes to your preference. Get this template sample for your enterprise now!
3. Clothing Photography Catalog Template
Fashion magazines example continue to gain recognition even with the dominance of the internet. If you have a clothing store, you need to utilize catalogs for the convenience of customers. The Clothing Photography Catalog Template features light colors to highlight the images and writings. Don't skip this offer and download this template right away!
5 Steps in Designing a Photography Catalog
Step 1: Talk About Your Business/Product/Service
Brands should use print catalogs and magazines for the advertisement of their products, services, and businesses to ensure visibility. Before the existence of the world wide web, consumers relied on catalogs for information. Even today, with the prevalence of the internet, people still make time browsing catalogs for the things they want for their homes. So in your catalog template, describe the products you offer and the services that your company offers.
Step 2: Provide Detail About Your Company
In building a relationship with your customers, you need to showcase your competence and reliability. One of the ways to gain the trust of clients is by providing enough detail about your business. You only need to include a concise description of your work.
Step 3: Determine the Placement of Images
The more artistic the design of your catalog is, the more attention it gets. In that light, you have to arrange the images you've chosen in an aesthetically pleasing way. If you have a lot of photos, you can utilize a checklist sample to avoid mistakes.
Step 4: Select Readable Fonts
Even with a definite idea of your target market, there's no denying that this promotional tool can reach a lot of people. So you have to consider the legibility of the fonts in the catalog. You can choose curvy, slanting fonts for your catalog, but it should be readable for the wider audience.
Step 5: Print and Distribute the Catalog
Evaluate the overall look of the catalog and make sure to check the content to avoid errors. When satisfied with the outline of the catalog template, you can print the material. Plan the distribution process with your team. You have to remember that the catalog is a marketing strategy for your company. Do some research and plan properly.
4. Minimal Product Photography Catalog Template
Are you searching for an excellent product catalog template for your business? If that's a yes, you found the right article. The Minimal Product Photography Catalog Template has a well-organized format that uses the color white to emphasize the contents of the catalog. Make haste and click that download button right now!
5. Photography Portfolio Catalog Template
Vibe up your modern portfolio by using this photography example catalog template sample. The Photography Portfolio Catalog Template has a unique layout that focuses on the photographer's art. You can also adjust the images to your liking. Don't wait for next week and download this template this instant!
6. Simple Photography Catalog Template
Nowadays, neutral-colored themes are the trend among advertising folks. If you want to try that motif for your catalog, then you should grab a copy of this template. The Simple Photography Catalog Template has a lively and easy-to-navigate format that's beneficial to both the author and the reader. Forever yours to keep when you click that orange button; download now!
7. Free Fashion Photography Catalog Template
Incorporating one of your favorite colors in your advertising material is a terrific choice for business owners. If you love yellow and all shades of this bright color, you need to get a copy of this template. This Free Fashion Photography Catalog Template has a sunny look that fits for the theme of the catalog clothes. You don't have to wait for tomorrow to download this simple fashion catalog template; click that button now!
8. Free Exhibition Photography Catalog Template
Any plans of having a photography exhibition this upcoming week? If that's the case, you need to have this template in your electronic device. The Free Exhibition Photography Catalog Template uses black, red, and white colors to capture the attention of viewers. Have a lot of people in your event and download this template sample right this instant!
9. Free Food Photography Catalog Template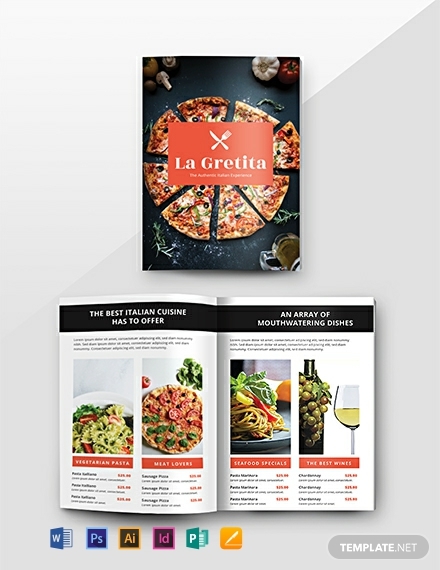 Promoting the meals and specialties of your restaurant has never been better with the use of this printable brochure sample. The Free Food Photography Catalog Template has a mouthwatering design motif supplemented by legible font faces. Make this template yours by clicking the download button right away!
10. Rust Photography Portfolio Catalog Sample
Many individuals opt for a minimal theme for their catalog design. If your a photographer looking for a template to showcase your studio and artwork, then you should have this modern catalog sample in your tab. The Rust Photography Portfolio Catalog Sample has a sophisticated layout that's eye-catching to the audience. Grab your copy now!
11. Stylish Fashion Photography Catalog Template
Lines are effective design elements on promotional materials. The Stylish Fashion Photography Catalog Template uses vertical lines to highlight the model displayed in the catalog. Pair this sample brochure with a business plan, and download this now!
More in Magazine
| | |
| --- | --- |
| 29 +Wedding Brochure Template - Psd, Docs, Pages, Ai Free ... | 24+ Catalog Layout Templates - Free PSD, EPS Format Download ... |
| 17+ Studio Brochure Design Templates - PSD, AI Free & Premium ... | FREE Wedding Photography Bi-fold Brochure Template - Word ... |
| 10+ Photography Portfolio Templates - Word, PSD, Publisher ... | 71+ HD Brochure Templates - Free PSD Format Download Free ... |
| Photography Portfolio Brochure Template - Word PSD | InDesign ... | 58+ PSD Catalogue Templates - PSD, Illustrator, EPS, Indesign ... |